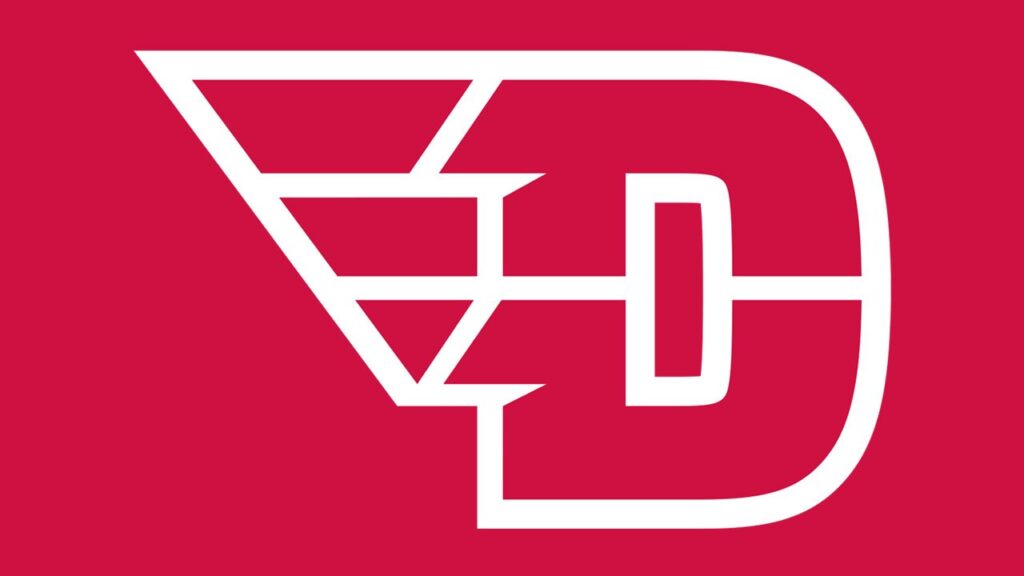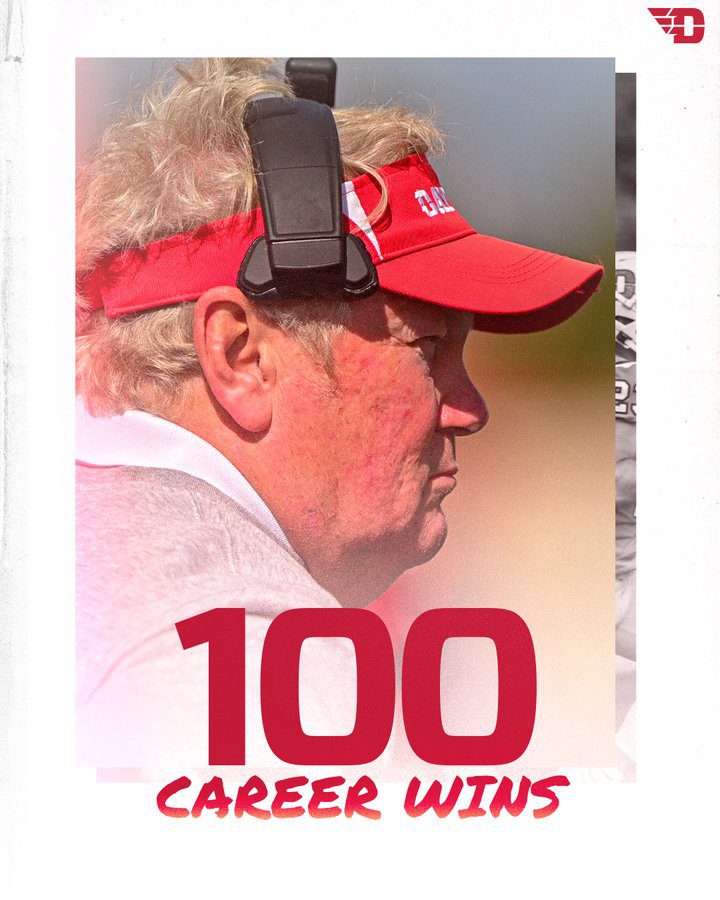 Flyers Flip A 14-6 Halftime Deficit With 16 Unanswered Points In the Third Quarter
9/3/2022
MOON TOWNSHIP, Pa. – The University of Dayton football team scored 16 points in the third quarter and turned away a potential game-tying two point conversion in fourth to get a season-opening 22-20 win at Robert Morris on Saturday.
The win was Dayton coach Rick Chamberlin's 100th career victory, with all coming at UD. This is Chamberlin's 14th season as the Flyer head coach, and his 47th as a part of the Dayton football program (four as a linebacker, 29 as an assistant coach, and 14 as the head coach). At the Division I level only two other coaches have won at least 100 games at the alma mater after playing for the school and immediately joining (and never leaving) the coaching staff – William A. Alexander, who succeeded John Heisman at Georgia Tech, and Knute Rockne.
1ST QUARTER – Dayton 3, Robert Morris 0
After an exchange of punts, Dayton extended its scoring streak to 498 consecutive games on a 36-yard field goal off the left foot of Sam Webster.
UD gained 99 yards with first-time starter Dante Casciola at QB, while the Flyer defense held the Colonials to 38 yards.
2ND QUARTER – Robert Morris 14, Dayton 6
UD doubled its score on the third play of the second quarter on a 38-yard field goal by Webster out of the hold of Drew Nieman.
There was another punt exchange before RMU drove 62 yards in eight plays to take a 7-6 lead.
The Flyers moved into Colonial territory but an interception created another 60+ yard scoring drive for Robert Morris with just over two minutes left in the half.
The 14-0 quarter by RMU was reflected in the stats. The Colonials gained 141 yards (137 through the air), while the Flyers only had 23 yards.
3RD QUARTER – Dayton 22, Robert Morris 14
UD took the second half kickoff and drove 60 yards to the RMU 12, but turned it over on downs when Casciola's pass was batted down at the line.
The Flyers forced another punt and then moved into field goal range. Austin Yeager's snap, Nieman's hold and Webster's 42-yard boot cut the deficit to 14-9.
The Dayton defense forced another punt and on the very next play, Luke Brenner took a jet sweep around right end and went untouched for a 63-yard TD sprint. The two-point attempt was unsuccessful, but Dayton had reclaimed the lead 15-14.
On the very next series, UD linebacker Ben Schmiesing's interception and 29-yard return gave the Flyers the ball at the Colonial two-yard line.
It took four plays, but Casciola punched it in on a one-yard QB sneak to lift Dayton to a 22-14 lead.
UD gained 178 yards coming out of halftime (154 on the ground), while RMU was held to 35 (zero on the ground).
4TH QUARTER – Dayton 22, Robert Morris 20
The Colonials turned the ball over on downs to start the quarter, but the Flyers punted it back.
RMU responded with its longest drive of the day, going 68 yards in 10 plays for the score that made it 22-20 with 5:14 to go.
On the potential game-tying two-point conversion, Robert Morris QB Jake Simmons scrambled left and appeared to have an angle to the pylon, but Dayton defensive end Joe Durham pressured him into an incomplete pass to preserve the Flyer lead.
UD was unable to keep the ball, but did burn three minutes off the clock before punting it back.
Robert Morris was able to move the ball to the Dayton 48, but the Flyers held them there.
Dayton was able to keep the ball the rest of the game (with a key RMU penalty on third down) to run out the clock on a 22-20 victory.
BY THE NUMBERS
Chamberlin is the 16th active FCS coach to have 100 wins.
He is the third Dayton football coach to reach the century mark, joining College Football Hall of Famers Harry Baujan and Mike Kelly.
In his first college action, quarterback Dante Casciola was UD's leading ground gainer with 13 carries for 96 yards and the eventual winning TD. He was also 10 of 19 passing for 89 yards.
Jake Chisholm, who carried the ball 22 times for 75 yards, was also Dayton's top pass catcher with three catches for 13 yards.
Casciola's 10 completions were spread among seven receivers.
Linebacker Nathan Arthur, another first-time starter, led the Flyers with nine tackles, a forced fumble and a quarterback hurry.
Ca'ron Coleman had eight hits (six solo), and Matt Lenti had seven (also six solo).
Elijah Smith led with three passes broken up.
Ben Schmiesing had another pass break up to go with his interception, along with four tackles.
The Dayton defense held Robert Morris to just 32 yards rushing on 25 attempts (1.2 yard per carry).
Placekicker Sam Webster was three-for-three on field goals
The Flyers have now won four straight games going back to last season.
UP NEXT
UD is at Youngstown State next Saturday.
Game time is 2 p.m. ET.
Dayton's home opener is Saturday, Sept. 17 at 1 p.m. ET against Kentucky State.
COURTESY DAYTON MEDIA RELATIONS