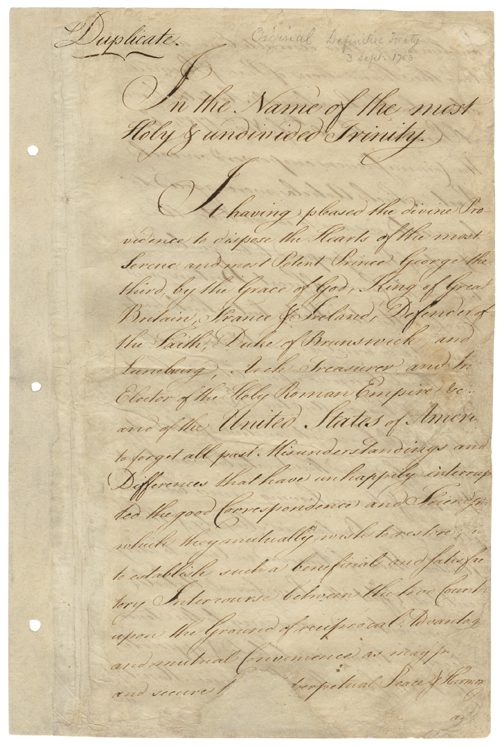 FROM WIKIPEDIA COMMONS
The Treaty of Paris, signed in Paris by representatives of King George III of Great Britain and representatives of the United States of America on September 3, 1783, officially ended the American Revolutionary War and overall state of conflict between the two countries. The treaty set the boundaries between the British Empire in North America and the United States of America, on lines "exceedingly generous" to the latter. Details included fishing rights and restoration of property and prisoners of war.
This treaty and the separate peace treaties between Great Britain and the nations that supported the American cause—France, Spain, and the Dutch Republic—are known collectively as the Peace of Paris. Only Article 1 of the treaty, which acknowledges the United States' existence as free, sovereign, and independent states, remains in force.
TODAY'S ALMANAC
Question of the Day
When did we begin using meteorological maps?
Edmond Halley, an English astronomer, drew the first such map in 1686.
Advice of the Day
For a headache, soak your feet in hot water to drain the blood from your head.
Home Hint of the Day
Get grimy white cotton socks white again by boiling them in water with a slice of lemon.
Word of the Day
Cirrocumulus cloud
Thin cloud that appears as small "cotton patches."
Puzzle of the Day
The Tarheel State.(Name the U.S. state!)
North Carolina
Died
Oliver Cromwell (military leader) – 1658
John McLoughlin (Father of Oregon"") – 1857
e. e. cummings (poet) – 1962
Frank Capra (director) – 1991
W. Clement Stone (parlayed $100 into a $2 billion insurance empire) – 2002
William H. Rehnquist (Chief Justice of the U.S. Supreme Court) – 2005
Michael Clarke Duncan (actor) – 2012
Born
Sarah Orne Jewett (author) – 1849
Ferdinand Porsche (auto manufacturer) – 1875
Alan Ladd (actor) – 1913
Robert Truax (Rocket Scientist) – 1917
Mort Walker (cartoonist) – 1923
Eileen Brennan (actress) – 1935
Charlie Sheen (actor) – 1965
Dominic West (actor) – 1969
Shaun White (snowboarder and skateboarder) – 1986
Events
Treaty of Paris signed between the U.S. and Great Britain– 1783
New York Sun became the first daily penny press" newspaper"– 1833
Abolitionist Frederick Douglass escaped slavery– 1838
First classes at U.S. Naval War College began– 1885
First professional football game played– 1895
World record set by auto averaging 301.13 mph for 1 mile, Bonneville Salt Flats, Utah– 1935
Search for Tomorrow first aired on television– 1951
Viking 2 lander touched down on Mars at Utopia Planitia– 1976
19-inning baseball game began at Fenway Park in Boston– 1981
47-lb. flathead catfish caught, Ohio River, Pennsylvania– 2006
Weather
According to the Royalists, the severe storm that struck the British Isles on this day in 1658 – also the day Oliver Cromwell died – was simple proof that the Devil had come for his soul.– 1658
A hurricane caused a 13-foot storm surge in New York City– 1821
Denver, Colorado, got 4.2 inches of snow– 1961
A hailstone measuring 17.5 inches in circumference and weighing 1.671 pounds was picked up and photographed in Coffeyville, Kansas– 1970
89 degrees F, Stampede Pass, Washington– 1988
COURTESY www.almanac.com