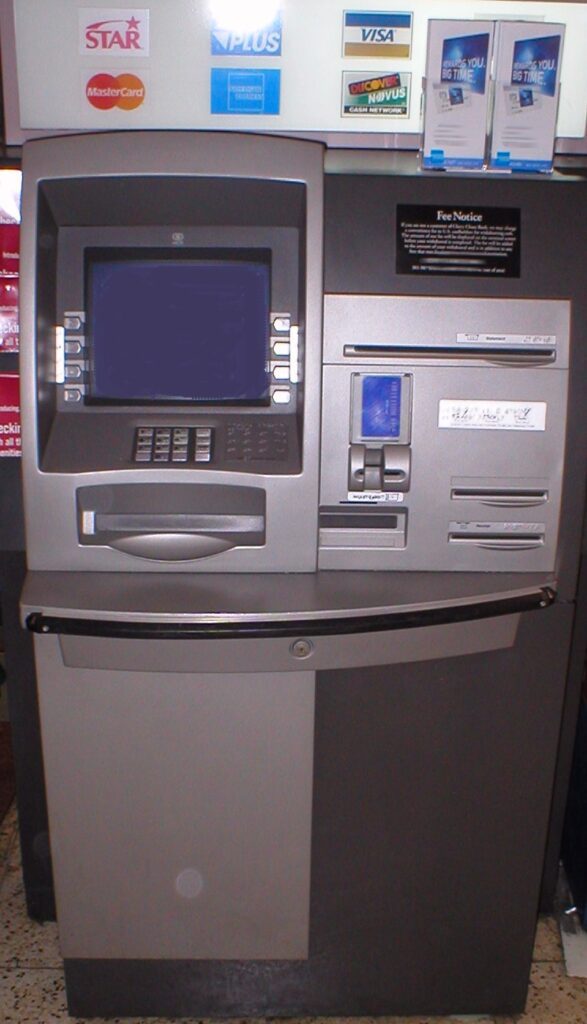 FROM WIKIPEDIA COMMONS
An automated teller machine (ATM) or cash machine (in British English) is an electronic telecommunications device that enables customers of financial institutions to perform financial transactions, such as cash withdrawals, deposits, funds transfers, balance inquiries or account information inquiries, at any time and without the need for direct interaction with bank staff.
ATMs are known by a variety of names, including automatic teller machine (ATM) in the United States (sometimes redundantly as "ATM machine"). In Canada, the term automated banking machine (ABM) is also used, although ATM is also very commonly used in Canada, with many Canadian organizations using ATM over ABM. In British English, the terms cashpoint, cash machine and hole in the wall are most widely used. Other terms include any time money, cashline, tyme machine, cash dispenser, cash corner, bankomat, or bancomat. ATMs that are not operated by a financial institution are known as "white-label" ATMs.
Using an ATM, customers can access their bank deposit or credit accounts in order to make a variety of financial transactions, most notably cash withdrawals and balance checking, as well as transferring credit to and from mobile phones. ATMs can also be used to withdraw cash in a foreign country. If the currency being withdrawn from the ATM is different from that in which the bank account is denominated, the money will be converted at the financial institution's exchange rate. Customers are typically identified by inserting a plastic ATM card (or some other acceptable payment card) into the ATM, with authentication being by the customer entering a personal identification number (PIN), which must match the PIN stored in the chip on the card (if the card is so equipped), or in the issuing financial institution's database.
According to the ATM Industry Association (ATMIA), as of 2015, there were close to 3.5 million ATMs installed worldwide. However, the use of ATMs is gradually declining with the increase in cashless payment systems.
TODAY'S ALMANAC
Question of the Day
How long ago did aluminum cans start having pop tops on them?
In 1963, a patent for a rivet device made these kinds of cans possible to produce. The patent was obtained by Ermal Fraze.
Advice of the Day
Soften butter quickly by grating it.
Home Hint of the Day
Clean windows with a mixture of 1 part white vinegar and 10 parts warm water.
Word of the Day
Cirrostratus cloud
Thin white cloud that resembles veils.
Puzzle of the Day
The Empire State.(Name the U.S. state!)
New York
Born
Albert Spalding (baseball player) – 1850
Cleveland Amory (author of The Cat Who Came for Christmas) – 1917
Peter Ueberroth (businessman) – 1937
Terry Bradshaw (football player) – 1948
Christa McAuliffe (selected to be the first teacher in space) – 1948
Mark Harmon (actor) – 1951
Keanu Reeves (actor) – 1964
Salma Hayek (actress) – 1966
Erin Hershey Presley (actress) – 1976
Died
J. R. R. Tolkien (author) – 1973
Troy Donahue (actor) – 2001
Bob Denver (actor) – 2005
Events
Great Fire of London began– 1666
Congress established the United States Department of the Treasury– 1789
The first issue of McCall's magazine was published. The magazine had previously been called Queens Magazine and Queen of Fashion– 1897
Vice President Theodore Roosevelt uttered the famous phrase, Speak softly and carry a big stick at the Minnesota State Fair– 1901
Japan surrendered formally at ceremonies held aboard the battleship Missouri, to end World War II– 1945
First ATM in U.S. debuted, Rockville Centre, N.Y.– 1969
Charles Burton started 3-year pole-to-pole expedition– 1979
The long awaited chess rematch between Bobby Fischer and Boris Spassky began in Yugoslavia– 1992
Diana Nyad completed a two-day, two-night swim from Cuba to Florida and became the first person to accomplish the feat unaided by a shark cage– 2013
Weather
Denver had its earliest measurable snow, 4.2 inches– 1961
Hurricane Frances caused 2.5 million Florida residents and vacationers to flee the state. It was the biggest evacuation ever ordered in Florida– 2004
COURTESY www.almanac.com