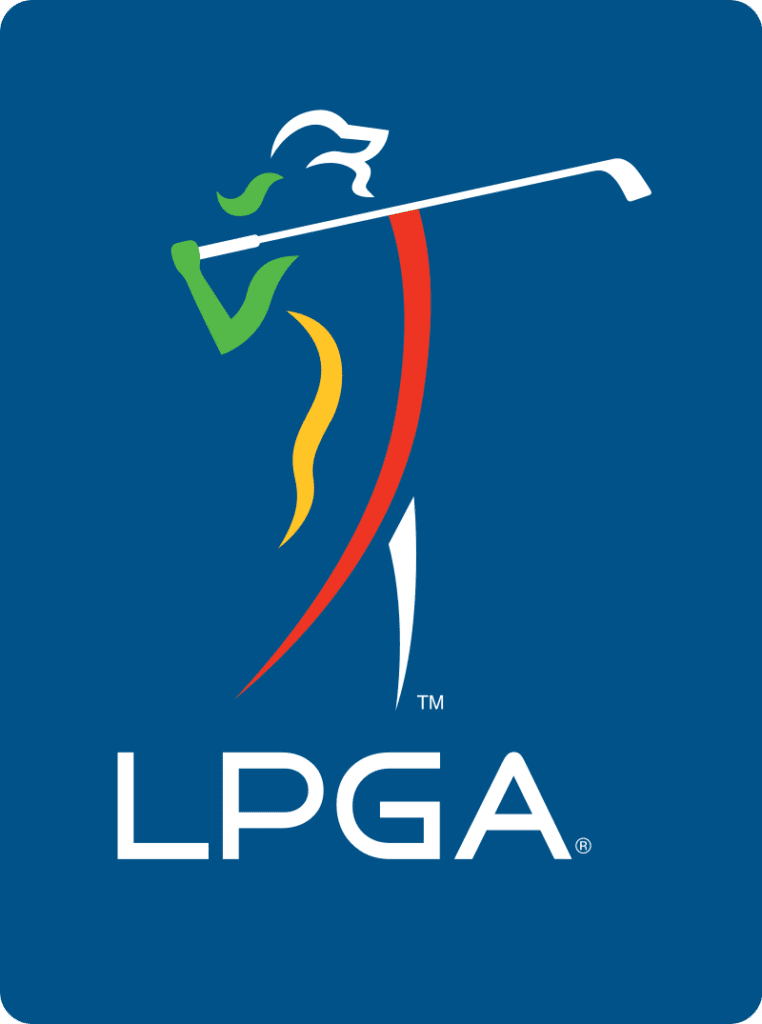 Dana Open presented by Marathon
Highland Meadows Golf Club| Sylvania, Ohio| Sept. 1-4, 2022
Wednesday Pre-Tournament Notes
August 31, 2022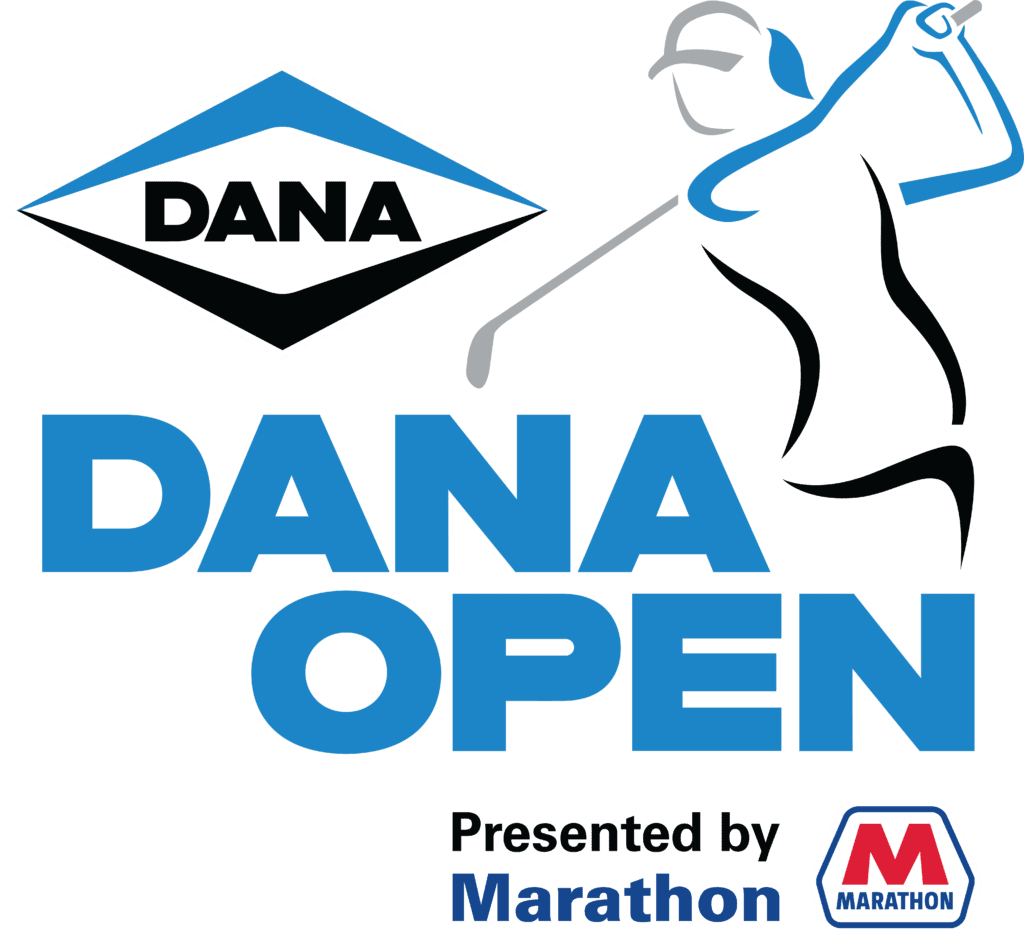 DEFENDING CHAMPION NASA HATAOKA LOOKING FORWARD TO 72 HOLES IN TOLEDO
Last year's Dana Open presented by Marathon champion Nasa Hataoka was surprised when the event was shortened to 54 holes due to inclement weather, but a win's a win. The six-shot victory over Mina Harigae and Elizabeth Szokol marked the fourth one of the 23-year-old Japanese native's career and was the first of two victories last season. Hataoka also won the Walmart NW Arkansas Championship presented by P&G just a short time later.
"Obviously, everyone wanted to finish that round," said Hataoka of last year's final day. "I was ready for that round, too, to play the fourth round. It was unexpected when I was told that I won the tournament. I'm happy with how I played last year and happy to win the fifth win last year."
Hataoka became a six-time LPGA Tour winner earlier this season at the DIO Implant LA Open at Wilshire Country Club where she defeated her friend Hannah Green by a whopping five shots, shooting all four rounds in the 60s. She's currently the third winningest female Japanese golfer, three behind Ai Miyazato (9) and 11 behind Ayako Okamoto (17) and says adding the LA Open title to her resume was a big confidence boost for the rest of the season. While she hasn't been in the mix as of late, the LPGA Tour is now heading into its fall season, a time of year that seems to bode well for Hataoka, even more so considering she's defending.
"This course, it's very challenging. Fairways are narrow, greens are pretty small, so it's really important for you to hit good shots, and I think I was able to do that last year," Hataoka said. "The win in LA definitely gave me a boost of confidence, especially on a very difficult golf course like that. Recently I haven't been in contention, but I feel like fall is my season. I feel like it's one of my favorite seasons. So I will try my best, and maybe two wins is a good number."
AZAHARA MUNOZ MAKING FIRST START SINCE BECOMING A MOTHER AT DANA OPEN
The last time Spaniard Azahara Munoz teed it up on the LPGA Tour was the 2021 Pelican Women's Championship in Belleair, Fla. but she stepped away for a very good reason. The 34-year-old gave birth to son Lucas on February 28, 2022 via emergency C-section and has been spending time at home caring for her first child, a welcome reprieve from life on the LPGA Tour. Munoz makes her return to competitive golf this week at the Dana Open presented by Marathon and admits that she was feeling some nerves when she showed up at Highland Meadows Golf Club a couple of days ago.
"I was a bit nervous coming to the course on Monday actually," said Munoz. "Feels like it's been forever. I've enjoyed being home so much. It's not that I was dying to be here, but now that I'm here it's really nice to see everyone. Everybody always says how you just don't know how much you love them until you have them, but he's incredible. He's such a good little boy. My parents were over here for three months with me so it was nice to be home. We are always at such a fast pace traveling so it's been really nice to have the little break and enjoy the baby."
Many new #LPGAMoms are a little hesitant to drop their little ones off at the Smucker's LPGA Child Development Center for the first time, but Munoz said Lucas did great on Tuesday and that's allowed his mom to relax and enjoy her time at the golf course. This is Munoz's 10th start at the Dana Open and she has three top-10s in Toledo, the most recent of which was a tie for ninth that came in 2016. But she didn't come into this week with many expectations and didn't really want to have a strict plan for her comeback, a very intentional choice for the new mom, especially considering her birth experience. As she looks ahead to her first start since last November and first as a mom, Munoz is as competitive as ever and is still looking for herself to perform, even with the new challenge of balancing motherhood and pro golf.
"I never thought of anything. I just wanted to take it as it comes because everybody has such a different story. I didn't think about my game being different, but neither did I when I was pregnant. I feel like sometimes you hear a story and then you almost make it become that way," said Munoz. "I was telling yesterday someone from Spain. I was like, 'I have no excuses.' Obviously, the competition and getting the baby ready, all of that is so different, and maybe not sleeping as great, but other than that, my body feels good. I just need to play. Just get things going."
CREAMER COMES BACK WITH SOLID SWING AND THE RIGHT PERSPECTIVE
The swing looks great, perhaps better than it ever has. Even when she was winning on a regular basis – twice in 2005, four times in 2008, and a major championship, the U.S. Women's Open at Oakmont, in 2010, along with 35 total Solheim Cup matches and a 17-9-5 record – Paula Creamer's swing never looked as good as it did on Wednesday at the Dana Open presented by Marathon.
No one outside a few friends had seen Creamer hit a shot in more than a year, so there was great interest in her form. A couple of divers into her session and eyebrows went skyward.
Holy smokes, that's strong.
Her move looks a lot more connected than it ever has, with her hands staying in front of her chest while her shoulders rotate more fully. The hip action, always unique, has changed slightly as well, with more rotation through the impact and into the finish. This could have been a compensation for the injuries she sustained to her left wrist and thumb, which required surgery. But more likely, it was all part of the plan to build speed, length, and consistency.
After walking away for a year to give birth to her first child, Hilton, Creamer spent time on the range at Isleworth in Florida with her new coach, Grant Waite. They worked on adding width to her takeaway and making the swing more full-body and less arms-only. The result is an increase of almost 10 mph in clubhead speed, and a fresh attitude now that she is back in competition.
"I feel great," Creamer said the day before playing under the pencil for the first time since August 2021. "I'm just really excited to be back. It's definitely a different feel, obviously, being a mom now and coming back out on tour. I actually left (home) on Sunday, and I don't think I've ever left that early before for a tournament. But I knew that I needed to get out here and see a lot of the faces that I haven't seen for the last year or so."
Paula Creamer is making her first start on the LPGA Tour since the 2021 Amundi Evian Championship and 15th start at the Dana Open since first appearing in the event in 2005. She's notched a victory in Toledo (2008) along with three additional top-five finishes, the last being a runner-up performance in 2013.
For more on her return to the Dana Open since becoming an #LPGAMom, click here: https://www.lpga.com/news/2022/creamer-comes-back-with-solid-swing-and-the-right-perspective
KPMG PERFORMANCE INSIGHTS – 2022 DANA OPEN PRESENTED BY MARATHON PRE-TOURNAMENT INTELLIGENCE PACK
KPMG Insight of the Week
The LPGA Tour returns this week to Sylvania, Ohio with Nasa Hataoka looking to defend her title. She held a six-stroke lead after 54 holes in this tournament last year before the tournament was shortened due to weather. Hataoka was dominant tee-to-green here one year ago: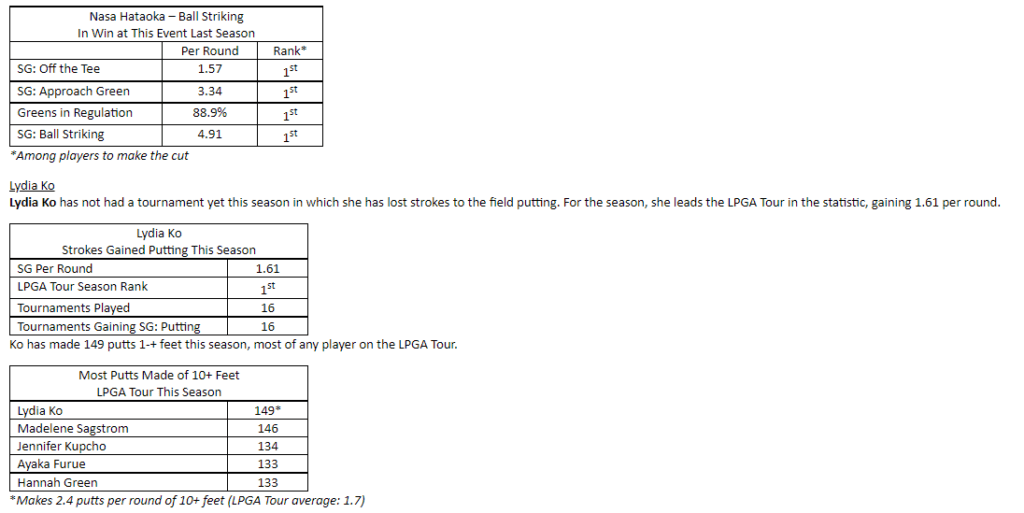 DUNNING GOLF NAMED OFFICIAL UNIFORM SUPPLIER OF US SOLHEIM CUP TEAMS
The LPGA Tour today proudly announced that Dunning Golf, the most performance-driven and innovative brand in the game for men and women, will be the Official Uniform Supplier of the 2023 and 2024 U.S. Solheim Cup Teams.
Dunning designers will collaborate with 2023 U.S. Team Captain Stacy Lewis and Assistant Captains Morgan Pressel and Natalie Gulbis to customize and create the official uniforms worn by the U.S. Team for the 18th Solheim Cup, to be held at Finca Cortesin in Andalucia, Spain. They will also work with the U.S. Solheim Cup Team to design uniforms for the 19th Solheim Cup, to be held at Robert Trent Jones Golf Club in Gainesville, Virginia.
"I am really excited to work with the team at Dunning Golf to create the uniforms our teams will wear for the next two years," said Lewis. "Uniforms are always a key element in making the Solheim Cup a fun and inspirational experience for the team. While you're wearing the Red, White and Blue, you can't help but feel a rush of adrenaline and patriotism. The Dunning Golf crew has been incredible to work with so far, and I can't wait to see everything they pull together for our players."
Dunning launched its standout Women's Collection in Spring 2022 to the same exacting performance standards as its authentic men's golf collection – featuring clean lines, a sophisticated sense of color and patterns, and advanced technical fabrics, such as COOLMAX ®.
For more on Dunning Golf and the U.S. Solheim Cup Team, click here: https://www.lpga.com/news/2022/dunning-golf-named-official-uniform-supplier-of-us-solheim-cup-teams
TOURNAMENT VIDEOS AND PHOTOS
For links to pre-tournament press conference videos and complimentary tournament photos, please contact LPGA Tour Media. Tournament imagery is provided as a courtesy by Getty Images and the LPGA strictly for editorial use. All images are intended for media publishers only and cannot be redistributed, sold or licensed by any individual or company provided with access.
SOCIAL MEDIA: #DRIVEON
Tournament: @danaopenlpga (Twitter, Instagram), #DanaLPGAOpen
LPGA: @LPGA, @LPGAMedia (Twitter); @lpga_tour (Instagram)
TV & STREAMING TIMES (all times Eastern on Golf Channel, golfchannel.com and the NBC Sports App)
Thursday, Sept. 1 – 1-4 p.m.
Friday, Sept. 2 – 1-4 p.m.
Saturday, Sept. 3 – 1-4 p.m.
Sunday, Sept. 4 – 1-4 p.m.
TOURNAMENT SCORING RECORDS
18 holes: 60, Paula Creamer, first round, 2008
36 holes: 125, Paula Creamer, 2008
54 holes: 194, Nasa Hataoka, 2021
72 holes: 261 (-23), Se Ri Pak, 1998
COURTESY LPGA COMMUNICATIONS