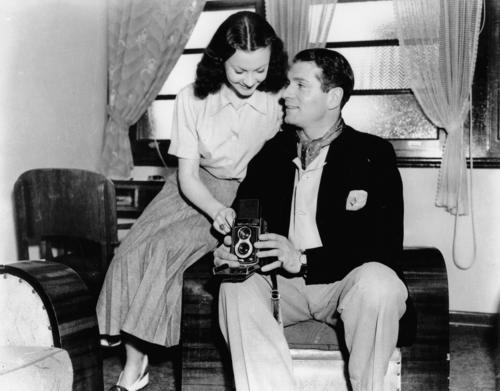 FROM WIKIPEDIA COMMONS
Laurence Kerr Olivier, Baron Olivier, OM (/ˈlɒrəns ˈkɜːr əˈlɪvieɪ/; 22 May 1907 – 11 July 1989) was an English actor and director who, along with his contemporaries Ralph Richardson and John Gielgud, was one of a trio of male actors who dominated the British stage of the mid-20th century. He also worked in films throughout his career, playing more than fifty cinema roles. Late in his career, he had considerable success in television roles.
His family had no theatrical connections, but Olivier's father, a clergyman, decided that his son should become an actor. After attending a drama school in London, Olivier learned his craft in a succession of acting jobs during the late 1920s. In 1930 he had his first important West End success in Noël Coward's Private Lives, and he appeared in his first film. In 1935 he played in a celebrated production of Romeo and Juliet alongside Gielgud and Peggy Ashcroft, and by the end of the decade he was an established star. In the 1940s, together with Richardson and John Burrell, Olivier was the co-director of the Old Vic, building it into a highly respected company. There his most celebrated roles included Shakespeare's Richard III and Sophocles's Oedipus. In the 1950s Olivier was an independent actor-manager, but his stage career was in the doldrums until he joined the avant-garde English Stage Company in 1957 to play the title role in The Entertainer, a part he later played on film. From 1963 to 1973 he was the founding director of Britain's National Theatre, running a resident company that fostered many future stars. His own parts there included the title role in Othello (1965) and Shylock in The Merchant of Venice (1970).
Among Olivier's films are Wuthering Heights (1939), Rebecca (1940), and a trilogy of Shakespeare films as actor/director: Henry V (1944), Hamlet (1948), and Richard III (1955). His later films included Spartacus (1960), The Shoes of the Fisherman (1968), Sleuth (1972), Marathon Man (1976), and The Boys from Brazil (1978). His television appearances included an adaptation of The Moon and Sixpence (1960), Long Day's Journey into Night (1973), Love Among the Ruins (1975), Cat on a Hot Tin Roof (1976), Brideshead Revisited (1981) and King Lear (1983).
Olivier's honours included a knighthood (1947), a life peerage (1970) and the Order of Merit (1981). For his on-screen work he received four Academy Awards, two British Academy Film Awards, five Emmy Awards, and three Golden Globe Awards. The National Theatre's largest auditorium is named in his honour, and he is commemorated in the Laurence Olivier Awards, given annually by the Society of London Theatre. He was married three times, to the actresses Jill Esmond from 1930 to 1940, Vivien Leigh from 1940 to 1960, and Joan Plowright from 1961 until his death.
***************************************************************************************************************
Vivien Leigh (/liː/ LEE; 5 November 1913 – 8 July 1967; born Vivian Mary Hartley), styled as Lady Olivier after 1947, was a British actress. She won the Academy Award for Best Actress twice, for her definitive performances as Scarlett O'Hara in Gone with the Wind (1939) and Blanche DuBois in the film version of A Streetcar Named Desire (1951), a role she had also played on stage in London's West End in 1949. She also won a Tony Award for her work in the Broadway musical version of Tovarich (1963). Although her career had periods of inactivity, in 1999 the American Film Institute ranked Leigh as the 16th greatest female movie star of classic Hollywood cinema.
After completing her drama school education, Leigh appeared in small roles in four films in 1935 and progressed to the role of heroine in Fire Over England (1937). Lauded for her beauty, Leigh felt that her physical attributes sometimes prevented her from being taken seriously as an actress. Despite her fame as a screen actress, Leigh was primarily a stage performer. During her 30-year career, she played roles ranging from the heroines of Noël Coward and George Bernard Shaw comedies to classic Shakespearean characters such as Ophelia, Cleopatra, Juliet and Lady Macbeth. Later in life, she performed as a character actress in a few films.
At the time, the public strongly identified Leigh with her second husband, Laurence Olivier, who was her spouse from 1940 to 1960. Leigh and Olivier starred together in many stage productions, with Olivier often directing, and in three films. She earned a reputation for being difficult to work with and for much of her adult life, she had bipolar disorder, as well as recurrent bouts of chronic tuberculosis, which was first diagnosed in the mid-1940s and ultimately led to her death at the age of 53.
TODAY'S ALMANAC
Question of the Day
How do I know when onions are ready for harvesting?
When the tops of the onions start to turn yellow and begin to fall over, it is time to harvest them.
Advice of the Day
Do not hang all on one nail.
Home Hint of the Day
To remove a fresh bloodstain from a washable fabric, try a solution of 1/2 teaspoon of salt and 1 cup of water.
Word of the Day
Altostratus cloud
Grayish or bluish layer of clouds that can obscure the Sun.
Puzzle of the Day
The Garden State.(Name the U.S. state!)
New Jersey
Died
Henry V of England – 1422
Rocky Marciano (boxer) – 1969
John Ford (film director) – 1973
Princess Diana (killed in a car accident in Paris) – 1997
Lionel Hampton (jazz musician) – 2002
Born
Baron Lisgar (2nd Canadian Governor General 1869 – 1872.) – 1807
Maria Montessori (doctor and founder of the Montessori method of education) – 1870
Buddy Hackett (actor & comedian) – 1924
Van Morrison (singer) – 1945
Itzhak Perlman (violinist) – 1945
Richard Gere (actor) – 1949
Chris Tucker (actor) – 1972
Sara Ramirez (singer and actress) – 1975
Events
Honolulu was declared the capital of the Hawaiian Islands– 1850
A deadly 7.3 (estimated) moment magnitude earthquake occurred in Charleston, South Carolina– 1886
President Franklin D. Roosevelt signed the Neutrality Act of 1935, prohibiting the export from the U.S. of arms, ammunitions or implements of war to any belligerent state– 1935
Laurence Olivier and Vivien Leigh married– 1940
National Agricultural Center and Hall of Fame chartered, in Bonner Springs, Kansas– 1960
Comet Howard-Koomur-Michels collided with the Sun– 1979
Weather
Hurricane Emily lashed the Outer Banks of North Carolina– 1993
COURTESY www.almanac.com