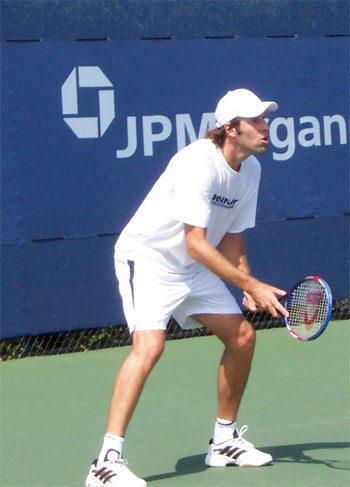 FROM WIKIPEDIA COMMONS
Gregory Rusedski (born 6 September 1973) is a British and Canadian former tennis player. He was the British No. 1 in 1997, 1999 and 2006, and reached the ATP ranking of world No. 4 for periods from 6 October 1997 to 12 October 1997 and from 25 May 1998 to 21 June 1998.[2]
In 1997, he was the US Open finalist, which led to him receiving the BBC Sports Personality of the Year Award and the ITV Sports Champion of the Year Award. Also, he scored 30 wins and 13 losses with the Great Britain Davis Cup team.
RUSEDSKI VS. HENMAN
Rusedski was often overshadowed in the British press by Tim Henman, especially at Wimbledon.[25] They were generally closely matched over their careers; both reached a highest world ranking of 4. Rusedski won 15 singles titles compared to Henman's eleven, and also reached the final of the US Open in 1997, whereas Henman never made it past the semifinals of a Grand Slam tournament. However, Henman reached six Grand Slam semifinals and an additional four quarterfinals, whereas Rusedski reached two Grand Slam quarterfinals in total: at the US Open where he reached the final, and at Wimbledon the same year. Neither Rusedski nor Henman ever reached the quarterfinals of the Australian Open. Henman reached the semifinals of the French Open, while Rusedski never made it past the fourth round at that tournament.
His Davis Cup singles record was considerably poorer than Henman's. In Great Britain's two key Davis Cup ties in the World Group knockout stage, Rusedski lost all four singles rubbers, despite home advantage (against the US in 1999 and Sweden in 2002). However, as a doubles partnership, Rusedski and Henman won several Davis Cup matches, as well as other tournaments.
Rusedski's final match at a Grand Slam was against Henman, at the 2006 US Open. Henman won 7–6, 6–2, 6–3. Over their careers, in head-to-head encounters, Henman won 8–2.
TODAY'S ALMANAC
Question of the Day
Where do carrot seeds come from?
Carrots are biennial plants. If you leave them in the ground, the tops will flower and produce seeds the second year.
Advice of the Day
Snapdragons bespeak presumption, sunflowers haughtiness.
Home Hint of the Day
To clean chrome, rub on a thin paste of baking soda and water. Let it dry, then buff the chrome with a clean, dry rag.
Word of the Day
Stratus cloud
Thin, gray sheet-like cloud with low base; may bring drizzle or snow.
Puzzle of the Day
The Granite State.(Name the U.S. state!)
New Hampshire
Born
Mary Shelley (writer) – 1797
Ellen Arthur (wife of U.S. president Chester Arthur; died before he took office) – 1837
Ernest Rutherford (physicist) – 1871
Huey Long (politician) – 1893
Raymond Massey (actor) – 1896
Roy Wilkins (civil rights leader) – 1901
Ted Williams (baseball player) – 1918
Geoffrey Beene (fashion designer) – 1927
Jean-Claude Killy (Olympic gold medalist, skiing) – 1943
Tug McGraw (baseball player) – 1944
Cameron Diaz (actress) – 1972
Andy Roddick (tennis player) – 1982
Died
Lindsay Anderson (director of film) – 1994
Charles Bronson (actor) – 2003
Glenn Ford (actor) – 2006
Wes Craven (filmmaker) – 2015
Events
Streetcar service ended in Montreal, Quebec– 1959
Hotline between the White House and the Kremlin installed– 1963
Thurgood Marshall confirmed as the first African American justice of the U.S. Supreme Court– 1967
First night launch of a space shuttle (Challenger), Kennedy Space Center, Florida– 1983
Astronaut Guion Bluford became the first African-American to reach space– 1983
Vicki Keith became the first person to swim across all five Great Lakes– 1988
Hotel Queen Leona Helmsley convicted on tax evasion charges, later sentenced to four years in prison and fined $8.8 million– 1989
Tennis player Greg Rusedski served a ball at 141 mph at the U.S. Open in New York City– 1997
Curt Schilling of the Boston Red Sox became the 14th MLB pitcher to reach 3,000 career strikeouts– 2006
Weather
George Washington took advantage of foggy weather to evacuate Long Island after a defeat– 1776
Boston's high temperature was 99 degrees F– 1973
COURTESY www.almanac.com