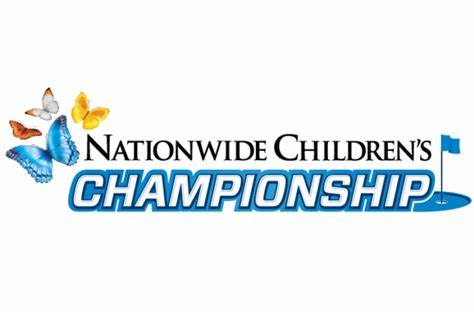 August 28, 2022
OFFICIAL KORN FERRY TOUR FINALS EVENT MOVES TO SEPTEMBER
Columbus, Ohio – Tournament Officials announced today that the 17th playing of the Nationwide Children's Hospital Championship will be contested the week of September 18-24, 2023, at The Ohio State University Golf Club – Scarlet Course.
The official Korn Ferry Tour Finals event moves to September in concert with widespread changes to the PGA TOUR's overall schedule and qualification process.
"We are excited to continue as a Korn Ferry Tour Finals event that will play a pivotal part in determining which players will earn their PGA TOUR cards," said John Carter, president of Nationwide Financial and chairman of the tournament's host organization, Champions of the Community. "The new format for the Korn Ferry Tour will only enhance our formula for hosting a successful tournament and raising money for Nationwide Children's Hospital."
In June of this year, the Korn Ferry Tour reaffirmed the quality of the competition on the circuit and the importance of rewarding season-long performance by revealing that the 2023 season will culminate with an unprecedented 30 PGA TOUR cards awarded to the top players on the Korn Ferry Tour Points List.
It was also released in June that the Korn Ferry Tour Finals will no longer be a competition for TOUR cards between the top 75 on the Korn Ferry Tour and Nos. 126-200 in the FedExCup standings. Beginning in 2023, Finals will refer to the final four events of the season, where members will compete for increased purses and points allocations.
The four Finals events—which will include the Nationwide Children's Hospital Championship—will feature $1.5 million purses and award 600 points to each winner. The 2023 Nationwide Children's Hospital Championship will be third of the four Finals events, featuring a field of 120 players. The fields for the Finals will be progressively reduced, starting with 156 players for event No. 1, 144 players for event No. 2 and finishing with 75 players in the final event. The preceding 22 events on the schedule will have a minimum purse of $1 million – a 67% increase from 2021 to 2023 – and award 500 points to winners.
"With the new format and additional investment the PGA TOUR is making in the Korn Ferry Tour, there will be even more at stake for the players during next year's event at OSU Scarlet," said tournament executive director Kip Eriksen. "These are all very positive changes for our event and for sports fans in central Ohio. We are incredibly enthusiastic for the opportunity to continue to grow the Nationwide Children's Hospital Championship and support charitable causes in central Ohio, including Nationwide Children's."
For general Tournament information, including how to become a volunteer, please visit www.ncc-golf.com or call (614) 764-GOLF. Stay connected with the Nationwide Children's Hospital Championship on Twitter (@NCHC_Golf), Instagram (nchcgolf) and Facebook (www.facebook.com/NationwideChildrensChampionship).
ABOUT THE NATIONWIDE CHILDREN'S HOSPITAL CHAMPIONSHIP
The Nationwide Children's Hospital Championship is owned and operated by Champions of the Community, Inc., an Ohio non-profit corporation. The event is one of three Korn Ferry Tour Finals tournaments that will determine the 50 players who earn PGA TOUR playing privileges for the 2021-2022 season and their eligibility position under the TOUR's enhanced qualifying system. Featuring a purse of $1,000,000 the tournament is conducted to showcase the best golf on the Korn Ferry Tour on one of the most challenging venues in the world, The Ohio State University – Scarlet Course, for the enjoyment of spectators and to benefit charitable organizations in central Ohio. For more information, call 614-764-GOLF or visit our website at www.ncc-golf.com.
ABOUT NATIONWIDE CHILDREN'S HOSPITAL

Named to the Top 10 Honor Roll on U.S. News & World Report's 2021-22 list of "Best Children's Hospitals," Nationwide Children's Hospital is one of America's largest not-for-profit freestanding pediatric health care systems providing wellness, preventive, diagnostic, treatment and rehabilitative care for infants, children and adolescents, as well as adult patients with congenital disease. Nationwide Children's has a staff of more than 13,000 providing state-of-the-art pediatric care during more than 1.6 million patient visits annually. As home to the Department of Pediatrics of The Ohio State University College of Medicine, Nationwide Children's physicians train the next generation of pediatricians and pediatric specialists. The Abigail Wexner Research Institute at Nationwide Children's Hospital is one of the Top 10 National Institutes of Health-funded freestanding pediatric research facilities. More information is available at NationwideChildrens.org.
ABOUT KORN FERRY TOUR
Founded (1990), owned and operated by the PGA TOUR, the Korn Ferry Tour identifies and develops golf's next stars, preparing them to compete and win on the game's biggest stage. The Korn Ferry Tour, which has served as a path to the PGA TOUR since its inception, will begin awarding 30 PGA TOUR cards based off its points list in 2023, with the No. 1 player earning exemptions into the following year's PLAYERS Championship and U.S. Open. With more than 600 PGA TOUR titles, 28 major championships and six FedExCup champions, Korn Ferry Tour alumni make up over 80 percent of the PGA TOUR's current membership. To learn more about the PGA TOUR, the Korn Ferry Tour and to follow the season-long quest for a PGA TOUR card, visit PGATOUR.COM or follow the Korn Ferry Tour on social media.
ABOUT THE OHIO STATE UNIVERSITY ATHLETICS DEPARTMENT
The Ohio State University Department of Athletics is completely self-supporting and receives no university monies, tax dollars or student fees. The Department of Athletics sponsors 36 fully funded varsity teams – 17 for women, 16 for men and three that are co-educational – and is committed to providing the very finest in academic and athletics support in an effort to provide its more than 1,000 student-athletes with a quality, life-changing experience at Ohio State.
ABOUT HNS SPORTS GROUP
HNS Sports Group is a Dublin, Ohio-based LLC founded in 2000. The company offers over 125-plus years of collective experience and is committed to providing professional, efficient and effective client representation in the categories of sponsorship consultation, event management, hospitality management, sales representation and tournament operation within the golf market. To learn more about HNS Sports Group, visit www.hnssports.com.
COURTESY NATIONWIDE CHILDREN'S HOSPITAL CHAMPIONSHIP COMMUNICATIONS