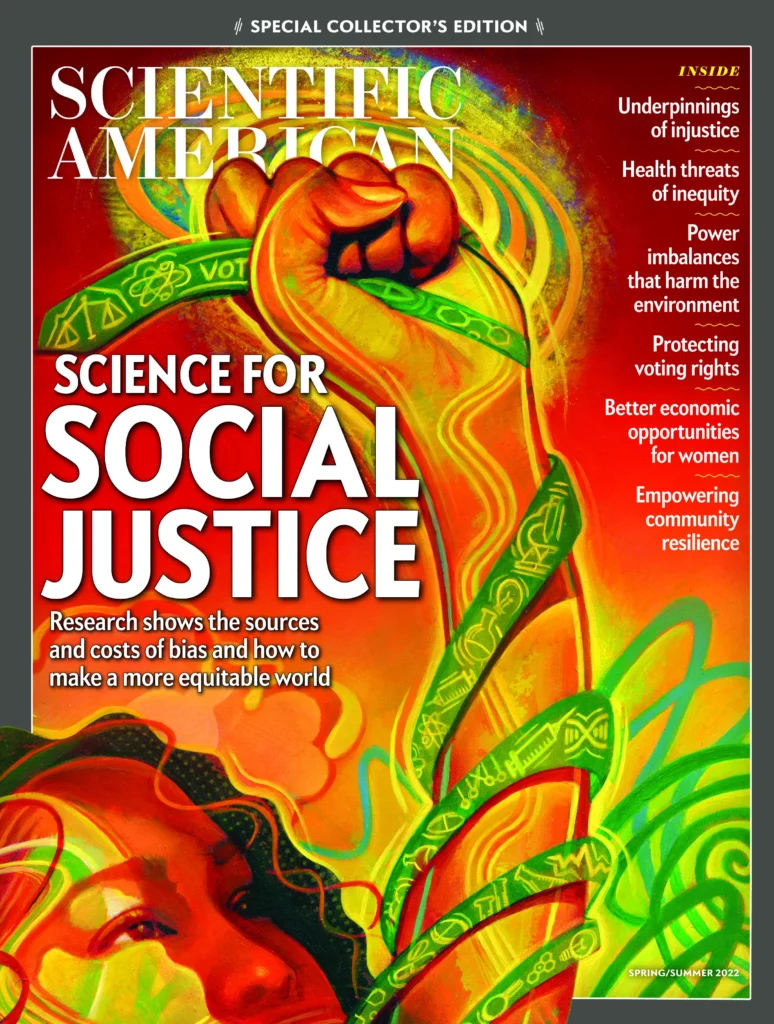 FROM WIKIPEDIA COMMONS
Scientific American, informally abbreviated SciAm or sometimes SA, is an American popular science magazine. Many famous scientists, including Albert Einstein, have contributed articles to it. In print since 1845, it is the oldest continuously published monthly magazine in the United States, although it did not become monthly until 1921. Scientific American is owned by Springer Nature, which in turn is a subsidiary of Holtzbrinck Publishing Group.
THE FIRST ISSUE
It originally styled itself "The Advocate of Industry and Enterprise" and "Journal of Mechanical and other Improvements". On the front page of the first issue was the engraving of "Improved Rail-Road Cars". The masthead had a commentary as follows:
Scientific American published every Thursday morning at No. 11 Spruce Street, New York, No. 16 State Street, Boston, and No. 21 Arcade Philadelphia, (The principal office being in New York) by Rufus Porter. Each number will be furnished with from two to five original Engravings, many of them elegant, and illustrative of New Inventions, Scientific Principles, and Curious Works; and will contain, in addition to the most interesting news of passing events, general notices of progress of Mechanical and other Scientific Improvements; American and Foreign Improvements and Inventions; Catalogues of American Patents; Scientific Essays, illustrative of the principles of the sciences of Mechanics, Chemistry and Architecture: useful information and instruction in various Arts and Trades; Curious Philosophical Experiments; Miscellaneous Intelligence, Music and Poetry. This paper is especially entitled to the patronage of Mechanics and Manufacturers, being the only paper in America, devoted to the interests of those classes; but is particularly useful to farmers, as it will not only apprise them of improvements in agricultural implements, but instruct them in various mechanical trades, and guard them against impositions. As a family newspaper, it will convey more useful intelligence to children and young people, than five times its cost in school instruction. Another important argument in favor of this paper, is that it will be worth two dollars at the end of the year when the volume is complete, (Old volumes of the New York Mechanic, being now worth double the original cost, in cash.) Terms.—The Scientific American will be furnished to subscribers at $2.00 per annum,—one dollar in advance, and the balance in six months. Five copies will be sent to one address six months, for four dollars in advance. Any person procuring two or more subscribers, will be entitled to a commission of 25 cents each.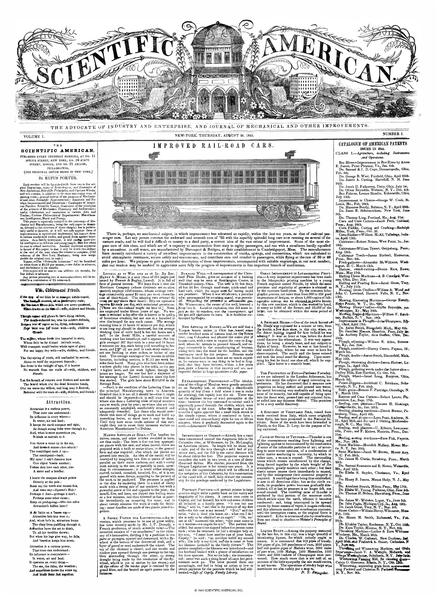 TODAY'S ALMANAC
Question of the Day
If my household water is softened with salt, will it harm my garden?
It might. Softened household water can add salt to your soil. Over time, the salt can accumulate to levels that might be toxic to your plants. Household water softeners also remove calcium and magnesium from the water, and your plants need these nutrients for optimal growth. If you can, use your softened water just for your laundry and bath, having the softener hooked up to your hot-water supply only, and let the rest go untreated for your garden's sake.
Advice of the Day
Choose a wife by your ear rather than your eye.
Home Hint of the Day
To eliminate paint odor, stir 1 tablespoon of vanilla extract into each pint of paint. This has no effect on the paint.
Word of the Day
Nimbostratus cloud
Dark, shapeless cloud layer containing rain, snow, and ice pellets.
Puzzle of the Day
The Cornhusker State.(Name the U.S. state!)
Nebraska
Born
John Stark (American Revolutionary War general) – 1728
Johann Wolfgang von Goethe (philosopher) – 1749
Elizabeth Ann Seton (first American-born saint) – 1774
Lucy Webb Hayes (first U.S. First Lady to have graduated from college) – 1831
Roy Wilkins (Civil Rights activist) – 1901
Roger Tory Peterson (American artist & ornithologist) – 1908
Tasha Tudor (children's author & illustrator) – 1915
John Herbert Chapman (father of Canadian Space Agency) – 1921
Daniel Stern (actor) – 1957
Scott Hamilton (figure skater) – 1958
Shania Twain (country singer) – 1965
Jack Black (actor) – 1969
LeAnn Rimes (singer) – 1982
Kyle Massey (actor) – 1991
Died
Jean Baptiste Point du Sable (founder of Chicago, Illinois) – 1818
John Gordon Mein (US Ambassador to Guatemala is assassinated by terrorist) – 1968
Ruth Gordon (actress) – 1985
John Huston (director) – 1987
Chanel (World's oldest dog, the dachshund, age 147 in dog years, 21 in human years) – 2009
Chadwick Boseman (actor) – 2020
Events
First successful U.S. vineyard established in Kentucky– 1798
The B&O Railroad tried its first American-built locomotive, Tom Thumb, designed by Peter Cooper. The train raced against a horse.– 1830
Scientific American first published– 1845
Sen. Strom Thurmond S.C. starts a filibuster speaking against the Civil Rights Bill. He spoke continuously for 24 hours and 18 minutes.– 1957
The New York Times broke the TV quiz-show scandal story– 1958
Dr. Martin Luther King delivered his "I Have a Dream" speech– 1963
Prince Charles, Prince of Wales and Diana, Princess of Wales were divorced– 1996
Weather
Hurricane struck New England on this day, according to the Julian calendar– 1675
Saint George, Georgia, received 18 inches of rain– 1911
Tropical storm Doria caused flooding in central New Jersey and southeastern Pennsylvania– 1971
COURTESY www.almanac.com