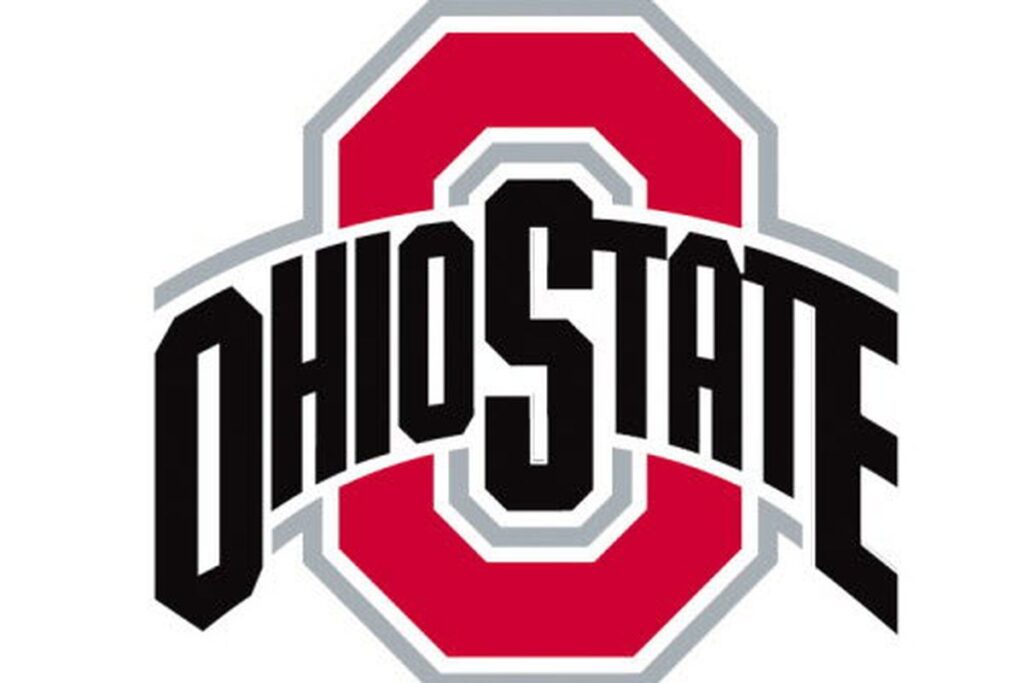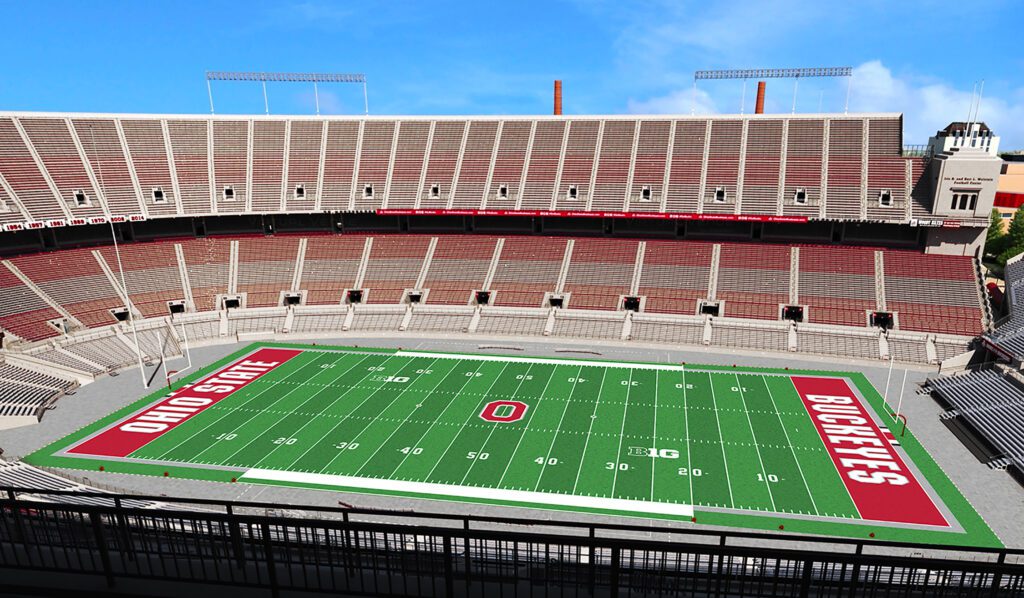 August 26, 2021
Arrive early … Download Official OSU App … Opt-in to Text Alerts … Save tickets/parking pass to mobile wallet
COLUMBUS, Ohio – The start of the 2022 Ohio State football season, and one of the most eagerly anticipated Ohio Stadium home game schedules ever, is only eight days away. No. 2 Ohio State hosts No. 5 Notre Dame at 7:30 p.m. Saturday, Sept. 3, in one of the marquee games of the 2022 season. ABC will televise to a national audience.
Unlike last year, when new technologies such as mobile ticketing and parking, metal detectors and self-scanning tickets were introduced, there aren't many changes to game day procedures for 2022. There are certainly tips and protocols to be aware of when in and around the stadium, though. Some of the most important news and notes for fans to know this year include to arrive early. Also:
It. Is. Time!
The standard game day timeline for home games at Ohio Stadium this year:
§ 5 a.m. – Parking lots open
§ Four (4) hours prior to kickoff – Skull Session doors open at St. John Arena
§ Three (3) hours prior to kickoff – FanFest Opens on the St. John Arena south lawn
§ Two (2) hours prior to kickoff – Ohio Stadium gates open and Skull Session begins
§ 20-minutes prior to kickoff – TBDBITL's ramp entrance
Safelite New Field Sponsor
Safelite, the nation's leading vehicle glass services and recalibration company located in Columbus, is expanding its partnership with The Ohio State University's athletics department through a new multi-year sponsorship in agreement with LEARFIELD's Ohio State Sports Properties. In 2014, Safelite became the first company to sponsor a logo on field goal netting, and it will now be the first to sponsor field logos on what will be called Safelite Field. The field will now feature two white Safelite placements opposite the B1G logos.
Visit the Game Day Website
Fans are encouraged to visit https://ohiostatebuckeyes.com/gameday/ for all game day information needs. The revamped site includes info on mobile tickets and mobile parking passes, traffic and parking, maps, tailgating and an A-Z guide.
Download the Official Ohio State Buckeyes App
The best way to access season tickets and parking passes is through the Ohio State Buckeyes app, compatible with both iOS and Android devices. Visit the Apple App Store or Google Play, or search "Ohio State Buckeyes" in your device's app store, to update or download the app. Fans are encouraged to enable push notifications to get instant updates about their favorite Buckeye teams, ticket offers, game day information including parking and traffic, exclusive contests, and more.
The official Ohio State Buckeyes app features mobile ticket management, concessions ordering, venue mapping and free live audio of the game along with numerous other options. For more app info: https://ohiostatebuckeyes.com/2022-official-ohio-state-buckeyes-app-download-today/
Game Day Alerts Text
Fans are encouraged to sign up for Game Day Alerts, a free texting service that will alert fans to real-time traffic and parking updates, weather information and emergency notifications. Text OSUFB22 to 67283 to opt in.
Ohio State Single Game Tickets
Single game tickets for all games except the sold-out Notre Dame and Michigan games can be purchased online at http://go.osu.edu/fbtix. Available single game tickets and verified resale tickets are also available at ticketmaster.com and via the Ohio State Buckeyes App. The Department of Athletics firmly encourages fans to protect themselves from potential fraud by utilizing these sites over any other resale ticket option for purchasing tickets and resale tickets.
Ohio Stadium 100
The 2022 season will feature a celebration of 100 years of Ohio Stadium. The iconic venue on the banks of the Olentangy River has been the site of 100 years of games, commencement ceremonies, concerts and, for all Buckeye fans, memories. The stadium will be commemorated at the homecoming game against Rutgers on Oct. 1. The official Ohio State Buckeyes website includes a comprehensive look at the stadium's history, tradition and moments. Visit go.osu.edu/TheShoe100.
"A Walk in Our 'Shoe"
This week, University Archives opened "A Walk in Our 'Shoe: 100 Years of Ohio Stadium" at Thompson Library. The free exhibit focuses on the history of the stadium with historic uniforms and memorabilia from Buckeye coaching legends.
Limited Edition Game Program with NFTs
As part of the Ohio Stadium 100 celebration, this year's limited edition game day program will feature cover designs that pay homage to Ohio Stadium's history and tradition. Each edition will feature foil stamping and a cover design from the 1920s, '30s, '40s and '50s. Each program will also include a bound Certificate of Authenticity, and a personal access code to unlock an official pack of unique Ohio State digital collectable NFTs. Game programs cost $20 and can be pre-ordered, for pick-up at the game or sent to a home address, at https://ohiostatebuckeyes.com/gameday/commemorative/.
Returning: Stadium Experiences
Ohio Stadium "experiences" are returning to game day for the first time since 2019. The official Ohio State Buckeyes app is the best way for fans to purchase stadium experiences, including watching warm-ups with a pregame field pass, taking photos on the field, press box tours, and birthday wishes and messages on the videoboard.
Woody Hayes & John Herrick Drives Open
Some good news: Woody Hayes and John Herrick Drives will have reduced lanes (one lane open each way) in use, but both will be open on game day, unlike last year. All fans should plan ahead, arrive early and allow additional time to get inside the stadium.
West Campus Shuttle
Fans parking and riding from west campus will board shuttles at Carmack 1 – the far eastern parking lot. Shuttles will provide service between the Carmack 1 parking lot and Coffey Road Park, which is within walking distance of Ohio Stadium, from six hours before kickoff until one hour after the game.
Game Tickets
All game tickets are now issued digitally to fans' smartphones/mobile devices. Download the official Ohio State Buckeyes app to access tickets, and visit Ohio State's Digital Ticketing Guide for complete information on how to access and manage digital tickets.
Parking
Day of Game parking is available on a first-come, first-served basis on football Saturdays. All football parking lots and garages open at 5 a.m. All parking will be cashless once again this year and passes will be on fans' mobile devices. Individuals with season parking permits will access their passes via their Ohio State Buckeyes Account alongside their game tickets. Fans will scan the QR code on their mobile device upon entry to the parking lot.
Credit cards only will be accepted at all public parking locations. The prices to park this year are $25 and $30.
Cashless Operations
Cashless operations will once again be utilized throughout Ohio Stadium this year, including for program sales, concessions, ticket office transactions and merchandise. The cashless concessions system has been upgraded for even faster service and check-out time. Fans can skip the line and order food, including new options like Hot Chicken Takeover, Dirty Frank's and Smashed Buns, on the Ohio State Buckeyes app.
Ticket Pedestals
All gates into Ohio Stadium have ticket pedestals that fans will use for access into the game by scanning their ticket from their own mobile device.
Metal Detectors
All Ohio Stadium entry gates will be equipped with walk-through metal detectors that guests will need to pass through for entry. Fans will not need to empty their pockets unless instructed by stadium security. The goal is for a frictionless entry into Ohio Stadium.
No Bag Policy
Ohio State will continue its no bag policies at Ohio Stadium and all athletic department venues. Small bags, no larger than 5x8x1 inches will be permitted. Guests with medical or childcare needs will be permitted to carry one bag, no larger than 14x14x4 inches, into the stadium through one of these two locations: the Band Center entrance between Gates 10 and 12, or the Press Entrance between the Huntington Club and Gate 23.
#GoBucks
The People. The Tradition. The Excellence.
COURTESY OHIO STATE ATHLETICS