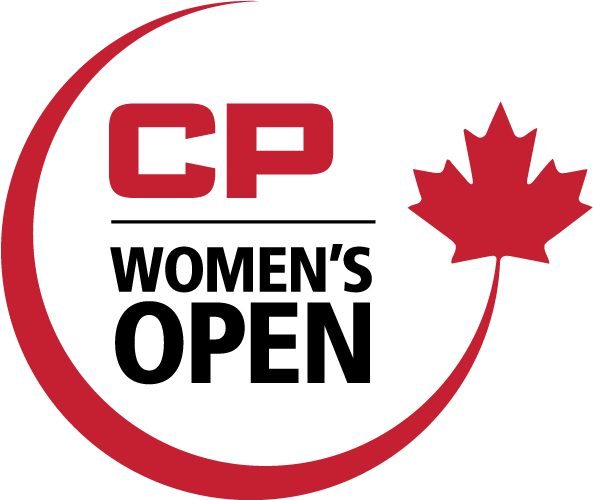 CP Women's Open
Ottawa Hunt and Golf Club | Ottawa, Ontario, Canada | Aug. 25-28, 2022
Wednesday Pre-Tournament Notes
Aug. 24, 2022
DANIELLE KANG RETURNS TO CP WOMEN'S OPEN AFTER INJURY
For major champion Danielle Kang, management is the name of the game as she returns to the LPGA Tour after months away due to injury. Body management, time management and managing expectations are top of her mind going into the CP Women's Open at Ottawa Golf and Hunt Club. The major champion stepped back from the Tour in June and said that in the time away, she learned much about herself and how to manage her game.
"I used to just wake up and just roll out of bed and swing a driver. Yeah, I can't do that anymore," Kang said with a big laugh. "I got to do this whole full warmup thing and make sure that my hips are activated, stretched. Yeah, it's like a full warmup session that has gotten longer, but it doesn't mean it's worse."
A six-time LPGA Tour champion, Kang won 2022's season-opening Hilton Grand Vacations Tournament of Champions but struggled with back issues as the season progressed. After two withdrawals and many uncomfortable rounds, Kang finally stepped back after the U.S. Women's Open presented by ProMedica, confirming that she had been diagnosed with a tumor on her spine.
In her two months off, she worked on maximizing her time on the course. Under the guidance of her medical team, Kang was strictly limited in the amount of time she was able to spend with a club in her hand, necessitating a long look at her professional routine.
"I've always thought if I put in quality and quantity I can rise on top. Sometimes I think it has like an opposite effect," she explained. "Before, (if) someone told me I could only practice for 30 minutes, (I'd think) what could I possibly get done in 30 minutes? I figured it out."
While Kang is a fierce competitor who hates being away from the game, she said the time off helped her curb her "desperation" to play and to win. More important than playing and winning, she said, is that "you just have to be healthy and happy." That competitive drive? It's still there. It's just been tempered by the knowledge she's gained.
"While I was away, I reached that blissfulness where I just felt healthy and happy. That's why I came back out," she explained. "I've been so intense and desperate to play golf, and I love the game, but I don't really need to be that desperate. I think that's the difference from back then and now. I'm excited to compete. I will always be a competitor. But I don't feel like I'm wanting that desperately. I think that's gone."
LORIE KANE LEAVING THE LPGA TOUR BETTER THAN SHE FOUND IT
This week is bittersweet for Canadian legend Lorie Kane. The four-time LPGA Tour winner, who joined the LPGA Tour in 1996, will compete in her 30th and final CP Women's Open at Ottawa Hunt and Golf Club. Every year since 1991, the Prince Edward Island native has competed in her national championship, notching five top-10 finishes and helping pave the way for future generations of Canadian talent.
"We have a great group of young women who are making their way. I've heard a lot said about me passing off a torch. There is no torch. I think everyone that has played golf in this country has flown the flag as high as they can to make it better," said Kane ahead of her final championship appearance. "I learned that from Jocelyne (Bourassa). I learned that from Sandra Post. I learned that from of Dawn Coe-Jones. I learned that from Gail Graham, Lisa Waters, Nancy Harvey. Alena Sharp came on board. Now we have Brooke Henderson, the most winningest player in our country, man or woman. She just doesn't get enough credit for what she has done to date.
"So, you know, what have I done? I haven't cured any worldwide diseases or cancer or made a difference. I just think I've been wanting to share a passion that I have for the game of golf and what golf has given me."
Kane may not believe it herself, but her mark on Canadian golf is indelible. In 2000, she became just the second Canadian player to earn multiple LPGA Tour titles. She twice earned the Bobbie Rosenfeld Award, given to Canada's leading female athlete of the year by the Canadian Press. Kane is a 2016 inductee in the Canadian Golf Hall of Fame and in 2021, she was added to Canada's Sports Hall of Fame. The long-time CP Ambassador is also a face of the CP Has Heart charitable program, which has raised over $29 million to promote heart health.
Kane's LPGA Tour peers have also recognized her on- and off-course talents. In 1998, she received the Heather Farr Perseverance Award, which is given to a golfer who demonstrates her love for the game through determination, perseverance and spirit. And in 2000, she received the Founders Award as a player "whose behavior and deeds best exemplifies the spirit, ideals and values of the LPGA."
Shirley Spork, one of those 13 Founders, left the LPGA Tour with a saying that is often used as a mantra – "Leave it better than you found it." Those words especially resonate with Kane, who said her parents used the same phrase in her childhood. Kane teared up when speaking about her father and original coach Jack Kane, who passed away one month ago but who will be with her in spirit as she takes one final spin around her beloved national championship.
"There was a head cover made, and on the front in garnet red is the St. Dunstan Saints (now the University of Prince Edward Island). That was my father's hockey team that he coached," said Kane, her voice trembling with emotion. "My dad coached. My grandfather coached the team my dad coached. On the front of the head cover it says St. Dunstan Saints, and the back of the head cover is my dad's cashmere sweater. My dad was always in a cashmere sweater. The boys put it together so beautifully, and I had them inscribe on the bottom, 'Leave it better than you found it.'"
Leave it better than you found it. That is something that Lorie Kane most certainly did.
LPGA TOUR PLAYERS SET NEW MARK FOR GUINNESS WORLD RECORDS
Many people have a childhood memory of reading through the Guinness World Records, finding out who had made record-setting marks in their favorite sport or held some obscure "World's Most" title. Now, six LPGA Tour players have added their names to the Guinness files.
On Tuesday at Ottawa Hunt and Golf Club, two groups of three LPGA Tour players took to the par-3 17th hole in search of their place in Guinness World Record history. The goal? Make the most pars or better on a hole, set to at least 160 yards, in 3 minutes. LPGA Tour and Golf Canada Rules Officials were on site to ensure each hole was completed, not to mention an official Guinness World Records observer making sure the event met Guinness regulations.
First up, the trio of Megan Khang, Rebecca Lee-Bentham and Pauline Roussin, playing alternate-shot format, flew around 17 to complete five holes and set the Record. "We realized by the green that it was a pretty long hole, so we were just trying to come up with a strategy. We were like, okay, maybe we can do this probably, I would say four, five times," said Khang. "Then I think it kind of hit. The pressure hit when it was like, okay, the horn blew and we were like, okay, we got to go, we got to go."
Five holes was a short-lived mark, as A Lim Kim, Jennifer Kupcho and Alison Lee bested them with six completed holes and the official Guinness World Record. All six players will receive official plaques and recognition from Guinness World Records for their feats.
Click here for video from the Guinness Par 3 Challenge at the CP Women's Open – https://twitter.com/LPGA/status/1562528447473528834
"We lost the coin toss and so we had to go first, and I would like to think that we helped Alison, Jennifer and A Lim kind of see how to play the hole," Khang joked. "But no, it was a ton of fun out there. There was some trash talking out there for sure. I mean, you don't realize how quickly three minutes goes."
AFTER SEVERE STORM DAMAGE, OTTAWA HUNT AND GOLF CLUB IS READY TO WELCOME THE WORLD'S BEST
Preparing a golf course for a national championship like the CP Women's Open takes a lot of work any given year, as Ottawa Hunt and Golf Club superintendent Eric Ruhs can attest. But on May 21, a storm in Ottawa Valley made those preparations even more difficult. The derecho, a straight-line storm with winds estimated at 75 miles per hours, brought down thousands of trees on the course.
"If you had asked me immediately after and for several weeks thereafter (if the course would be ready), there was a lot of doubt in our minds," Ruhs said the day before the start of the 2022 CP Women's Open. "But with a lot of support and a lot of help from not only our staff… we'll be in premier tournament condition."
For five consecutive days after the storm, the sound of 15 chainsaws could be heard clearing the damage. In total, 1,100 trees were removed and put to good use. According to Ruhs, some of the logs cleared had value and were sold, while the others were used to create some big piles of mulch.
"The volume of mulch was astronomical. Everything that could go through a tub grinder did," Ruhs laughed. "One particular pile was 254 feet long and 28 feet high, and that was less than half the volume of mulch that we had."
Ottawa Golf and Hunt Club was closed to members for over two weeks following the storm. But instead of staying home, the members traded their golf clubs for rakes, shovels and other tools to help with the cleanup effort.
"We had close to 100 members per day and on weekends 150 to 200 members per day come out to join us," said Ruhs, who has been the club's superintendent since 1987. "Clearly, they wanted their property back and there were a lot of emotions tied to the loss."
After months of clearing trees and debris, the course is ready to welcome back the CP Women's Open for the fourth time. The tournament was last played at Ottawa Hunt and Golf Club in 2017, when Canadian Brooke Henderson set the course record with a third-round 63, a mark that still stands, while Sung Hyun Park won the second of her seven LPGA Tour titles.
CP WOMEN'S OPEN CONTINUES LONG-STANDING CHARITABLE OUTREACH
In the nine years of CP's title sponsorship of the CP Women's Open, more than $13.5 million has been raised to support children's heart health in Canada via its CP Has Heart charitable program. The 2019 tournament marked the third time in six years that southern Ontario, this year's host province, has hosted the CP Women's Open, resulting in more than $5.5 million donated in the province: London (2014 – $1.3 million), Ottawa (2017 – $2 million) and Aurora (2019 – $2.45 million).
The main beneficiary of the 2022 CP Women's Open is Children's Hospital of Eastern Ontario (CHEO). Dedicated to the best life for every child and youth, CHEO is a global leader in pediatric health care and research. Based in Ottawa, CHEO includes a hospital, children's treatment center, school and research institute, with satellite services located throughout Eastern Ontario. CHEO provides excellence in complex pediatric care, research and education.
Canadian legend Lorie Kane, who is playing in her 30th and final CP Women's Open this week, is a long-time CP Ambassador. "It's all the great kids that I've met through the CP Has Heart program," she said when asked about the highlights of her CP Women's Open career. "Some of you may or may not know, but Kyle, who was an ambassador at Magna (Golf Club, the 2019 host venue), has passed. He was 20 years old. His mom shared with me that they would never have known the joy they had and the heart that was given to him at five months that they would have gotten 20 years. So those are more important to me than the almosts, the could haves."
The 2022 CP Women's Open will again feature the Birdies for Heart charitable program. For every birdie made at the par-3 15th hole during this week's competition, CP will donate $5,000 to CHEO. The 2017 CP Women's Open held at Ottawa Hunt and Golf Club saw 45 birdies over the four days of competition, for a total of $225,000.
For more, visit www.cpwomensopen.com/charity-information/ and www.cpr.ca/en/community/cp-has-heart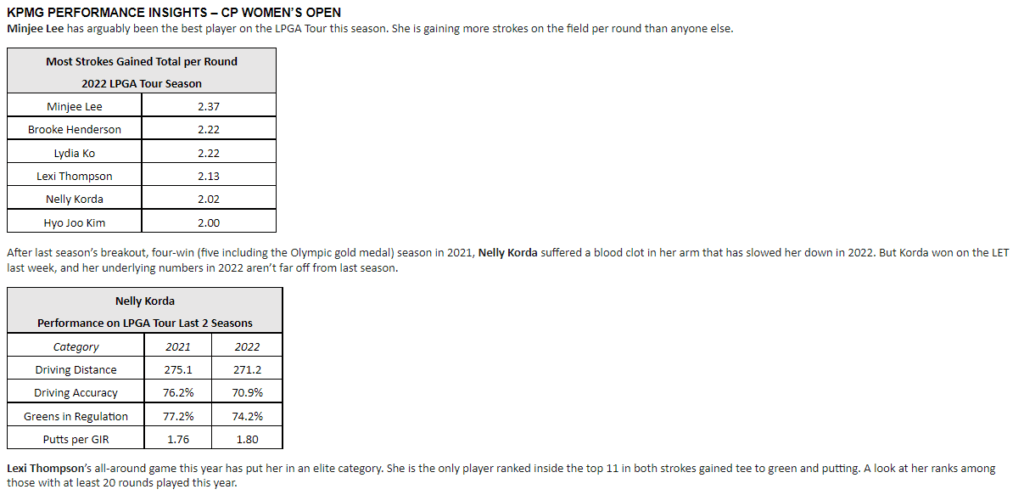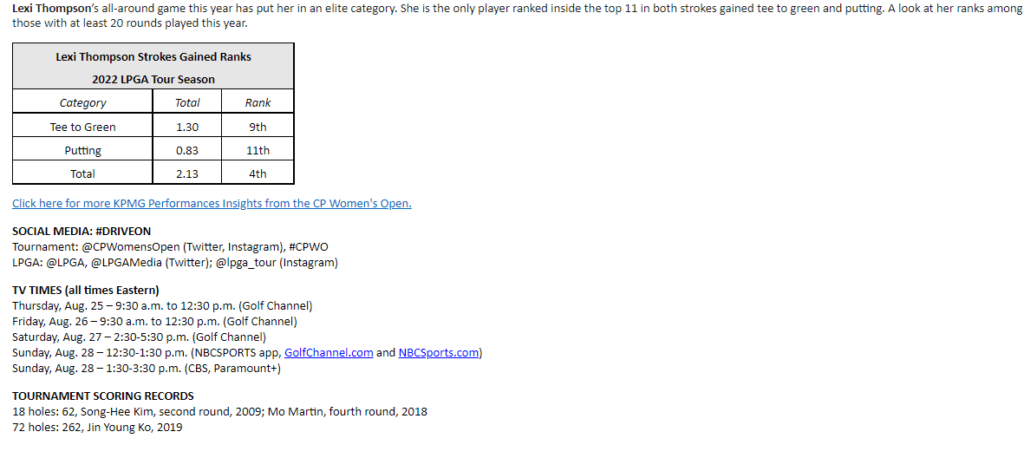 COURTESY LPGA TOUR COMMUNICATIONS