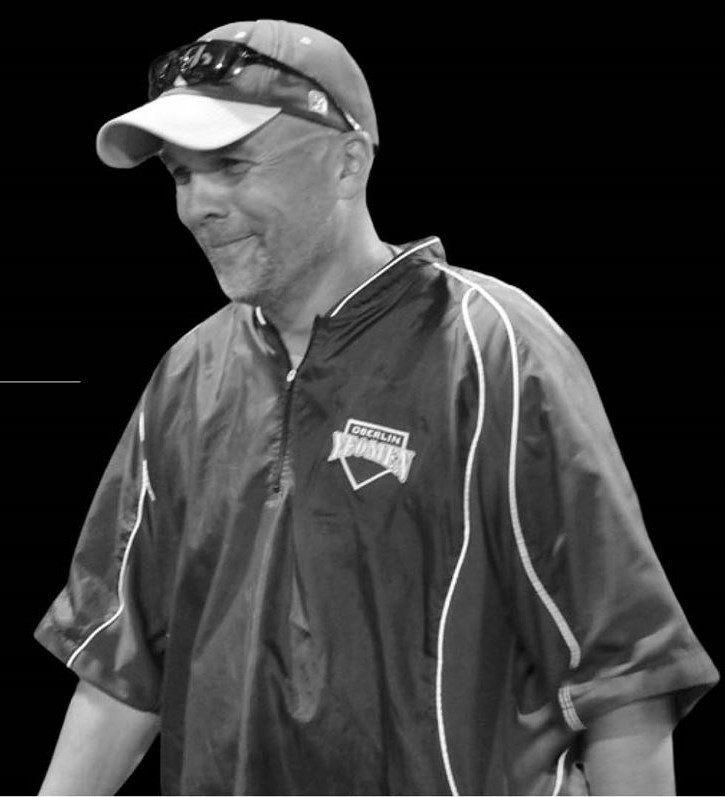 8/23/2022
Oberlin, Ohio – The Oberlin College Department of Athletics and Physical Education extends its deepest sympathies to the family, friends, and players of former longtime Oberlin College baseball coach Adrian Abrahamowicz, who passed away on Sunday, August 21, after a courageous multi-year battle with cancer.
"The baseball field was Adrian's classroom. He touched many lives throughout his career and his impact will continue to serve those he reached on our campus and throughout the local communities," Associate Vice President for Athletics Advancement and Delta Lodge Director of Athletics & Physical Education Natalie Winkelfoos said. "On behalf of Oberlin College, we share our deepest condolences with his family."
Abrahamowicz served Oberlin for 18 years as an assistant and head coach within the baseball program, taking the Yeomen to unprecedented heights. After taking over as head coach prior to the 2011 season, Abrahmowicz guided the Yeomen into the NCAC Tournament three times (2013, 2015, 2017), leading the team to school-best totals in overall wins (23) and conference wins (12) in 2017. In 2015, he steered the Yeomen to three victories at the NCAA Regionals, becoming the first and only coach in program history to win an NCAA Tournament game.
"Coach A gave everything he had to the game of baseball, his program, his players, and the countless families he came in contact with," Head Baseball Coach Johnathan Ray said. "His impact on not just Oberlin baseball, but the youth baseball community is bigger than anyone could imagine. He helped countless young men reach their dream of playing collegiate baseball, and did it because he believed he could help them achieve it. Though Coach A would say he was just a baseball coach, he was so much more. His players loved him, the families loved him, the baseball community loved him. The sacrifice he, his wife Teresa, and his children made for our program will always be cherished. Our memories of Coach A will live on in all those in our program, our athletic department, and all others who had the privilege of knowing him. Our condolences to the Abrahamowicz family for Coach A will forever be missed."
In addition to coaching a plethora of All-Region and All-NCAC selections, he mentored all-time hits leader Jeff Schweighoffer '15, single-season hits leader Brendan Mapes '19, and former professional baseball player, and current Hiram Head Coach, Phil Brua '11 whose name is scattered throughout the Oberlin record books as one of the best pitchers in school history.
"Coach A was the reason I went to Oberlin and he was responsible for connecting with me with my teammates, who are still my best friends today," Schweighoffer said. "He motivated me as a competitor both in baseball and in life. I had an absolute blast playing for him and forever owe him for many things he instilled in me on and off the field."
The 2013 NCAC Coach of the Year, Abrahamowicz had six seasons of 17 or more wins and three years with 20 or more victories.
"I always saw 'Coach A' as a mentor that helped me become the person I am today," class of 2021 graduate Lawrence Hamilton said. "From our on-the-field jokes to our discussions in his office, the impact he made on me as well as our team as a whole will be greatly missed."
"Coach A was tough as nails and worked harder than I can fathom," class of 2014 graduate Sean Cohen said. "He understood perfectly how to be both a friend and mentor but what I remember about him most are the little details, like when he told me he could speed read during my senior season. I didn't know if he was messing with me or not, and still don't, but I hope he's having a good laugh right now knowing that he's still got me wondering."
"Coach A's legacy, to me, is not the success Oberlin had on the field during his tenure, but his ability to bring people together for a goal that was larger than winning," class of 2018 graduate Jack Brewster said. "Under Coach A, Oberlin baseball went from a team to a community, where baseball was the catalyst for life-long friendships, for personal growth, and for learning from mistakes through humor. Coach A was the only coach I ever had who treated his players as people first, players second. He never took himself too seriously. He showed up because he cared, not to inflate his ego. He made Oberlin a better place."
"Coach A was not just a baseball coach, he was also a life coach," class of 2016 graduate Blaise Dolcemaschio said. "He strove to make his players better men in the world and made sure family was of the highest importance. Our teams always felt like family on and off the field and that definitely influenced some of our on-field success, especially during our 2015 NCAC Championship and NCAA Regional run. I don't think a single player on the 2015 team will forget that feeling and I know that was Coach A's fondest career moment."
Abrahamowicz is survived by his wife, Teresa, daughter, Taylor, and son, Andrew.
Those wishing to call may do so from 11 a.m. – 4 p.m. on Saturday, August 27 at the Dovin and Reber Jones Funeral & Cremation Center.
Calling Hours Location
Dovin and Reber Jones Funeral & Cremation Center
1110 Cooper Foster Park Rd
Amherst, OH 44001
COURTESY OBERLIN ATHLETICS