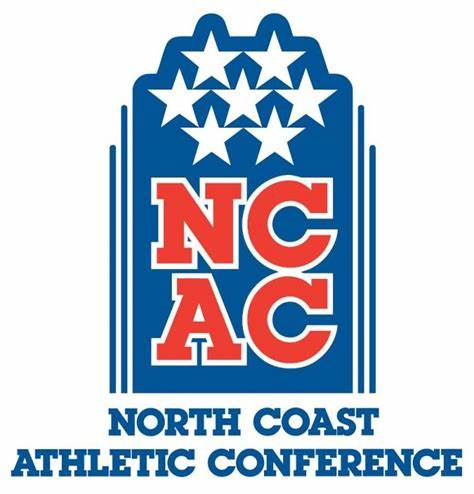 Wed, Aug 24, 2022
CLEVELAND, OH – Defending North Coast Athletic Conference champion Denison was tabbed as the favorite in the race for the 2022 volleyball championship according to preseason balloting of the league coaches.
The 2021 title marked the first in program history for the Big Red who received five of the possible eight first-place votes and 61 points overall. Second went to Wittenberg, as the Tigers received the final three first-place votes and 59 total points. Ohio Wesleyan was ranked third with 45 points, while DePauw was picked fourth garnering 33 points overall. Wooster rounded out the top five with 31 points, while Hiram (27) was picked sixth, Oberlin (22) was slotted seventh and Kenyon (10) placed eighth.
Carter Cassell, who was named NCAC Coach of the Year last season, returns three all-conference members from a 2021 Big Red team that was a perfect 8-0 in NCAC play and finished the season with a 19-7 overall record. Middle hitter Lucy Anderson (Bloomington, IN/Bloomington South) returns for her senior campaign after earning All-NCAC first-team honors and NCAC Player of the Year accolades after collecting 395 points, 287 kills and 96 blocks across 93 sets a season ago. Also returning for Denison is a pair of 2021 All-NCAC second-team members, senior defensive specialist Jenna Corrao (Solon, OH/Solon) and junior setter Kirby MacKinnon (Chatham, Ontario/Chatham Kent Secondary). Corrao logged 481 digs, 83 assists and 24 service aces across 91 sets, while MacKinnon compiled 893 assists, 208 digs and 16 service aces in 81 sets played last season.
The 2022 volleyball season begins Sept. 1, with two conference teams competing in non-conference action, while the first NCAC matchups will take place on Sept. 24 with Hiram traveling to Ohio Wesleyan, DePauw hosting Oberlin and Wooster hitting the road to play Wittenberg.
Founded in 1983, the North Coast Athletic Conference is made up of nine academically selective colleges and universities – Denison University, DePauw University, Hiram College, Kenyon College, Oberlin College, Ohio Wesleyan University, Wabash College, Wittenberg University and the College of Wooster, along with affiliate members, Allegheny College and Earlham College in the sport of field hockey. The NCAC sponsors 23 championship sports, 11 for men and 12 for women.
COURTESY NORTH COAST ATHLETIC CONFERERENCE COMMUNICATIONS