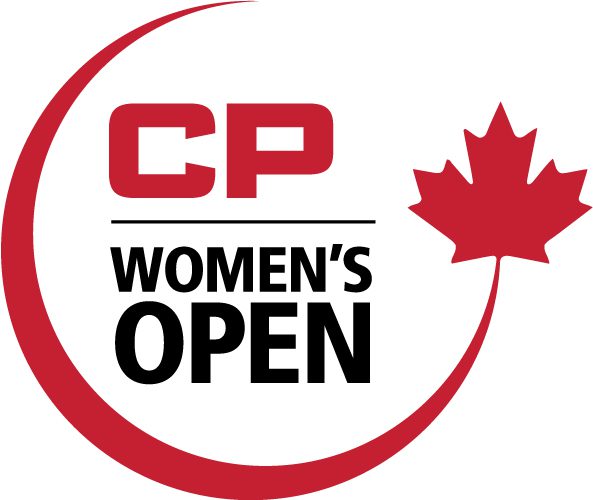 CP Women's Open
Ottawa Hunt and Golf Club | Ottawa, Ontario, Canada | Aug. 25-28, 2022
Tuesday Pre-Tournament Notes
Aug. 23, 2022
CANADA'S NATIONAL CHAMPIONSHIP RETURNS TO THE LPGA TOUR SCHEDULE
For the first time since 2019, the LPGA Tour heads north of the border for the CP Women's Open. After a two-season hiatus due to the Covid-19 pandemic, 156 of the world's best female golfers will compete for Canada's national title and for the opportunity to hoist the CP Women's Open trophy.
Thursday's opening round will mark 1,096 days since Rolex Rankings No. 1 Jin Young Ko captured the 2019 CP Women's Open title at Magna Golf Club in Aurora, Ontario. Ko played 72 holes of bogey-free golf in her five-stroke victory over Nicole Broch Estrup, part of her record-setting streak of 114 consecutive holes without a bogey.
Ko will finally get the opportunity to defend her 2019 title this week at Ottawa Hunt, although Rolex Rankings No. 5 and 2022 Amundi Evian Championship winner Brooke Henderson will undoubtedly have the crowd's favor on her side. Henderson, who grew up just an hour outside Ottawa in Smiths Falls, is one of 18 Canadians in the field and is one of just two Canadians to win her national title, taking the victory in 2018 at Wascana Country Club in Regina, Saskatchewan.
Ko and Henderson are joined in this week's field by the other three players in the top-five of the Rolex Women's World Golf Rankings in No. 2 Minjee Lee, No. 3 Nelly Korda and No. 4 Lydia Ko.
WHAT YOU NEED TO KNOW ABOUT THE CP WOMEN'S OPEN
Two Canadians have won the CP Women's Open – Brooke Henderson, who won in 2018, and Jocelyne Bourassa, who won the inaugural CP Women's Open (then called the La Canadienne) in 1973
Since 2001, five Americans have won the CP Women's Open a combined six times: Meg Mallon (2002, 2004), Beth Daniel (2003), Cristie Kerr (2006), Michelle Wie West (2010) and Brittany Lincicome (2011)
From 1979 to 2000, the tournament was a major on the LPGA Tour and known by a series of names, most famously the du Maurier Classic; notable winners include World Golf Hall of Fame members Amy Alcott (1979), Pat Bradley (1980, 1985, 1986), Sandra Haynie (1982), Hollis Stacy (1983), Juli Inkster (1984), Laura Davies (1996), Karrie Webb (1999) and Meg Mallon (2000)
The 2023 CP Women's Open will be held at Shaughnessy Golf and Country Club in Vancouver, British Columbia
BROOKE'S BRIGADE EXPECTED IN FULL FORCE AS SUPERSTAR CANADIAN SEEKS SECOND #CPWO TITLE
A large crowd of fans followed Brooke Henderson around Ottawa Hunt and Golf Club during her Tuesday morning practice round before the CP Women's Open. But it was nothing compared to the record-setting crowds to come. To date, 70,000 tickets have been sold and walk-ups are still welcome and encouraged.
"The last few years have been really tough on everybody, so I think it's amazing that the tour is back in Canada playing after such a long time," Henderson said. "Hopefully just lots and lots of people come out and we can really celebrate that things are moving forward and getting a little bit back to normal."
The CP Women's Open was last played in 2019, with Jin Young Ko earning the victory and Henderson finishing tied for third. She won the tournament the year prior, becoming just the second Canadian to win her national title, and seems to have a dominating performance every year, even if the Open's last trip to Ottawa gave her a little fright.
"In 2017 (at Ottawa Hunt) I had to make birdie on Friday afternoon to make the cut," she laughed. "But then I went on to post a course record on Saturday, which still stands."
Henderson's game is undoubtedly in top form as she heads into her sixth CP Women's Open. This season, she added a second major victory to her resume at the Amundi Evian Championship and an additional Tour win at the ShopRite LPGA Classic presented by Acer. Sheis the only player on the Tour this season to be ranked in the top-10 in both strokes gained off the tee and strokes gained approach and she has been increasingly approving on the green all season.
"The last few months have been a lot of fun. I feel like my game has been in a really good spot," she said. "Hopefully I can just kind of keep that momentum and the confidence level at a high for a while, kind of get off to a fast start and continue to ride the wave of playing well."
Of all her victories, the winningest professional golfer in Canadian history said she is most honored to have the CP Women's Open trophy as part of her collection. And now, with a home-field advantage of sorts – Henderson is an honorary member at Ottawa Hunt and Golf Club – she is ready to earn another one. How will she do that? By finding the right balance between enjoying the event and competing in it.
"I want to enjoy this as much as I can, because it's pretty cool to be playing against the best players in the world and see my posters up everywhere and to have the crowds that I have had even in the practice rounds, and I'm sure will be even bigger," she said. "But really, I have a job to do, so I'm going to try to do to it the best I can. It's amazing to have this opportunity and to have a chance to be in contention and to hoist another trophy."
MAUDE-AIMEE LEBLANC RETURNS TO FAVORITE EVENT DURING CAREER BEST SEASON
In 2019, Canadian golfer Maude-Aimee Leblanc missed the cut at the CP Women's Open, her only LPGA Tour event of season. A few months later, she announced her retirement from professional golf.
"I was not in a good place. I felt like my game was better than my scores and my results, so it was very frustrating. I didn't enjoy being out there anymore," she said on Tuesday morning before the 2022 CP Women's Open.
Thankfully, her retirement turned into only a year-long hiatus that served as a mental turning point for the now 33-year-old Tour veteran, currently in her ninth season on Tour.
"It gave me time to think and put things in perspective, and really also think about what wasn't working in my previous nine years," she said. "I really thought, deep down, that I had more to accomplish out here, but, again, I wasn't going to do it until I figured out what I needed to improve or change."
As she returns to the CP Women's Open, her favorite event on Tour, it seems she has figured it out. The 2022 season has been her best so far, making 10 of 16 cuts with three top-10 finishes and already earning more on the official money list than in any other season. At the Amundi Evian Championship, her commanding performance earned her a spot in the final grouping on Sunday for the first time in her career. The key to her recent success apparently lies on the greens.
"Putting seemed to always be the common denominator every year, so I've put a lot of effort in that," she said. "I've changed coaches, worked on my putting a lot. For me, putting is also an attitude, mindset so I feel really good right now. Game feels good."
ASHLEIGH BUHAI RETURNS TO COMPETITION AT CP WOMEN'S OPEN
We all see the emotions. We all feel the drama. When a player wins for the first time, or captures a maiden major championship, intensity radiates like an electric charge. At some level, you feel what they feel. You live and die with each step, each breath, and each shot. Whether on the ground or watching at home, you engage with the moment.
What you don't see is what comes after. Once the trophy ceremony is complete; once the speeches are given, the recognitions doled out; once the fans file out of the grandstands and onto the waiting buses, back to their cars, their homes, their regular routines, what happens then? Is the winner left standing in the dark with a trophy and a smile? And if so, what feelings go along with that?
Ashleigh Buhai got the answer to all of those questions after making the AIG Women's Open her first career win. Buhai stood on the 18th green at iconic Muirfield after outlasting In Gee Chun in a playoff that sailed to the edge of night, and in that moment, she asked herself, "Okay, now what?"
"I think the emotions straight afterwards, you don't really know what's happened," Buhai said on Tuesday morning in Ottawa at the CP Women's Open, her first start since becoming a major champion. "It just hits you and then you have a few days to reflect. I've had some time and managed to watch some the highlights, fast forward and kind of watched the playoff. Actually more wanted to see my husband's reaction because everybody was talking about him and how funny it was."
For more, visit www.lpga.com/news/2022/ashleigh-buhai-returns-to-competition-at-cp-womens-open
LUCY LI CLINCHES 2023 LPGA TOUR CARD
The first player has mathematically clinched their 2023 LPGA Tour card through the Epson Tour top-10. Lucy Li, who has had a stellar 2022, secured her spot in the "big league" two months before the season ends.
"It's great," said Li. "Just to officially hear it is really exciting. I'm super excited for next year and to be able to play on the LPGA."
Li, who has been around the game for most of her life, has always dreamt of playing on the LPGA Tour and now her dreams are coming true. By clinching her spot in the Epson Tour's top-10, Li will have full-time status for the 2023 LPGA Tour season.
After securing her second professional win, and second of the Epson Tour season, at the Twin Bridges Championship in July, Li decided to push herself out of her comfort zone and try to earn entry to LPGA events through qualifier or sponsor invites for the rest of the season. The California native was invited to compete in the ISPS Handa World Invitational presented by Aviv Clinics earlier this month and heads to Ottawa, Canada to compete in this week's CP Women's Open.
For more information, visit www.lpga.com/news/2022/li-clinches-2023-lpga-card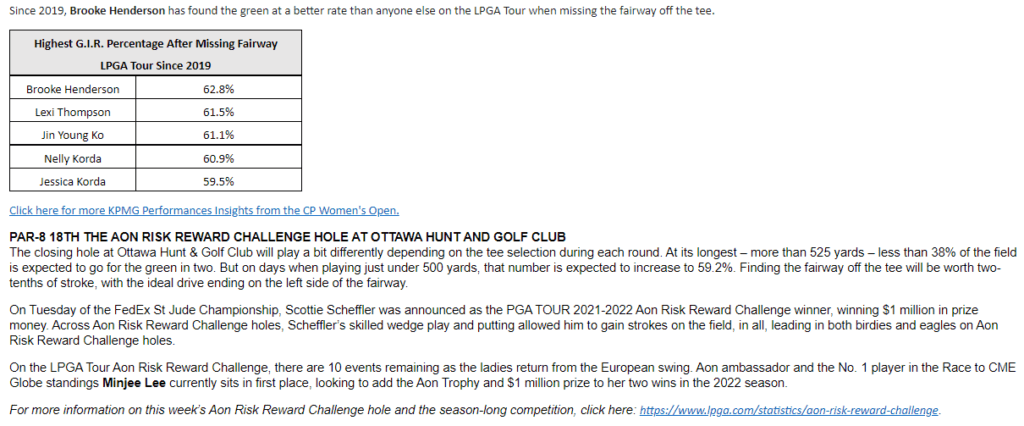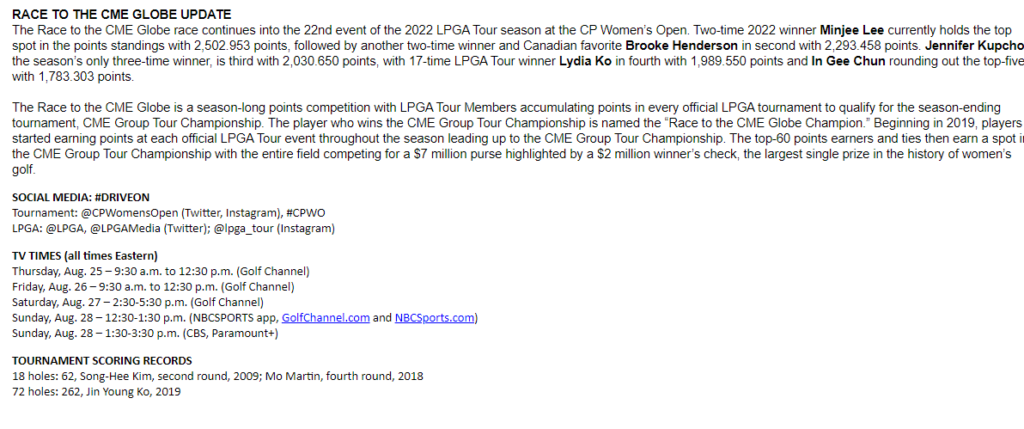 COURTESY LPGA TOUR COMMUNICATIONS