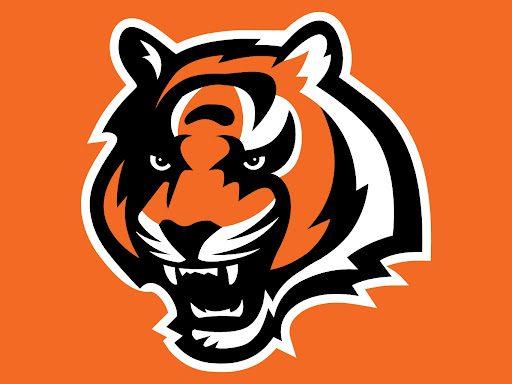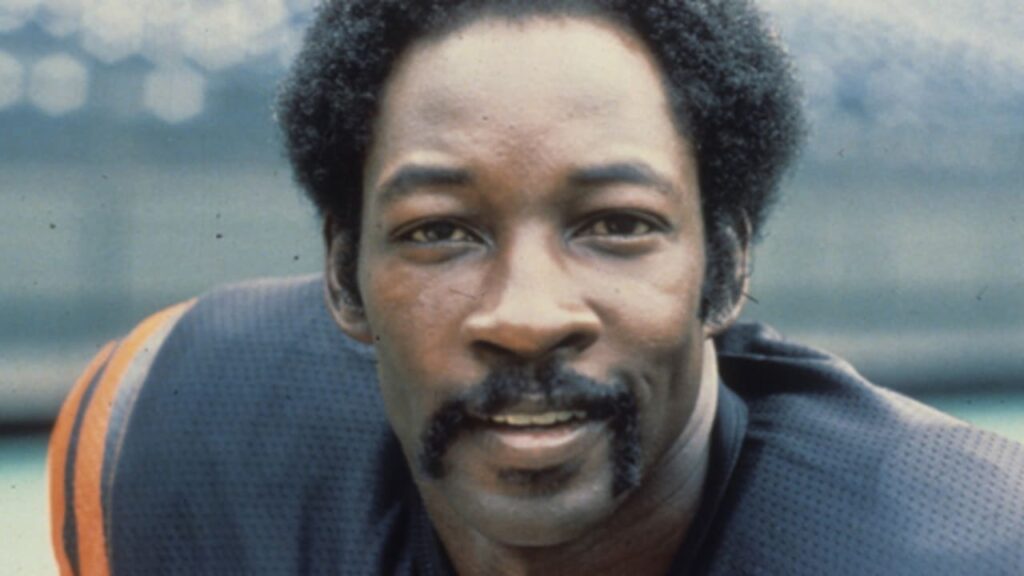 FROM WIKIPEDIA COMMONS
Kenneth Jerome Riley (August 6, 1947 – June 7, 2020) was an American professional football player who was a cornerback. He spent his entire career with the Cincinnati Bengals, first in the American Football League (AFL) in 1969 and then the National Football League (NFL) from 1970 through 1983. Riley recorded 65 interceptions in his career, which was the fourth most in NFL history at the time of his retirement behind three members of the Pro Football Hall of Fame, Dick Lane, Emlen Tunnell, and Paul Krause. But despite his accomplishments, he was never an exceptionally well known or popular player. Riley was never once selected to play in the AFL All-Star Game or the AFC-NFC Pro Bowl, and to this day, has not been voted into the Pro Football Hall of Fame.
Riley died of a heart attack on June 7, 2020, at the age of 72.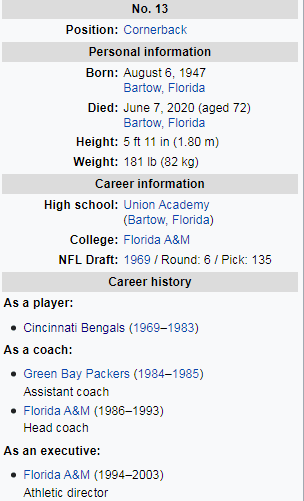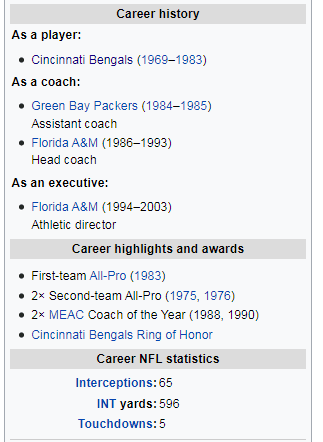 STATEMENT FROM BENGALS PRESIDENT MIKE BROWN
Aug 17, 2022
Ken Riley has moved to the final step in the selection process for the Pro Football Hall of Fame's Class of 2023.
Statement from Bengals President Mike Brown:
"This is long deserved. It is unfortunate Kenny is gone because we know how much he would have appreciated this. His family is surely pleased at this news. Kenny was a splendid player and still holds the Bengals record for most interceptions over a career. It would be a wonderful thing if he were selected for the Hall of Fame."
Pro Football Hall of Fame Press Release: www.profootballhof.com/news/2022/seniors-chuck-howley,-joe-klecko,-ken-riley-selected-as-finalists-for-hall-of-fame-class-of-202/
WHAT HAS TO HAPPEN FOR KEN RILEY TO BE IN THE PRO FOOTBALL HALL OF FAME
"The Rattler" who has the most interceptions by a cornerback for one team, needs 80 percent of the vote from the 49-member Hall board of selectors to become just the second Bengal in the Hall. Anthony Munoz, the still-popular offensive left tackle, was the first in team history.
 He will join former Dallas Cowboys linebacker Chuck Howley and New York Jets former defensive lineman Joe Klecko from the group of players who have been retired at least 25 years.
COURTESY BENGALS MEDIA RELATIONS & WIKIPEDIA COMMONS