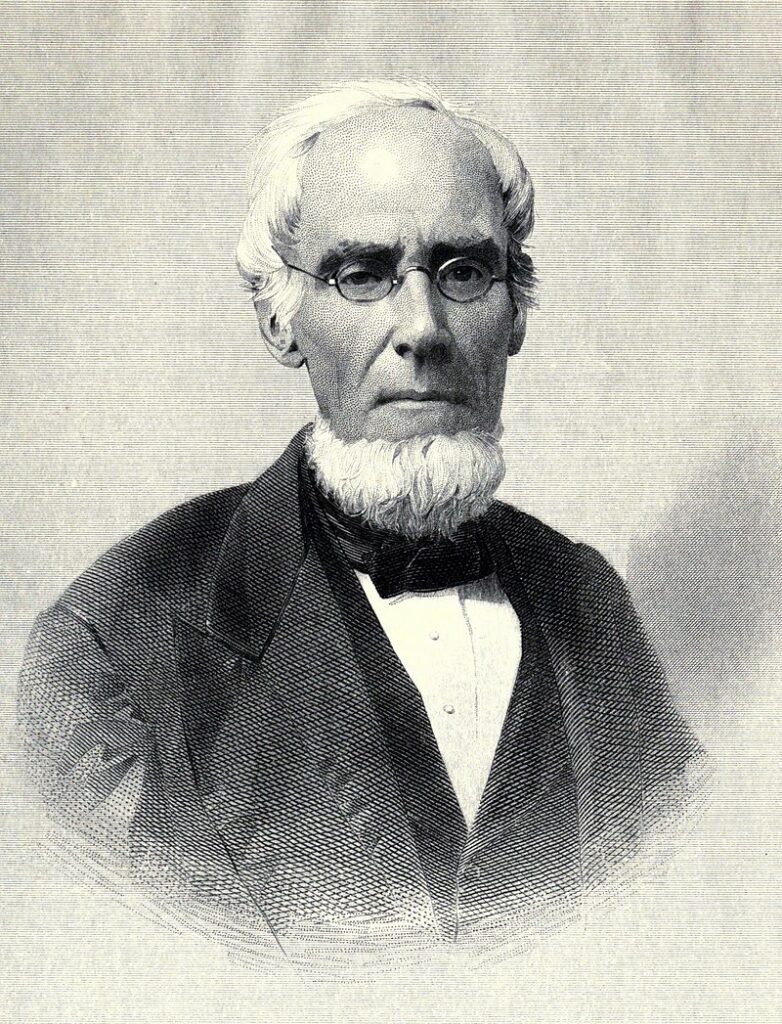 FROM WIKIPEDIA COMMONS
Gail Borden Jr. (November 9, 1801 – January 11, 1874) was a native New Yorker who settled in Texas in 1829 (then still Mexico), where he worked as a land surveyor, newspaper publisher, and inventor. He created a process in 1853 to make sweetened condensed milk. Earlier, Borden helped plan the cities of Houston and Galveston in 1836.
Borden's process for making sweetened condensed milk enabled the dairy product to be transported and stored without refrigeration, and for longer periods than fresh milk. After returning to the New York area to market another product, he set up factories for condensed milk in Connecticut, and later in New York and Illinois. Demand by the Union Army was high during the American Civil War. His New York Condensed Milk Company changed its name to Borden Dairy Co. after his death.
DEATH & LEGACY
Borden died on January 11, 1874, in Borden in Colorado County, Texas. His body was shipped by private car to New York City to be buried in Woodlawn Cemetery.
Borden County, Texas, where he had never been, was named for him posthumously, as was its county seat, Gail. Borden, Texas, was also named for him.
The New York Condensed Milk Company changed its name in 1899, to honor Borden. It continued to be a strong corporation. By the 1940s, the Borden Company employed 28,000 people and had a stock holding partnership of 50,000. It dealt with more varied products, ranging from fresh and condensed milk, casein, animal feeds, pharmaceuticals, and vitamins, to soybean creations. A version of the company continues today. Now called Eagle Brand, the company's website cites its origins in 1856 with the opening of Borden's first factory.
The Borden Award
In 1892, Samuel and Alfred Church, stepsons of Borden, and residents of Elgin, Illinois, purchased and donated the Scofield Mansion at 50 N. Spring Street to house a new library for the residents of Elgin. Samuel and Alfred's only request was that the library be called the Gail Borden Public Library.
The Borden Company established the Borden Award in 1937 and inaugurated it in 1938. The award, given annually, consists of a gold medal and $1,000.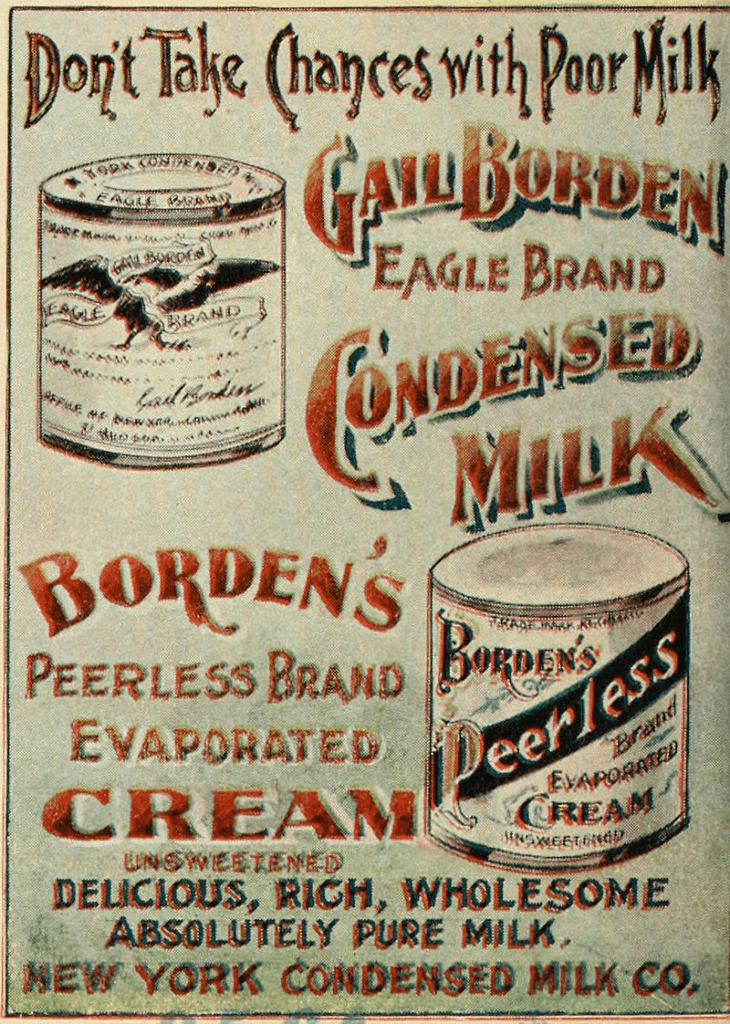 TODAY'S ALMANAC
Ever since 1939, August 19 has been celebrated as National Aviation Day, the legacy of a presidential proclamation first made by Franklin D. Roosevelt to celebrate the birth date of civil aviation pioneer Orville Wright. Together with his brother Wilbur, the Wrights are credited with inventing, building, and flying the world's first successful airplane. Specifically, Orville Wright piloted the first controlled, sustained flight of a powered, heavier-than-air machine with the Wright Flyer on December 17, 1903, near Kitty Hawk, North Carolina. Although not the first to build experimental aircraft, the Wright brothers were the first to invent aircraft controls which truly made fixed-wing powered flight possible. Orville was born in Dayton, Ohio, while his partner and older brother, Wilbur Wright, was born on a farm near Millville, Indiana. Today, National Aviation Day celebrates the history and development of the aviation.
Question of the Day
What does a thick husk on ears of corn mean?
In weather folklore, if corn shucks are thicker or tougher than ordinary, a rough winter may be ahead.
Advice of the Day
Use cream of tartar as a cleanser to brighten stainless steel.
Home Hint of the Day
If no other treatment is available for bee stings, one of the simplest old-time treatments is a handful of mud. Just scoop up the mud and hold it on the sting until the mud dries.
Word of the Day
Climate
The long-term atmospheric conditions of an area; the "average" weather conditions, along with normal variations and extremes.
Puzzle of the Day
The Hawkeye State.(Name the U.S. state!)
Iowa
Died
Axel Fredrik Cronstedt (Swedish scientist) – 1765
James Geddes (engineer) – 1838
Federico García Lorca (writer) – 1936
Groucho Marx (comedian & actor) – 1977
Otto Frank (father of Anne Frank) – 1980
Sri Swami Satchidananda (founded Yogaville" in Virginia") – 2002
Tony Scott (director) – 2012
Born
Orville Wright (aviator) – 1871
Coco Chanel (designer) – 1883
Ogden Nash (writer) – 1902
Malcolm Forbes (publisher) – 1919
Gene Roddenberry (author, producer) – 1921
Willie Shoemaker (jockey) – 1931
Bill Clinton (42nd U.S. president) – 1946
Jonathan Frakes (actor) – 1952
Peter Gallagher (actor) – 1955
John Stamos (actor) – 1963
Kyra Sedgwick (actress) – 1965
Lee Ann Womack (country musician) – 1966
Matthew Perry (actor) – 1969
Callum Blue (actor) – 1977
Jennifer Morrison (actress) – 1979
Erika Christensen (actress) – 1982
Events
Five hanged for witchcraft in Salem, Massachusetts– 1692
In a battle off Nova Scotia, the USS Constitution earned the nickname Old Ironsides and sank the British frigate HMS Guerrière– 1812
Farmer Gail Borden obtained a patent for his process for condensing milk– 1856
The Soviet Union launched Sputnik 5, a space menagerie. Two dog passengers, Belka and Strelka, became the first living organisms recovered from orbit– 1960
Strong earthquake in Turkey killed over 2,000 people– 1966
72-pound lake trout was caught in Great Bear Lake in the Northwest Territories– 1995
Carly Patterson became the first American in 20 years to win the women's Olympic gymnastics all-around gold medal– 2004
A bronze statue of Arthur Fonzie Fonzarelli was unveiled in Milwaukee, Wisconsin– 2008
Weather
The thermometer soared to 102.92 degrees F (39.4 degrees C) in Rexton, New Brunswick– 1935
Hurricane Diane caused unprecedented flooding of many small rivers in New England, resulting in 184 deaths and $1 billion in damage– 1955
Hurricane Bob hit New England– 1991
COURTESY www.almanac.com