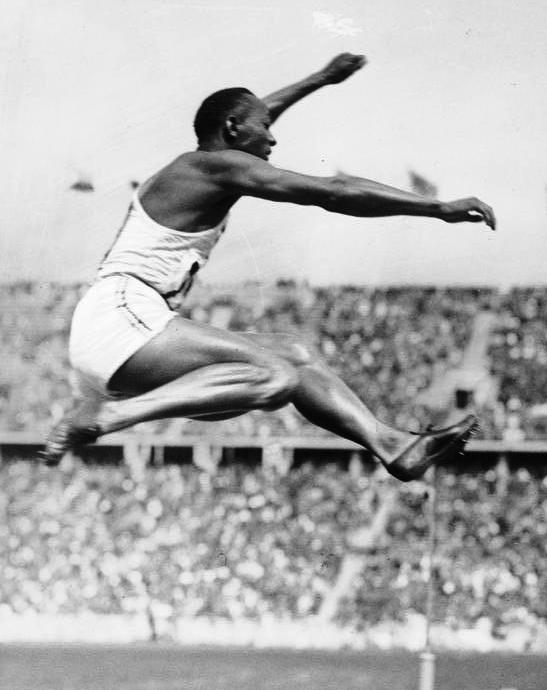 FROM WIKIPEDIA COMMONS
James Cleveland "Jesse" Owens (September 12, 1913 – March 31, 1980) was an American track and field athlete who won four gold medals at the 1936 Olympic Games.
Owens specialized in the sprints and the long jump and was recognized in his lifetime as "perhaps the greatest and most famous athlete in track and field history". He set three world records and tied another, all in less than an hour, at the 1935 Big Ten track meet in Ann Arbor, Michigan—a feat that has never been equaled and has been called "the greatest 45 minutes ever in sport".
He achieved international fame at the 1936 Summer Olympics in Berlin, Germany, by winning four gold medals: 100 meters, long jump, 200 meters, and 4 × 100-meter relay. He was the most successful athlete at the Games and, as a black American man, was credited with "single-handedly crushing Hitler's myth of Aryan supremacy".
The Jesse Owens Award is USA Track and Field's highest accolade for the year's best track and field athlete. Owens was ranked by ESPN as the sixth greatest North American athlete of the 20th century and the highest-ranked in his sport. In 1999, he was on the six-man short-list for the BBC's Sports Personality of the Century.
Ohio State University
Owens attended the Ohio State University after his father found employment, which ensured that the family could be supported. Affectionately known as the "Buckeye Bullet" and under the coaching of Larry Snyder, Owens won a record eight individual NCAA championships, four each in 1935 and 1936. (The record of four gold medals at the NCAA was equaled only by Xavier Carter in 2006, although his many titles also included relay medals). Though Owens enjoyed athletic success, he had to live off campus with other African-American athletes. When he traveled with the team, Owens was restricted to ordering carry-out or eating at "blacks-only" restaurants. Similarly, he had to stay at "blacks-only" hotels. Owens did not receive a scholarship for his efforts, so he continued to work part-time jobs to pay for school.
TODAY'S ALMANAC
Question of the Day
Can I eliminate the poison oak at the back edge of my wooded lawn without using chemicals or going in there and cutting?
Try combining 3 pounds salt and 1 gallon soapy water. Spray this solution on the plant's leaves and stems.
Advice of the Day
A wet August never brings dearth.
Home Hint of the Day
To clean cane chair seats, wash them with hot water and dishwashing liquid, then rinse and let dry.
Word of the Day
Biddy
A name used in calling a hen or chicken. An Irish serving woman or girl.
Puzzle of the Day
The Grand Canyon State.(Name the U.S. state!)
Arizona
Born
Izaak Walton (writer) – 1593
William Alfred Fowler (physicist) – 1911
Robert Shaw (actor) – 1927
Sam Elliott (actor) – 1944
Jonathan Kellerman (mystery writer) – 1949
Melanie Griffith (actress) – 1957
Whitney Houston (singer) – 1963
Brett Hull (hockey player) – 1964
Deion Sanders (football player) – 1967
Gillian Anderson (actress) – 1968
Thomas Lennon (actor) – 1970
Dan Levy (writer and actor) – 1983
Forrest Landis (actor) – 1994
Died
Herman Hesse (author) – 1962
Jerry Garcia (musician) – 1995
Gregory Hines (dancer & actor) – 2003
Fay Wray (won fame as the damsel held atop the Empire State Building by a giant ape in the 1933 film King Kong) – 2004
Matthew McGrory (actor) – 2005
Bernie Mac (comedian & actor) – 2008
Frank Gifford (NFL Hall of Fame football player) – 2015
Events
The Webster-Ashburton Treaty was signed, delimiting the eastern section of the Canadian-American border. The treaty established the boundaries between the St. Croix and Connecticut rivers, between Lake Superior and the Lake of the Woods, and between Lakes Huron and Superior– 1842
Henry David Thoreau published Walden– 1854
Thomas Edison received a patent for a two-way telegraph– 1892
Edward VII crowned king of the United Kingdom– 1902
Lassen Volcanic National Park, California, established– 1916
Betty Boop premiered in the animated film Dizzy Dishes– 1930
Jesse Owens stole the limelight by winning four gold medals in track at the Olympic Games in Berlin and became the first American to win four medals in one Olympics– 1936
Smokey Bear was chosen as a fire prevention symbol. Posters were released by the Forest Service and the Wartime Advertising Council.– 1944
The second atomic bomb, Fat Man, was dropped on Nagasaki, Japan– 1945
Fatal missile silo explosion occurred in Searcy, Arkansas– 1965
Richard M. Nixon resigned as President of the United States– 1974
The Edmonton Oilers traded Wayne Gretzky to the L.A. Kings– 1988
Donald Duck received a star on the Hollywood Walk of Fame– 2004
A magnitude-4.5 earthquake struck the Greater Los Angeles area– 2007
A magnitude-7.5 earthquake struck east of Jakarta, Indonesia– 2007
In Karlsruhe, Germany, police responded to an emergency call: A baby squirrel was chasing a man down the street and would not give up. When police arrived on the scene, the squirrel was still in pursuit, but then the exhausted rodent suddenly stopped and fell asleep. The police named the small squirrel Karl-Friedrich and took him into custody. Soon after, he was taken to an animal rescue center, where he was later reported to be doing well. Police said likely the baby squirrel had lost its mother and had fixated on the man as a replacement.– 2018
Weather
A twister passed along the north side of Wallingford, Connecticut, killing 31 people and destroying more than 30 homes, a church, and a schoolhouse– 1878
113 degrees F in Perryville, Tennessee– 1930
COURTESY www.almanac.com