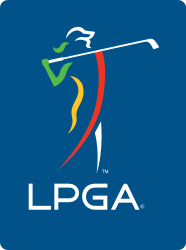 AIG Women's Open
Muirfield | Gullane, East Lothian, Scotland | Aug. 4-7, 2022
Second-Round Notes
Aug. 5, 2022
Course Setup: 35-36—71, 6,569 yards (Scoring Averages: R1, 73.61; R2, 72.88)
Weather: Mostly sunny skies, with highs in the mid-60s; winds from the west/northwest at 11-14 mph, with gusts of 16-20 mph
Media Contacts: Christina Lance (+1 908-963-1691); Megan McGuire (+1 386-405-1338)
Quick Links: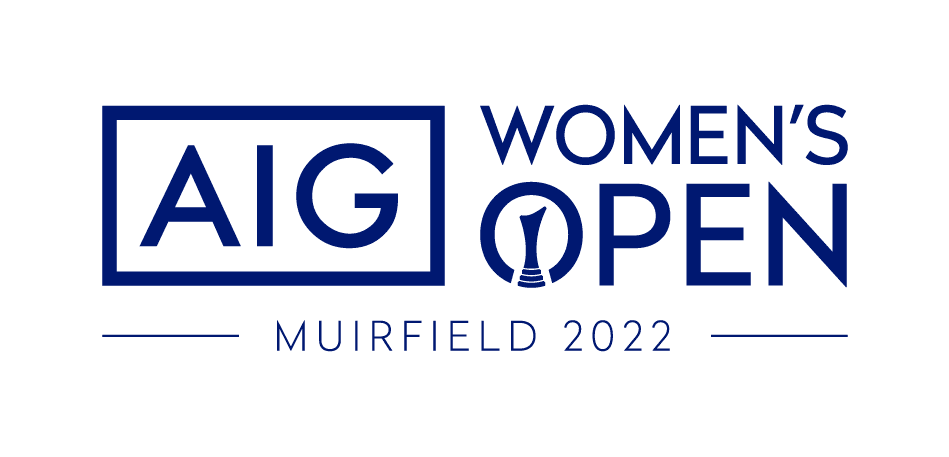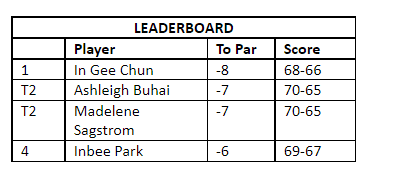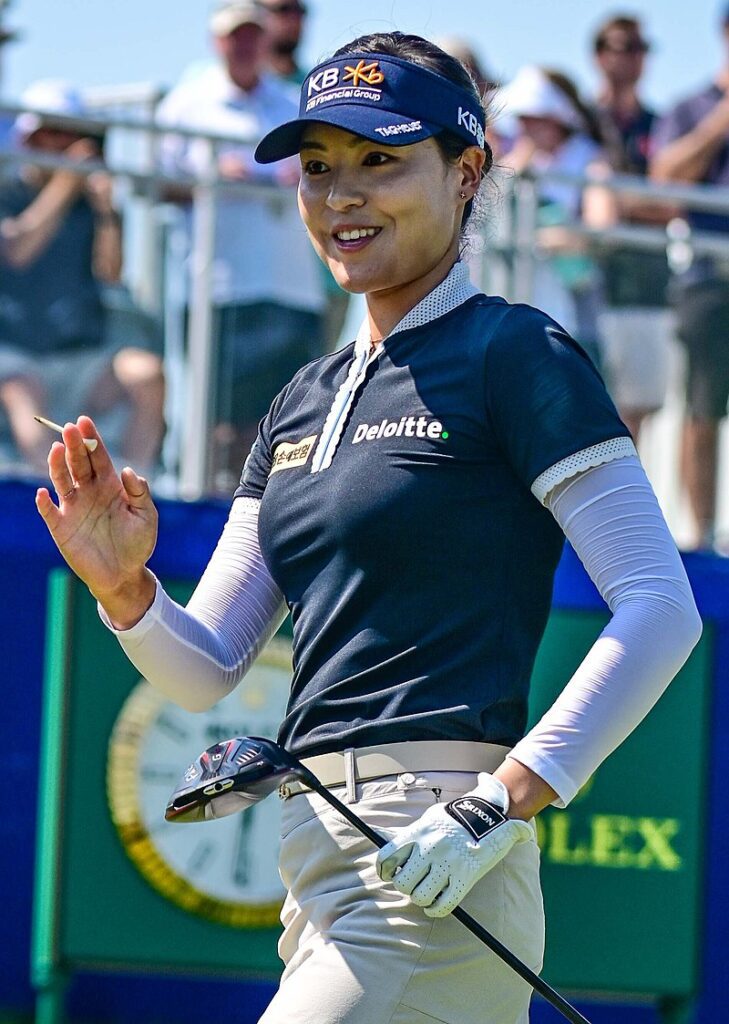 IN GEE CHUN LEADS THROUGH 36 HOLES AT MUIRFIELD
Yet again, In Gee Chun is making her presence known at a major championship. Chun, who won the KPMG Women's PGA Championship at Congressional Country Club in June, carded a 5-under 66 on Friday at the AIG Women's Open and vaulted to the top of the leaderboard. Her six birdies included a 20-footer that hung up on the lip at No. 13, sitting there for a few seconds before falling in, much to the delight of the Scottish fans.
"We have a big wind out there, but I have great reason why to love the Scottish now because my ball was sit on the edge of the hole today, and after like three seconds it dropped in," said Chun with a big laugh. "Now I can enjoy more like Scottish greens."
Chun has four career LPGA Tour victories – the 2018 LPGA KEB Hana Bank Championship and major wins at the 2015 U.S. Women's Open presented by ProMedica, the 2016 Amundi Evian Championship and the 2022 KPMG Women's PGA Championship. Should the 27-year-old South Korean take the win on Sunday, she would become the eighth player in LPGA Tour history to earn the Career Grand Slam, winning four different majors available in her career. And when Chun has a major lead, she is particularly good on the follow through. This is the third time Chun has held the 36-hole lead or co-lead in a major. She went on to win the previous two instances, including earlier this summer at Congressional.
"I know golf is a scoring game, not the shot game," said Chun. "So I just trust what I thought and what I think, just make a good focus on the course and trying to be positive way, because I trust golf is the scoring game."
South African Ashleigh Buhai and Sweden's Madelene Sagstrom are tied for second at -7 after both posted rounds of 70-65. Both players have previously come close to AIG Women's Open success: Sagstrom tied for second in 2021 after holding the lead through 18 holes, while Buhai played in the final group in 2019 before finishing fifth.
Seven-time major winner Inbee Park, whose last major victory came at the 2015 AIG Women's Open, holds down solo fourth at -6. Park has three top-10 finishes this year but came to Muirfield on a streak of two straight missed cuts. While she admits that her putting has not been up to her usual Hall-of-Fame standards this year, the 34-year-old Park isn't thinking about retirement quite yet. But she knows that a major win seven years after she hoisted the trophy on Turnberry's Ailsa Course would be a great capper on her illustrious career.
"I think that will be a very good way to saying a farewell. I think it's definitely one of my dreams to do it," said Park. "I still have a little bit left in me, so trying to keep that going for now."
Hannah Green and Miyu Yamashita are tied for fifth at -5. 2019 AIG Women's Open winner Hinako Shibuno held the lead through 18 holes at -6, but shot a 2-over 73 on Friday to fall into a tie for seventh at -4. She is joined by 2022 U.S. Women's Open champion Minjee Lee, as well as two-time Tour winner Celine Boutier and 2022 rookie Steph Kyriacou.
The cut came at +3, with 65 players advancing to weekend play. Rolex Rankings No. 1 Jin Young Ko finished at +5 and missed her first major cut since the 2018 AIG Women's Open. Other notables to miss the cut include defending AIG champion Anna Nordqvist (+4), 2020 AIG winner Sophia Popov (+4) and U.K. favorites Catriona Matthew (+7) and Laura Davies (+14). Rose Zhang is the lone amateur to make the cut and will receive the Smyth Salver, given to the major's low amateur.
MADELENE SAGSTROM WITH ANOTHER BREAKTHROUGH PERFORMANCE ON THE LINKS AT AIGWO
Following the 2021 AIG Women's Open at Carnoustie, Madelene Sagstrom talked of "bittersweet" emotions. The Swede, who became a Rolex First-Time Winner at the 2020 Gainbridge LPGA at Boca Rio, was ecstatic over her tie for second in the championship, a new career-best finish in her major appearances. Yet a bogey on the final hole cost her a chance for a potential playoff with eventual winner and friend Anna Nordqvist. "I'm extremely happy for Anna," she had said minutes after the finale, "but wish I would have played after."
Fast forward to 2022 at Muirfield, and Sagstrom sits in a tie for second at -7 overall heading into the weekend thanks in part to a 6-under 65 recorded on Friday. Sagstrom carded eight birdies on the day, including three straight on Nos. 7-9 and in her closing two holes, along with two bogeys en route to a new career-best AIG Women's Open round.
"I did miss two quite short putts but I putted really, really well today," Sagstrom said as the key to her strong play. "That helped my momentum. I was hitting it good enough to give myself some chances and keeping it in play. Didn't hit in the bunkers today which helps out in links golf but putting was the thing."
Sagstrom has earned a couple impressive results since her finish at Carnoustie, including four top-10 finishes in 2022. Last week, she earned 14th at the Trust Golf Women's Scottish Open as tune up for the major, her career-best finish at the event. Sagstrom has had a love/hate relationship with links golf in general, calling it "mega hate at first sight" when playing the Women's Amateur Championship in Wales in her young career, an affinity that's now turned into an appreciation as she competes in her sixth appearance in the AIGWO.
"I think it's one of those very charming way of playing golf," said Sagstrom. "It really just brings out all the creativity and you just have to really bring out all the tools that you have."
ASHLEIGH BUHAI CHANNELING PAST MUIRFIELD MAGIC IN SECOND-ROUND PERFORMANCE
In 2002, Ernie Els persevered through harrowing conditions and a four-man playoff at Muirfield at the 131st Open Championship to earn his first of two Claret Jugs in his career. Now 20 years later, another South African is making her mark at the world's oldest golf club.
Ashleigh Buhai carded a 6-under 65 on Friday at the AIG Women's Open to sit in a tie for second with Madelene Sagstrom at -7. Despite a bogey on the 18th hole, Buhai put on a show with a round that included four front-nine birdies and an eagle on No. 5 to make the turn in 30. Buhai, who grew up idolizing Els and has played with him in the past years as both are now Florida residents, said she looked back at highlights from his victory in her preparation.
"Obviously I know Ernie won here and even we were playing in our practice round, I said to my caddie, let's see how Ernie hit the shot," said Buhai. "I was YouTubing it while we were out there, his famous bunker shot."
The 33-year-old is still searching for her first win on the LPGA Tour since she started playing full-time on the Tour in 2014, even though she first earned status for the 2008 season. She's been victorious three times on the Ladies European Tour, and her only top-five finish in a major championship came with her T5 performance in 2019 at Woburn, where she led after the second round.
"Every time you're in this position you get a little bit more familiar with it. Obviously Woburn is very different, parkland as opposed to links. But I do love playing links golf," said Buhai. "This is my favourite tournament of the year. I look forward to it, and I just, I do love links golf and the creativity that you have to have."
MUIRFIELD PRESENTING FAIR TEST
A word that keeps coming up this week's post-round press conferences is "fair." For a course that built in 1891 and has never before hosted the world's best female golfers, the famed Muirfield links are getting rave reviews from this week's AIG Women's Open competitors.
"It's a great course. It's wonderful that we are here. Probably a long time coming but it's great and hopefully we will be back in the near future," said Marina Alex, who enters the weekend in a tie for 11th at -3. "As far as the links-style goes, it's probably one of the fairest links golf courses. You hit golf shots and you usually get rewarded. You hit poor shots or you make poor decisions, yeah, you're going to have a tough time."
"I think it's fair and I think that's good when it's like a fair challenge and you do have to play solid," agreed Lydia Ko, who sits tied for 26th at -1. "Especially, it can get out of hand pretty quick I think, especially at the British Open, so being I think really patient out there is super important."
For World No. 2 Minjee Lee, a good finish this week could mean a big jump to the top of the Rolex Women's World Golf Rankings. With Muirfield providing that fair test she wants, this week in Scotland could provide an extra level of history for the young Australian and make for even more exciting memories.
"If one side is lined with bunkers and the other side is rough, you can play out of it at the moment," Lee said, in a tie for seventh at -4. "I think the course is really set up quite fair and the design of the course is actually rewarding when you play obviously to the safe side. I definitely think it's a very fair, challenging but fun course."
ROLEX RANKINGS WORLD NO. 1 PROJECTIONS
Minjee Lee and Nelly Korda have an opportunity to move to Rolex Rankings World No. 1 based on their finishes at the AIG Women's Open. Lee goes into the weekend tied for seventh at -4, while Korda is tied for 49th at +2. Ko missed the cut at +5.
World No. 2 Minjee Lee
Win and have Jin Young Ko finish solo fourth or worse
Solo second and have Jin Young Ko finish solo 54th or worse and Nelly Korda finish solo third or worse
World No. 3 Nelly Korda
Win and have Jin Young Ko finish solo third or worse
Solo second and have Jin Young Ko finish solo 21st or worse and Minjee Lee finish solo third or worse
NOTE – There may be additional possibilities with tie scenarios and separate projection scenarios would need to be run to check.
KPMG PERFORMANCE INSIGHTS – SECOND ROUND OF THE AIG WOMEN'S OPEN
This is the third time In Gee Chun has held the 36-hole lead or co-lead in a major. She went on to win the previous two instances, including earlier this summer at Congressional.



PLAYER NOTES
Rolex Rankings No. 11 In Gee Chun (68-66)
She hit seven of 14 fairways and 12 of 18 greens, with 26 putts
Her second-round 66 is the lowest career round at the AIG Women's Open, besting the 67s she shot in the fourth round in 2017 (Kingsbarns) and the third round in 2016 (Woburn)
This is Chun's seventh year on the LPGA Tour; she has four career victories, including major titles at the 2015 U.S. Women's Open presented by ProMedica, 2016 Amundi Evian Championship and 2022 KPMG Women's PGA Championship
This is her 16th event of the 2022 LPGA Tour season; she won the KPMG Women's PGA Championship and has five other top-20 finishes
This is her eighth appearance at the AIG Women's Open; her best finish is a tie for seventh in 2020 at Royal Troon
Chun represented Korea in the 2016 Rio Olympics, finishing T13
She won the Louise Suggs Rolex Rookie of the Year and Vare Trophy in 2016
Chun founded the In Gee Chun Lancaster Country Club Educational Foundation after her win at the club in 2015 and makes generous contributions each year to give back to the community by providing scholarships for students seeking to achieve their education and vocational goals
Rolex Rankings No. 84 Ashleigh Buhai (70-65)
She hit nine of 14 fairways and 14 of 18 greens, with 26 putts
Her second-round 65 is tied for her career-low round at the AIG Women's Open, joining the first round in 2019 (Woburn)
Buhai first earned LPGA Tour Membership in 2008 and has played full-time since 2014; she has runner-up finishes at the 2017 Thornberry Creek LPGA Classic and the 2020 AmazingCre Portland Classic, with 12 total top-10 finishes
This is her 16th event of the 2022 LPGA Tour season; she has two top-10 finishes, with a season-best finish of fourth at the LOTTE Championship presented by Hoakalei
This is her 15th appearance at the AIG Women's Open; her best finish is solo fifth in 2019 at Woburn
Has three career victories on the LET and won four pro events on the Ladies Africa Tour as an amateur, including the 2004 South African Open at age 14
Represented South Africa at the 2016 Olympics, finishing 50th
Married David Buhai, who caddies for Jeongeun Lee6 in December 2016; she previously played under her maiden name of Simon
Played tennis, field hockey, cricket and soccer growing up
Started playing golf at age 6
Rolex Rankings No. 31 Madelene Sagstrom (70-65)
She hit 11 of 14 fairways and 16 of 18 greens, with 29 putts
Her second-round 65 is the lowest career round at the AIG Women's Open, besting the 67 she shot in the first round in 2021 (Carnoustie)
This is Sagstrom's seventh year on the LPGA Tour; she won the 2020 Gainbridge LPGA at Boca Rio, and has 12 other top-10 finishes
This is her 18th event of the 2022 LPGA Tour season; she has four top-10 finishes, with a season-best finish of T3 at the DIO Implants LA Open and the Cognizant Founders Cup
This is her sixth appearance at the AIG Women's Open; her best finish is a tie for second in 2021 at Carnoustie
Represented Sweden at the 2020 Olympics, finishing T20

Held the lead after the first round

Member of Team Europe at the 2017 and 2021 Solheim Cup
Won the Epson's Tour 2016 Race for the Card to first earn LPGA Tour status
In 2016, set the Epson Tour single-season earnings record ($167,064) with three wins and 12 top-10 finishes, which is also a single-season record
2021 Heather Farr Perseverance Award recipient for her story of surviving and overcoming childhood sexual abuse
2016 Epson Tour Player of the Year and Gaelle Truet Rookie of the Year
In 2021, Sagstrom told her story of being sexually abused at age 7 by a family friend
Started playing golf at age 9 on her father's friend's farm
A 2015 graduate of Louisiana State University with a degree in psychology
While at LSU, she was the 2015 SEC Player of the Year, a First Team All-American and a finalist for the ANNIKA Award
SOCIAL MEDIA: #DRIVEON
Tournament: @AIGWomensOpen (Twitter/Instagram), #AIGWO, #WorldClass
LPGA: @LPGA, @LPGAMedia (Twitter), @lpga_tour (Instagram)
TV TIMES (all times Eastern)
Saturday, Aug. 6 – 8 a.m. to 12 p.m. (USA); 12-3 p.m. (NBC)
Sunday, Aug. 7 – 8 a.m. to 12 p.m. (USA); 12-3 p.m. (NBC)
TOURNAMENT SCORING RECORDS
18 holes: 62, Minea Blomqvist, third round, 2004; Mirim Lee, first round, 2016
36 holes: 133, Caroline Masson, 2011; Mirim Lee, 2016; In-Kyung Kim, 2017
54 holes: 199, In-Kyung Kim, 2017
72 holes: 269, Karen Stupples, 2004
COURTESY LPGA COMMUNICATIONS