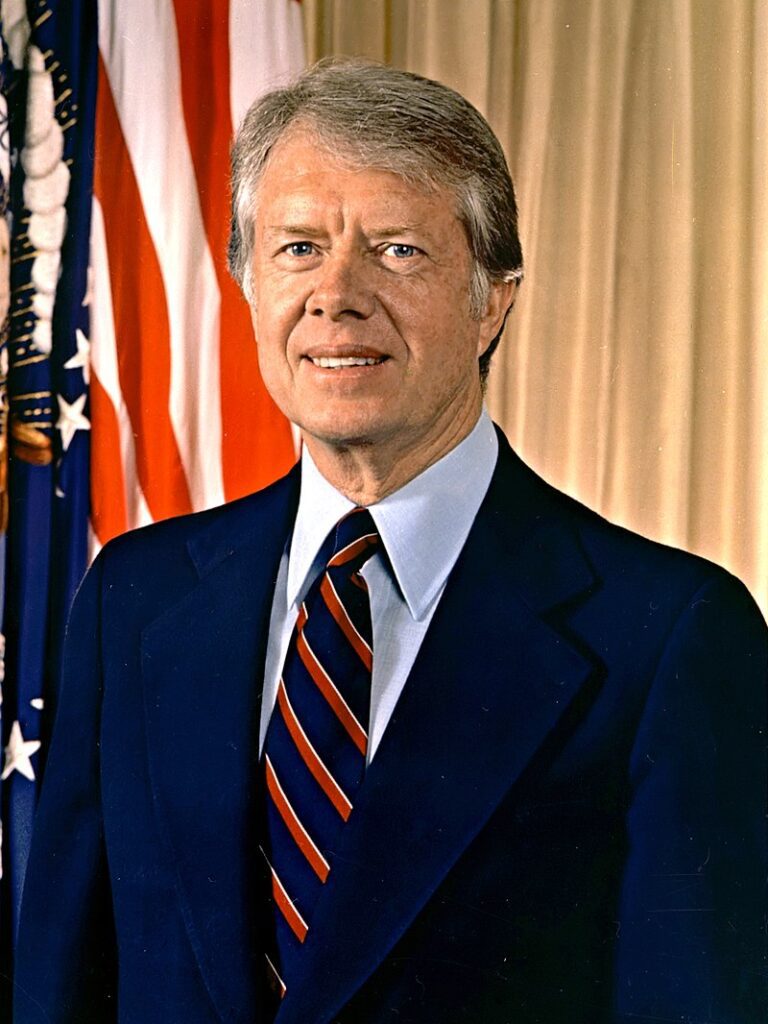 FROM WIKIPEDIA COMMONS
U.S. energy crisis
On April 18, 1977, Carter delivered a televised speech declaring that the U.S. energy crisis during the 1970s was the "moral equivalent of war". He encouraged energy conservation by all U.S. citizens and installed solar water heating panels on the White House. He wore sweaters to offset turning down the heat in the White House. On August 4, 1977, Carter signed the Department of Energy Organization Act of 1977, forming the Department of Energy, the first new cabinet position in eleven years. During the signing ceremony, Carter cited the "impending crisis of energy shortages" with causing the necessity of the legislation. At the start of news conference on September 29, 1977, under the impression he had not come across well in addressing energy during his prior press session, Carter stated that the House of Representatives had "adopted almost all" of the energy proposal he had made five months prior and called the compromise "a turning point in establishing a comprehensive energy program." The following month, on October 13, Carter stated he believed in the Senate's ability to pass the energy reform bill and identified energy as "the most important domestic issue that we will face while I am in office."
On January 12, 1978, during a press conference, Carter said the continued discussions about his energy reform proposal had been "long and divisive and arduous" as well as hindering to national issues that needed to be addressed with the implementation of the law. In an April 11, 1978, news conference, Carter said his biggest surprise "in the nature of a disappointment" since becoming president was the difficulty Congress had in passing legislation, citing the energy reform bill in particular: "I never dreamed a year ago in April when I proposed this matter to the Congress that a year later it still would not be resolved." The Carter energy legislation was approved by Congress after much deliberation and modification on October 15, 1978. The measure deregulated the sale of natural gas, dropped a longstanding pricing disparity between intra- and interstate gas, and created tax credits to encourage energy conservation and the use of non fossil fuels.
On March 1, 1979, Carter submitted a standby gasoline rationing plan per the request of Congress. On April 5, he delivered an address in which he stressed the urgency of energy conservation. During an April 30 news conference, Carter said it was "imperative" that the House commerce committee approve the standby gasoline rationing plan and called on Congress to pass the several other standby energy conservation plans he had proposed. On July 15, 1979, Carter delivered a nationally televised address in which he identified what he believed to be a "crisis of confidence" among the American people, under the advisement of pollster Pat Caddell who believed Americans faced a crisis in confidence from events of the 1960s and 1970s prior to Carter's taking office. The address would be cited as Carter's "malaise" speech, memorable for mixed reactions and his use of rhetoric. The speech's negative reception came from a view that Carter did not state efforts on his own part to address the energy crisis and was too reliant on Americans.
TODAY'S ALMANAC
Question of the Day
How can I keep rabbits out of my garden?
Try planting a double row of onions around your garden next year. Rabbits apparently hate the smell of onions and won't cross the rows.
Advice of the Day
A lady must not, while wearing her bridal veil, smoke a cigarette. — Emily Post
Home Hint of the Day
A dock left in fresh water for the winter is likely to be destroyed by the pressure from ice if the lake freezes. Remove your dock at the end of the summer season.
Word of the Day
Keelhaul
To haul under the keel of a ship, by ropes attached to the yardarms on each side. It was formerly practiced as a punishment in the Dutch and English navies.
Puzzle of the Day
Nine thumps.(Change these words into a single word.)
Punishment
Died
King Henry I of France – 1060
Hans Christian Andersen (writer) – 1875
Pearl White (actress) – 1938
Melvyn Douglas (actor) – 1981
Born
Louis Armstrong (musician) – 1901
William Howard Schuman (composer) – 1910
Billy Bob Thornton (actor) – 1955
Barack Obama (44th U.S. president) – 1961
Roger Clemens (baseball player) – 1962
Jeff Gordon (race car driver) – 1971
Kurt Busch (race car driver) – 1978
Dylan and Cole Sprouse (actors) – 1992
Events
In a triumph for freedom of the press, newspaperman John Peter Zenger was acquitted of the charge of seditious libel– 1735
George Washington became a Master Mason– 1753
What is now Prince Edward Island became separate from Nova Scotia– 1769
The Saturday Evening Post was published for the first time as a weekly newspaper– 1821
Aurora visible in much of the United States– 1882
Thomas Stevens was the first to bicycle across the United States, leaving San Francisco on April 22 and arriving on this day in Boston to complete his transcontinental trip.– 1884
The family of Lizzie Borden was found murdered in their home in Fall River, Massachusetts– 1892
Canada entered WWI– 1914
The Gestapo found Anne Frank– 1944
Three civil rights workers (James Chaney, Andrew Goodman and Michael Schwerner) were found murdered outside Philadelphia, Mississippi– 1964
Major geomagnetic storm– 1972
President Jimmy Carter signed legislation creating the United States Department of Energy– 1977
Phoenix Mars Lander launched, Cape Canaveral, Florida– 2007
Weather
Spokane, Washington, reached a record high temperature of 108 degrees F– 1961
112 degrees F at Walla Walla, Washington– 1961
COURTESY www.almanac.com