Aug. 1, 2022
Nebraska, Ohio State and Wisconsin each had three players named to preseason all-conference team
ROSEMONT, Ill. – Reigning NCAA national champion and three-time defending Big Ten Conference champion Wisconsin was selected as the preseason favorite to earn its fourth consecutive Big Ten title, according to the 2022 Big Ten preseason volleyball poll and all-conference team announced Monday. All 14 Big Ten coaches took part in the balloting and were permitted to vote for their own teams and players.
Eight members of the Preseason All-Big Ten Conference Team are scheduled to participate in the inaugural Big Ten Conference Volleyball Media Days that will take place Monday and Tuesday at Big Ten Network studios in Chicago. The Big Ten Conference is the first conference in the country to hold an in-person preseason volleyball media event.
Wisconsin, which earned its first national championship (and the ninth by a Big Ten school in the past 15 seasons) last December with a 3-2 win over Nebraska in the title match, is seeking to become the first Big Ten program to earn four straight conference titles since Penn State captured eight in a row from 2003-10. Nebraska was second in Monday's Big Ten preseason poll, followed by Minnesota and Ohio State, with Penn State rounding out the top five.
Nebraska, Ohio State and Wisconsin each had three players named to the 15-person Big Ten preseason all-conference team (an additional player was named to the squad due to a tie in the voting). The Huskers were represented by senior outside hitter Madi Kubik (the lone unanimous selection on the preseason all-conference team), senior middle blocker Kaitlyn Hord and sophomore libero/defensive specialist Lexi Rodriguez.
Ohio State's preseason all-conference trio included junior opposite Emily Londot, senior setter Mac Podraza and junior middle blocker Rylee Rader. The Wisconsin preseason honorees were redshirt sophomore outside hitter Sarah Franklin, junior middle blocker/right side Devyn Robinson and sophomore middle blocker/right side Anna Smrek.
Among the 15 Big Ten preseason all-conference team members are eight returning AVCA All-Americans from the 2021 season — first-team selection Rodriguez (who is also the reigning AVCA National Freshman of the Year), second-team choices Hord (who previously attended Penn State) and Rader, third-team picks Kubik and Podraza, and honorable mention AVCA All-Americans Londot, Michigan junior outside hitter Jess Mruzik and Minnesota graduate libero/defensive specialist CC McGraw.
Completing the preseason all-conference team are two of last season's first-team All-Big Ten selections in Maryland graduate middle blocker Rainelle Jones and Northwestern senior outside hitter Temi Thomas-Ailara, along with a returning second-team all-conference honoree in Minnesota junior outside hitter Jenna Wenaas, and Illinois junior outside hitter Raina Terry.
Big Ten teams will open the 2022 season on Aug. 26-27, highlighted by a handful of matches as part of the Big Ten/Big 12 Challenge. Minnesota and Wisconsin will travel to Fort Worth, Texas, to take on Baylor and host TCU, while Ohio State welcomes Texas for a pair of matches at the Covelli Center in Columbus, Ohio.
Fans can find the latest updates on Big Ten Conference volleyball by following the Big Ten's volleyball Twitter feed (@B1GVolleyball) and the Big Ten Network's volleyball-focused Instagram account (@B1GVolleyball). Throughout the season, both accounts will be home to original videos, highlights and custom content featuring some of the most competitive and exciting volleyball in the nation.
The full 2022 Big Ten Conference preseason poll and all-conference team is as follows:
2022 BIG TEN VOLLEYBALL PRESEASON POLL
1. Wisconsin
2. Nebraska
3. Minnesota
4. Ohio State
5. Penn State
6. (tie) Illinois
(tie) Michigan
8. Purdue
9. Northwestern
10. Maryland
11. Michigan State
12. Iowa
13. Indiana
14. Rutgers
2022 BIG TEN VOLLEYBALL PRESEASON ALL-CONFERENCE TEAM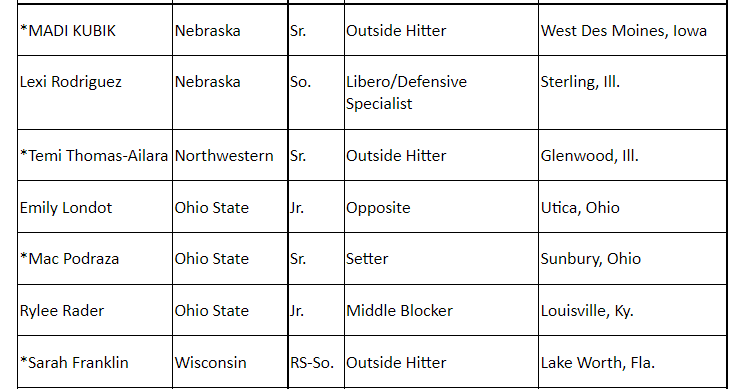 Unanimous selection listed in ALL CAPS // * – attending 2022 Big Ten Volleyball Media Days
Additional student-athlete due to tie in voting
Big Ten Conference (bigten.org) is an association of world-class universities whose member institutions share a common mission of research, graduate, professional and undergraduate teaching, and public service. Founded in 1896, Big Ten has sustained a comprehensive set of shared practices and policies that enforce the priority of academics in the lives of students competing in intercollegiate athletics and emphasize the values of integrity, fairness, and competitiveness. The broad-based programs of the 14 Big Ten institutions will provide over $200 million in direct financial support to more than 9,800 students for more than 11,000 participation opportunities on 350 teams in 42 different sports. Big Ten sponsors 28 official conference sports, 14 for men and 14 for women, including the addition of men's ice hockey and men's and women's lacrosse since 2013.
#B1GVolleyball
COURTESY BIG TEN COMMUNICATIONS