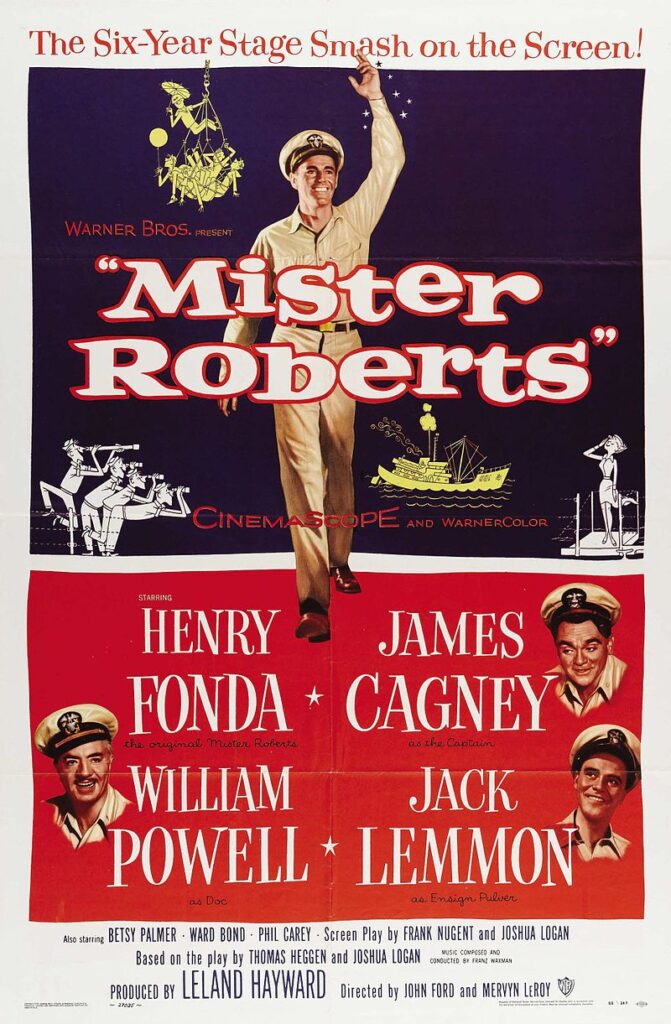 FROM WIKIPEDIA COMMONS
Mister Roberts is a 1955 American Warner color in Cinema Scopecomedy-drama film directed by John Ford and Mervyn LeRoy, and featuring an all-star cast including Henry Fonda as Mister Roberts, James Cagney as Captain Morton, William Powell (in his final film appearance) as Doc, and Jack Lemmon as Ensign Pulver. Based on the 1946 novel and 1948 Broadway play, the film was nominated for three Academy Awards, including Best Picture and Best Sound, Recording (William A. Mueller), with Jack Lemmon winning the award for Best Supporting Actor.
TODAY'S ALMANAC
Question of the Day
Where can I obtain daily pollen and other environmental allergen counts?
Many weather-related Web sites have pollen maps. Try searching for one from a local radio or television station. One other to try is this pollen Web site.http://www.weather.com/activities/health/allergies/?from=b_homeverticallinker
Advice of the Day
After bloom, divide lilies, irises, and poppies. Replant using compost and bonemeal.
Home Hint of the Day
To season a cast-iron pot, boil potato peelings in it for 1 hour.
Word of the Day
Chockablock
Hoisted as high as the tackle will admit; brought close together, as the two blocks of a tackle in hoisting.
Puzzle of the Day
They kept on the (Blank) so as to (Blank) their position when required. (The two 5-letter words to fill the blanks share the same letters.)
1) alert 2) alter
Born
Giorgio Vasari (artist) – 1511
Emily Brontë (novelist) – 1818
Henry Ford (industrialist) – 1863
Robert Rutherford McCormick (newspaper editor) – 1880
Casey Stengel (baseball player) – 1890
Henry Moore (sculptor) – 1898
Paul Anka (singer) – 1941
Arnold Schwarzenegger (actor & politician) – 1947
Delta Burke (actress) – 1956
Kate Bush (singer) – 1958
Laurence Fishburne (actor) – 1961
Alton Brown (television host) – 1962
Lisa Kudrow (actress) – 1963
Vivica A. Fox (actress) – 1964
Tom Green (actor & comedian) – 1971
Christine Taylor (actress) – 1971
Hilary Swank (actress) – 1974
Died
Lynn Fontanne (actress) – 1983
Lane Frost (bull rider) – 1989
Buffalo Bob Smith (actor and puppeteer, best known for Howdy Doody) – 1998
Sam Phillips (rock'n'roll pioneer, Sun Records founder, and the man who discovered Elvis and also launched the careers of Carl Perkins, Johnny Cash, Jerry Lee Lewis, and B.B. King) – 2003
Ingmar Bergman (filmmaker) – 2007
Michelangelo Antonioni (director) – 2007
Events
Italian astronomer Galileo Galilei was first to observe what we now know are Saturn's rings– 1610
First legislative assembly in America, the House of Burgesses, convened at Jamestown, VA– 1619
Caspar Wistar began operation of the first successful glass factory in America, in Allowaystown, New Jersey– 1739
Malden Island was discovered– 1825
Hawaii's first English-language newspaper published– 1836
New York Yacht Club founded– 1844
The Olympic Games of Los Angeles, celebrating the tenth Olympiad of the modern era, opened– 1932
Japanese warships sank the USS Indianapolis, killing over 800 seamen (WW II)– 1945
Elvis Presley made his debut performance at the Overton Park Shell in Memphis, TN– 1954
Mister Roberts premiered– 1955
President Lyndon B. Johnson signed legislation establishing the Medicare and Medicaid health insurance programs– 1965
Apollo 15 landed on the Moon– 1971
Jake, a 65-pound golden retriever, was the only non-human in the 10th annual 1.25-mile swim from Alcatraz island to the San Francisco shore. The 4-year-old dog swam across the water in just under 42 minutes, finishing 72nd out of the more than 500 swimmers. Organizers say it was the first known crossing by a dog– 2005
In Bethel, Maine, the largest snowwoman (122 feet, 1 inch tall) melted completely– 2008
Weather
During Tropical Storm Brenda, 4.5 inches of rain fell in 11 hours on New York City– 1960
107 degrees F in Portland, Oregon– 1965
COURTESY www.almanac.com