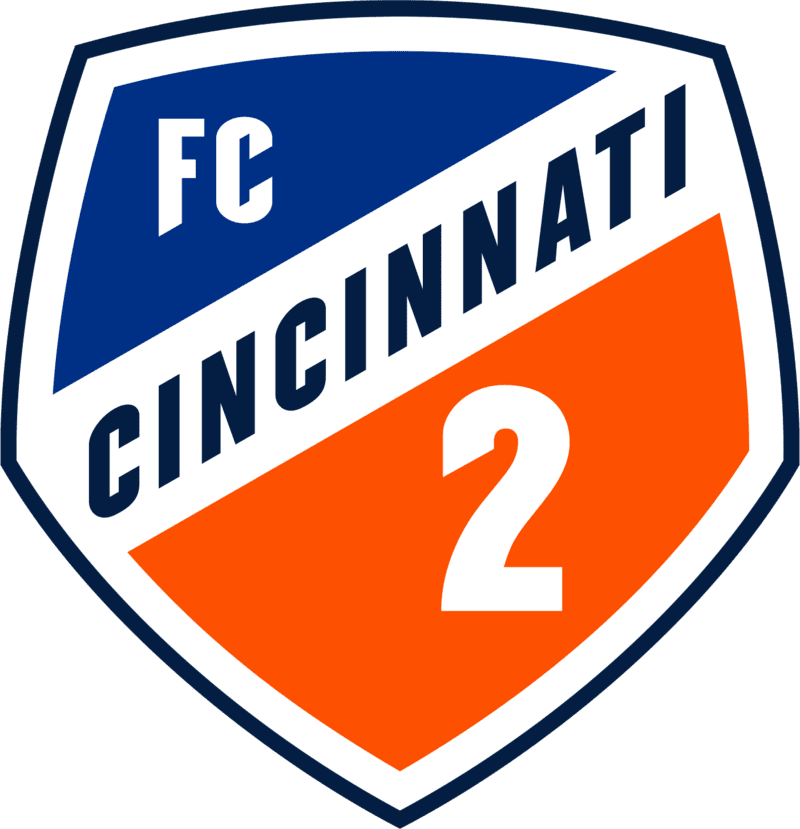 Sunday, Jul 10, 2022
HIGHLAND HEIGHTS, Ky. – FC Cincinnati 2 suffered a 3-0 loss to visiting Chicago Fire FC II Sunday night at NKU Soccer Stadium.
With the loss, the Orange and Blue fell to 3-11-0 (9 points). Chicago improved to 4-7-4 (17 points).
Nico Campuzano made his debut as goalkeeper for FCC 2, as did FCC Academy product Matt Dreas as a second half substitute. Campuzano made three saves.
The Orange and Blue recorded 10 shots, two of which were on target.
FC Cincinnati 2 hit the road to take on Columbus Crew 2 for the first time. Kickoff from historic Crew Stadium is set for 7 p.m. on Saturday, July 16.
FC CINCINNATI 2 GAME REPORT
FC Cincinnati 2 vs Chicago Fire FC II
Date: July 10, 2022
Competition: MLS NEXT Pro Regular Season
Venue: NKU Soccer Stadium
Kickoff: 6:05 p.m. ET
Weather: 85 degrees, clear
SCORING SUMMARY: 1-2-F
CIN: 0-0-0
CHI: 2-1-3
CIN – None
CHI – Richard Fleming III (Casas Jr.) 27', Javier Casas Jr. (Ostrem) 36', Joshua Penn (Oregel) 64'
LINEUPS
CIN: Nico Campuzano, Zico Bailey, Kai Thomas, Morgan Marshall, Avionne Flanagan, Harrison Robledo, Nick Markanich (Daniel Martin 52'), Bryan Sánchez (Matt Dreas 85'), Andrew Akindele (Ousman Touray 81'), Isaac Atanga (Mario Penagos 59'), Arquimides Ordonez (Nicque Daley 46')
Substitutes not used: Paul Walters, Nick McHenry, Owen Noverr
Head Coach: Tyrone Marshall
CHI: Christopher Brady, Ryan Quintos, Justin Reynolds (Christian Baumgartner 71'), Carlo Ritaccio, Charlie Ostrem, Richard Fleming III, Javier Casas Jr. (Matteo Kidd 58'), Sergio Oregel (Missael Rodriguez 65'), Victor Bezerra (Diego Alvarado 65'), Omari Glasgow (Alex Monis 65'), Joshua Penn (Michael Flores 77')
Substitutes not used: Mihajlo Miskovic
Head Coach: Ludovic Taillandier
STATS SUMMARY: CIN/CHI
Shots: 10 / 19
Shots on Goal: 2 / 6
Saves: 3 / 2
Corner Kicks: 5 / 6
Fouls: 8 / 13
Offside: 2 / 0
Possession: 46.5 / 53.5
MISCONDUCT SUMMARY
CHI – Alex Monis (Yellow Card) 66'
CIN – Mario Penagos (Yellow Card) 72'
CHI – Matteo Kidd (Yellow Card) 76'
OFFICIALS
Referee: Luis Arroyo
Ast. Referees: Chris Schurfranz, Eric Burton
Fourth Official: Kevin Fikar
FC CINCINNATI 2 QUOTES
Head Coach Tyrone Marshall
On the result
"Chicago came in, they did what they had to do … we had a little success early on but obviously our mistakes led to their goals. We had plenty of opportunities but it's just the finishing product, we didn't have the finishing product tonight.
"We have to be better in the final third, and we demand better from these guys. Overall, I thought the response was better in the second half, we came out a little bit more livelier … You can see the youthfulness in the group and where we need to improve upon. We'll keep building and working with the guys that we have leading into the next game and hopefully we have a better showing next game, because the next game is a big game against Columbus and those guys are on top."
ABOUT MLS NEXT Pro
Launched in March 2022 by Major League Soccer, MLS NEXT Pro is a professional men's soccer league in the United States and Canada that completes the player pathway from MLS NEXT through to MLS first teams. With 21 Clubs competing during the inaugural season – 20 MLS-affiliated and one independent club, Rochester New York FC – MLS NEXT Pro will grow the game through innovation and diversity by bringing professional soccer to new markets, creating career opportunities for professionals on and off the field, and providing communities with a strong sense of pride. Eight additional MLS-affiliated clubs will join MLS NEXT Pro in 2023, with more independent clubs joining in the years ahead. For more information about MLS NEXT Pro, visit mlsnextpro.com.
COURTESY FC CINCINNATI COMMUNICATIONS