Following Acquisition by Fanatics, a Long-Term Deal Brings Iconic Mitchell & Ness Brand to the Ice for NHL Fans
June 29, 2022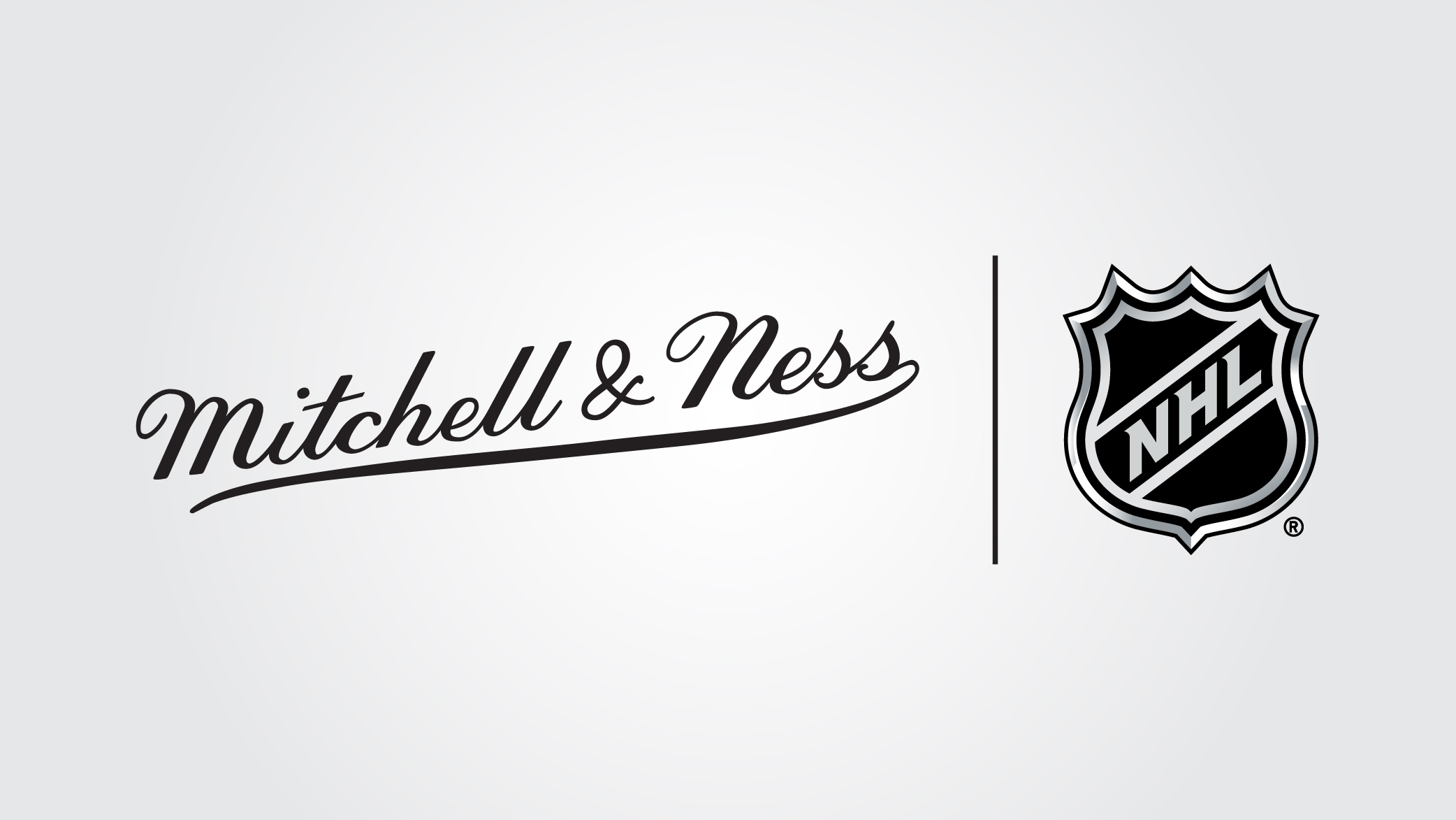 PHILADELPHIA / NEW YORK / TORONTO (June 29, 2022) – Today, Fanatics, Mitchell & Ness and the National Hockey League (NHL®) announced an agreement that will see the iconic sportswear and culture brand, Mitchell & Ness, gain rights to design and manufacture officially-licensed lifestyle apparel, headwear and accessories for the NHL and all 32 NHL teams. The rights and length of the deal align with the existing e-commerce and licensing partnership between the NHL and Fanatics. Fanatics, alongside a celebrity and influencer ownership group, acquired Mitchell & Ness in February.
Mitchell & Ness has enjoyed a long history of collaborations with the NHL and its teams, including building out in-arena stores featuring team-branded merchandise and special collections. Products under this newly announced arrangement will receive widespread distribution to Fanatics' global network of online stores, including NHLShop.com, NHLShop.ca, the official sites for all 32 teams, and Mitchell & Ness's own revamped website. In addition to select arenas, fans will also be able to shop the collection at the NHL Shop NYC flagship store at Manhattan West, as well as other national and local bricks-and-mortar locations that Mitchell & Ness services.
In addition to the new selection of current and historical products for the NHL and its 32 teams, Mitchell & Ness announced it has separately agreed to terms with the National Hockey League Players' Association (NHLPA) for rights to feature the game's biggest stars on a wide assortment of apparel. A variety of items featuring the game's former greats will be made available through a separate agreement between Mitchell & Ness and the NHL Alumni Association.
"Mitchell & Ness is at the cross section of fashion, streetwear, culture and authenticity, which is a sweet spot for hockey fans," said Brian Jennings, NHL Chief Brand Officer and Senior Executive Vice President. "We have found tremendous success in partnerships with brands like Mitchell & Ness that have proven design and retail merits and that creatively showcase and reimagine the rich history of the NHL for today's hockey fan."
The new collection under this partnership is set to launch in November and will feature a wide variety of street fashion apparel and lifestyle products, including fan jerseys, outerwear, fleece, headwear, tops, and bottoms.
"We've been thrilled with the addition of Mitchell & Ness into the Fanatics portfolio, and the ability to extend Fanatics' rights with the NHL to their brand will create an incredible new experience for fans everywhere," said Joe Bozich, President of Fanatics Brands. "The new assortment of Mitchell & Ness NHL products will flow through our sophisticated online and offline distribution channels to allow fans worldwide quick access to these incredible, high-quality products."
"It's exciting to continue Mitchell & Ness' tradition of translating the greatest moments on ice through premium product," said Mitchell & Ness CEO Kevin Wulff. "We look forward to celebrating past and present moments from the NHL's most revered players and franchises through our digital channels, Fanatics' vast online network, in flagship stores and at valued offline retail partners, giving consumers the chance to shop whenever or however they'd like."
About Mitchell & Ness
Mitchell & Ness is a pioneer of authentic nostalgic jerseys, licensed lifestyle product, street fashion apparel and headwear. With roots dating back to 1904, it grew from a local Philadelphia sporting goods store to an international lifestyle brand holding licenses with elite pro leagues, including NBA, NFL, MLB, MLS, NHL, and various NCAA schools. In February 2022, global digital sports platform Fanatics acquired Mitchell & Ness along with an influential ownership group made up of some of today's biggest names in sports, entertainment, and culture. Mitchell & Ness operates as a separate, distinct brand within the Fanatics Commerce division with offices located in Philadelphia, Pennsylvania, Irvine, California, and select international markets.
Mitchell & Ness is expanding their reach with fashion related apparel and headwear by strategically teaming up with like-minded brands and producing top collaborations for the fashion and sports consumer. Mitchell & Ness has been "Defining Authentic" for over 100 years. For more information visit www.mitchellandness.com.
About the NHL
The National Hockey League (NHL®), founded in 1917, consists of 32 Member Clubs. Each team roster reflects the League's international makeup with players from more than 20 countries represented, all vying for the most cherished and historic trophy in professional sports – the Stanley Cup®. Every year, the NHL entertains more than 670 million fans in-arena and through its partners on national television and radio; more than 191 million followers – league, team and player accounts combined – across Facebook, Twitter, Instagram, Snapchat, TikTok, and YouTube; and more than 100 million fans online at NHL.com. The League broadcasts games in more than 160 countries and territories through its rightsholders including ESPN, Turner Sports and NHL NetworkMC in the U.S.; Sportsnet and TVA Sports in Canada; Viaplay in the Nordic Region; and CCTV and Tencent in China; and reaches fans worldwide with games available to stream in every country. Fans are engaged across the League's digital assets on mobile devices via the free NHL® App; across nine social media platforms; on SiriusXM NHL Network Radio™; and on NHL.com, available in eight languages and featuring unprecedented access to player and team statistics as well as every regular-season and playoff game box score dating back to the League's inception, powered by SAP. NHL Original Productions and NHL Studios produce compelling original programming featuring unprecedented access to players, coaches and League and team personnel for distribution across the NHL's social and digital platforms.
The NHL is committed to building healthy and vibrant communities using the sport of hockey to celebrate fans of every race, color, religion, national origin, gender identity, age, sexual orientation, and socio-economic status. The NHL's Hockey Is For Everyone™ initiative reinforces that the official policy of the sport is one of inclusion on the ice, in locker rooms, boardrooms and stands. The NHL is expanding access and opportunity for people of all backgrounds and abilities to play hockey, fostering more inclusive environments and growing the game through a greater diversity of participants. To date, the NHL has invested more than $100 million in youth hockey and grassroots programs, with a commitment to invest an additional $5 million for diversity and inclusion programs over the next year.
About the National Hockey League Players' Association
The National Hockey League Players' Association (NHLPA), established in 1967, is a labour organization whose members are the players in the National Hockey League (NHL). The NHLPA works on behalf of the players in varied disciplines such as labour relations, product licensing, marketing, international hockey and community relations, all in furtherance of its efforts to promote its members and the game of hockey. In 1999, the NHLPA launched the Goals & Dreams fund as a way for the players to give something back to the game they love. Over the past 22 years, more than 80,000 deserving children in 34 countries have benefited from the players' donations of hockey equipment. NHLPA Goals & Dreams has donated more than $25 million to grassroots hockey programs, making it the largest program of its kind. For more information on the NHLPA, please visit www.nhlpa.com.
COURTESY NHLmedia.com