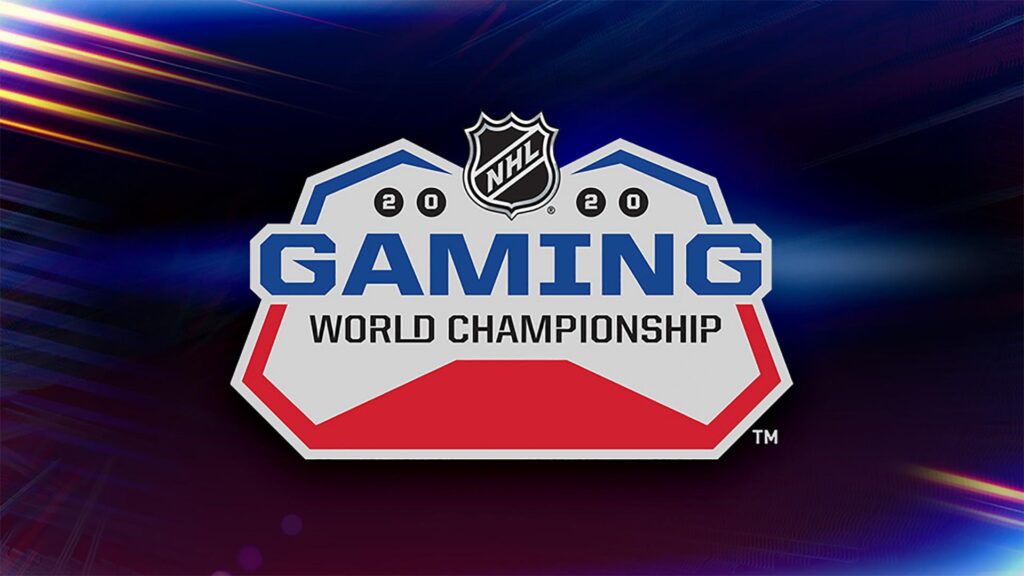 The 2022 NHL Gaming World Championship: North American Club Final, featuring the best EA SPORTS NHL 22 players in North America, is only two days away. The NHL's annual event and first LAN competition since 2019 will take place on Wednesday, July 6, with action beginning at 1 p.m. ET and streaming live onNHL and ELEAGUE TV.
Only eight gamers remain after more than 17,000 players registered for the Online portion of the GWC tournament in late March. These players, who have grinded their way through Online Open Play, the Online Club Play In and the Console Finals, now find themselves at the pinnacle of GWC competition and are headed to Montreal to compete for the $26,000 USD grand prize at the North America Club Championship.
1909 Taverne Moderne, located at Tour des Canadiens, will host the in-person event. The venue is located next to Bell Centre, home of the Montreal Canadiens and host of the 2022 NHL Upper Deck Draft™, which will begin the following evening.
The Championship roster includes two veteran players — the reigning North American Champion, Gren-35-, and 2021 Runner-up, Ez-Regs — as well as several players who won their Clubs' Championship in the 2021 NHL GWC season, including uninsta1l_NHL, Geimer– and Polgz. Rounding out the squad is GWC Final newcomers SAP Alien, Jos x 10 and Lebaneseman69.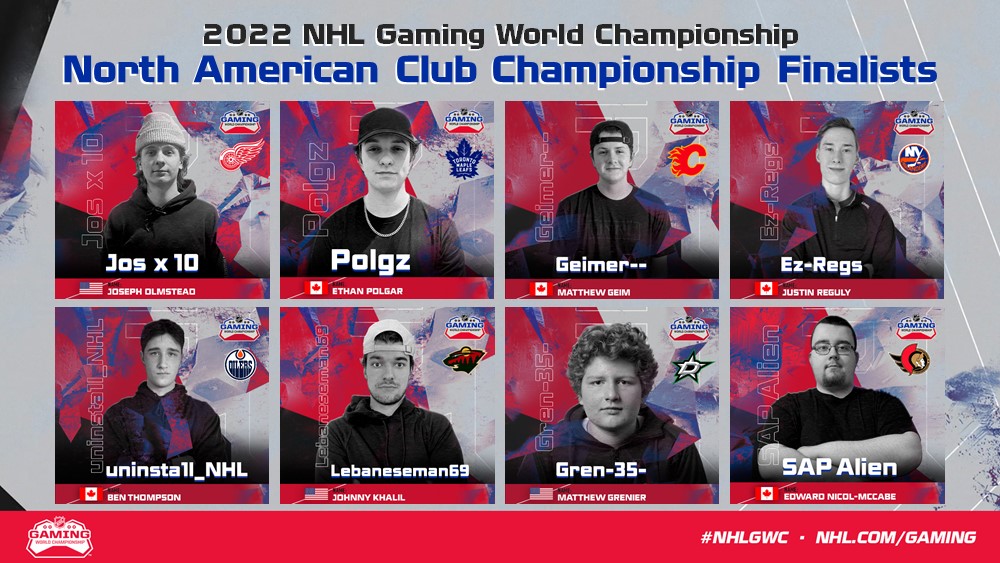 Played exclusively on the PlayStation 5 console, the Club Championship will consist of a single-elimination tournament of head-to-head, best-of-three series, with the Champion taking home the cash prize, Championship belt and trophy as well as CHEL bragging rights. Determined by random draw — with the winners of each Console Final assigned seeds 1 – 4 and the runners-up for each Console Final assigned seeds 5 – 8 — the first-round bracket play will pit 1v8, 2v7, 3v6 and 4v5.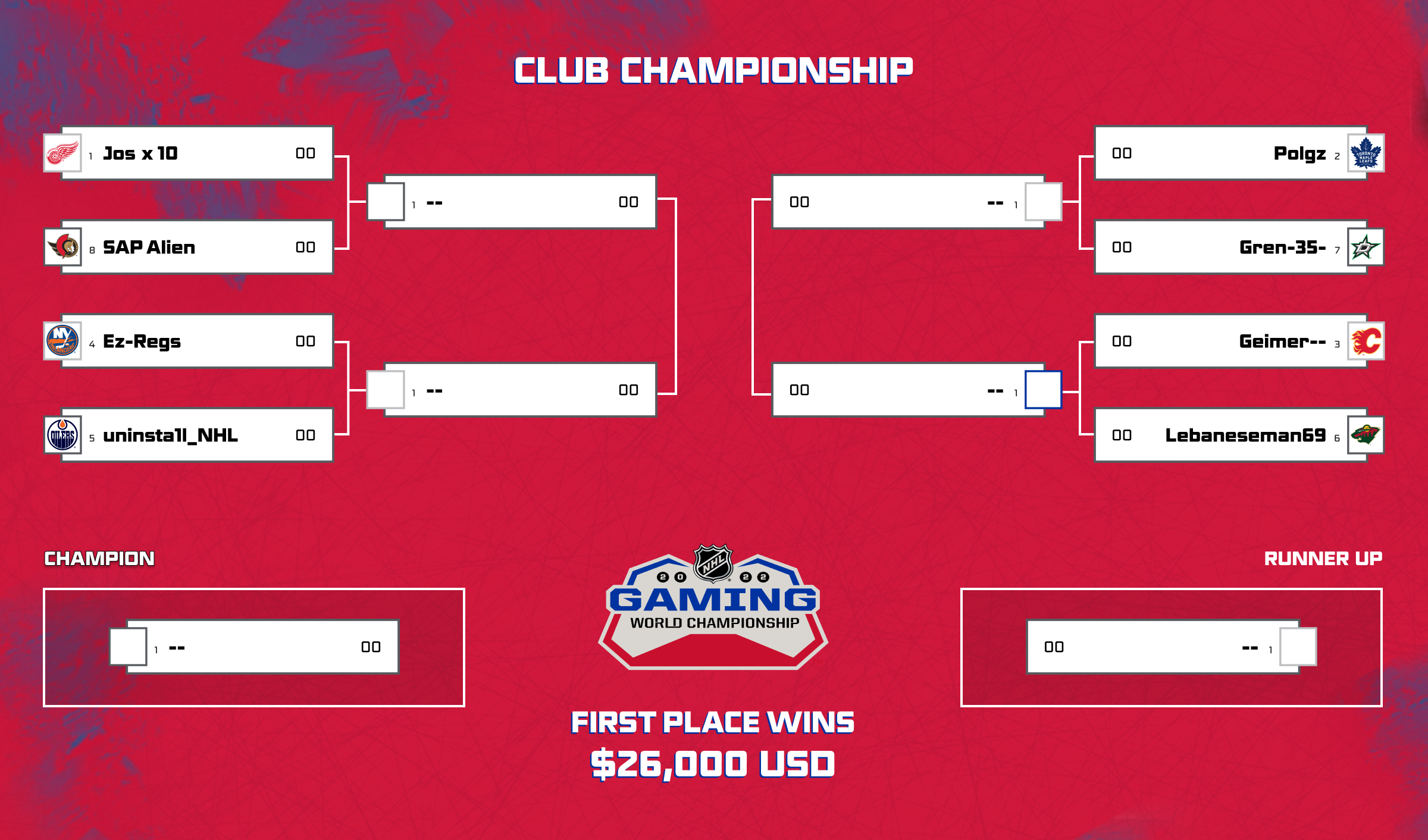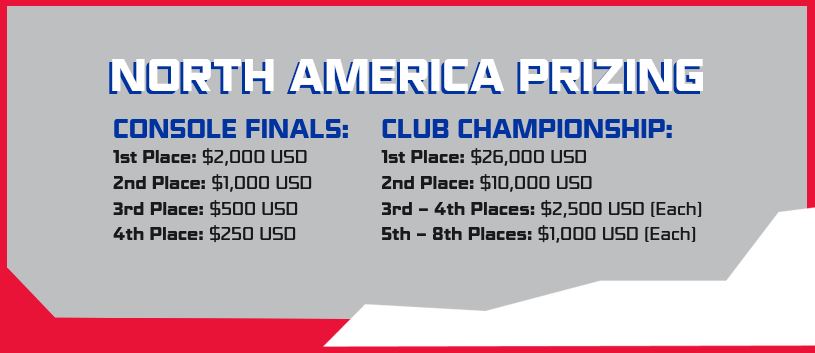 Jos x 10
No. 1 seed (Xbox One Winner)
* A relative newcomer to the NHL GWC, the 18-year-old from Troy, Mich., represents his hometown Detroit Red Wings.
* He lists Red Wings defenseman and 2021-22 Calder Trophy winner Moritz Seider as his favorite player.
* Cruised through Xbox One console in decisive fashion, sweeping each best-of-three series in the Semifinals, Upper Bracket and Final.
* If he wins the Championship, he'll put money towards his college tuition and buy a new gaming set up.
* Admires 2019 GWC World Champion runner-up John 'JohnWayne90' Casagranda.
* Competitive EA SPORTS NHL player.
* * * * *
Polgz
No. 2 seed (Xbox Series X Winner)
* 19-year-old resident of Newmarket, Ont., entered console play as the No. 1 seed and breezed through the bracket, with his first loss coming against CoreyPerry1 in the Upper Bracket Final.
* Representing the Toronto Maple Leafs in 2022 NHL GWC competition.
* Check out the moment when he gets the news that he is being invited to watch the Toronto Maple Leafs vs. Tampa Bay Lightning Game 7 from a private suite at Scotiabank Arena.
* If he wins the NHL GWC North American Championship, he plans to bring his mom, a recent cancer survivor, on stage with him.
* He lists fellow finalist Gren-35- as his toughest opponent.
* (6v6) Champion with Prodigy for CBJ Kroger, IGT Circuit and SJS Pacific Cup.
* (1vs1) Champion for 2022 Bolts Chel Challenge and 2021 Caps Gaming Invitational.
* Represented the Los Angeles Kings in 2021 NHL GWC action and placed in Top 16 for North America.
* (3v3) Champion with Caps Gaming.
* Twitch Partner and YouTube Content Creator.
* * * * *
Geimer–
No. 3 seed (PS4 Winner)
* 19-year-old from Acton, Ont., who has represented the Calgary Flames in GWC action in 2021 and 2022.
* Entering console play as the No. 23 seed, the underdog saved his best for last as he beat favorite and No. 3 seed uninsta1l_NHL two consecutive times (Upper Bracket and Final) to capture the console title.
* Lists Calgary Flames captain Matthew Tkachuk as his favorite NHL player because "he's a target for every single team he plays against and he battles like no other player in the League. He also taught me how to properly play with an upside-down controller."
* Studying Media & Communications at the University of Guelph-Humber.
* 2x (1v1) LAN Winner in Leafs Gaming League in 2020.
* (6v6) Champion with ProdigyNHL for CBJ Kroger, IGT Circuit and SJS Pacific Cup.
* He admires GWC caster NoSleeves12 because "he has created a lot of opportunity for players and not everyone notices the amount of time and effort he put in to help grow the community."
* Lists fellow competitor Polgz as his hardest opponent to play.
* He wants Colorado's Nathan MacKinnon to be the next EA SPORTS NHL cover athlete.
* * * * *
Ez-Regs
No. 4 seed (PS5 Winner)
* The 21-year-old from Thunder Bay, Ont., has qualified for the GWC Final for the third consecutive year — second only to his archrival Gren-35-, who is making his fifth straight Final appearance.
* Representing the New York Islanders in GWC competition and has lost only one game in seven best-of-three matches following Online Open Play.
* His best skill is the ability to possess the puck behind the net and create plays from that area.
* 2021 NHL GWC North American Runner-up.
* 2020 NHL GWC Canadian Champion.
* 2018 NHL GWC Regional Finalist.
* Lists Bruins' Patrice Bergeron as his favorite NHL player because "he knows the importance of playing both ends of the ice and special teams."
* NHL player for Lazarus esports and Defenseman for Isles GT in EASHL.
* 2x Caps Gaming Champion, Tampa Bay Lightning Champion 2021, Montreal Canadiens Champion 2021 and Leafs Gaming League 2021 Champion.
* * * * *
Uninsta1l_NHL
No. 5 seed (PS4 Runner-up)
* 19-year-old from St. Albert, Alta., has represented his hometown Edmonton Oilers in 2022 and 2021 NHL GWC tournament.
* Placed in Top 8 in North America in 2021 NHL GWC.
* Says his best skill is his passing vision, which gives him an advantage over some of his competitors.
* The hardest opponent he has played again Geimer– because he is consistent and plays the best defense.
* Lists HHOF forward Jarome Iginla as his favorite NHL player who has "taught me how to be a leader and do whatever it takes to achieve my goals."
* Twitch Partner and YouTuber.
* Denver University Tournament Champion.
* * * * *
Lebaneseman69
No. 6 seed (Xbox One Runner-up)
* The 22-year-old from St. Paul, Minn., is representing his hometown Minnesota Wild in GWC competition.
* He lists Wild forward Kirill Kaprizov, winner of the 2020-21 Calder Memorial Trophy, as his favorite player. Lebaneseman69 is so impressed with Kaprizov's skill that he also drafted the superstar for his 2022 GWC HUT team. Learned to "find open ice and create passing lanes" from the Minnesota superstar.
* Likes to warm up his thumbs in free skate mode before each game.
* Would like to see Nashville Predators defenseman Roman Josi as the cover athlete for EA SPORTS NHL 23.
* Admires 3x GWC Champion EKI for his tips on how to improve his game and also enjoys his content on social platforms.
* * * * *
Gren-35-
No. 7 seed (PS5 Runner-up)
* The 20-year-old resident of Houston, Texas, continues to make NHL GWC history by securing his fifth straight appearance in a GWC Final event (2018-22).
* Reigning NHL GWC North American Club Champion.
* The Dallas Stars representative is an offensive machine and typically outscores his opponent by wide margins. He lists offense and the mechanics of the game as his best skills.
* NHL GWC Canadian Regional Runner-up (2020).
* Recently won the Caps Gaming Showcase S3 and CBJ Gaming events.
* Admires TopShelfCookie (TSC) and Man Rocket in the gaming community.
* * * * *
SAP Alien
No. 8 seed (Xbox Series X Runner-up)
* 21-year-old native of Surrey, B.C., is representing the Ottawa Senators in the 2022 NHL GWC competition.
* 2x Canuck Chel Challenge runner-up (2019 and 2020).
* Radio Arts & Entertainment Student at British Columbia Institute of Technology.
* Favorite player to use in NHL 22 is Colorado Avalanche forward Mikko Rantanen.
* Began Xbox Series X Console play as the No. 22 seed and stayed alive in several best-of-three deciding games leading up to the Console Final.
* Lists Elias Pettersson from his hometown Vancouver Canucks as his favorite NHL player because of his "vision and ability to find holes in opposing defenses."
* Is a member of the Surrey Youth Advisory Committee and former co-chair of the Surrey-White Rock Integrative Youth Collaborative.
* Lists his wife, Florence, as his biggest supporter along with his teammates at Oblivion ESHL.
* * * * *
Media Accreditation
Media wishing to attend the NHL GWC North American Club Championship on Wednesday, July 6 from 1 p.m. – 4 pm. ET (1909 Taverne Moderne) must email Julie Young (jyoung@nhl.com) for credentials and venue access information. The Championship is an invite-only event, and the venue will not be open to the public during the live competition. All players will be available for interviews after they have been eliminated from competition. The winner and runner up will be available after the Championship ceremony has been completed.

Completed Console Brackets:
Twitch Streams:
COURTESY NHLmedia.com