PepsiCo Maintains Exclusive NHL and NHLPA North American Rights in the Carbonated Soft Drinks, Water, Energy Drinks and Savory Snack Food Categories
June 15, 2022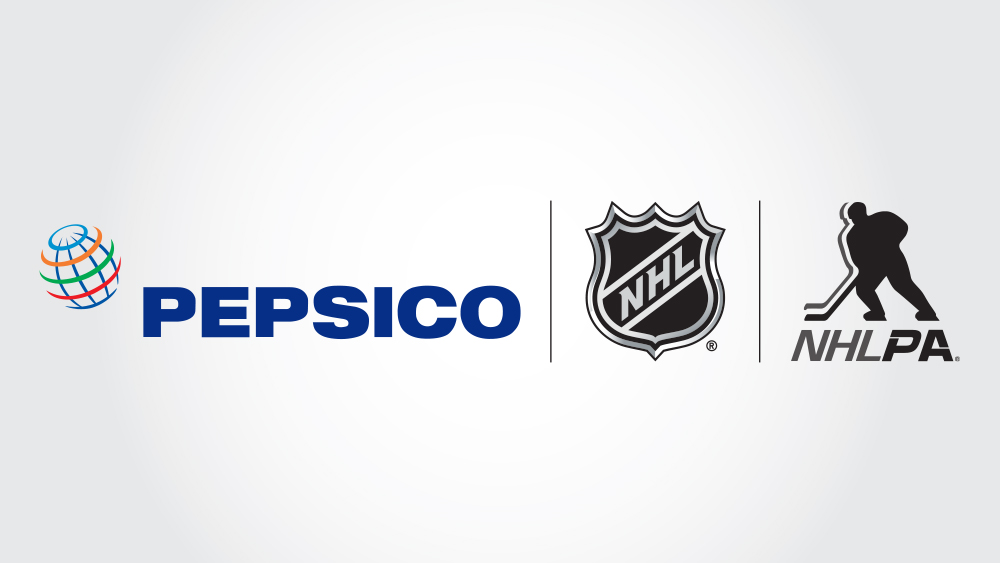 PURCHASE, N.Y./NEW YORK, N.Y./TORONTO, ONT. (June 15, 2022) – PepsiCo, the National Hockey League Players' Association (NHLPA) and the National Hockey League (NHL®) today announced a multiyear extension of their North American partnership. This extension will now make PepsiCo a more than 20-year NHL and NHLPA partner.
PepsiCo will maintain exclusive NHL and NHLPA North American rights in the carbonated soft drinks, water, energy drinks and savory snack food categories. PepsiCo's wide portfolio of brands includes Pepsi, MTN DEW, Aquafina, Rockstar, Lay's, Tostitos, Ruffles, Doritos, Cheetos, Rold Gold and Miss Vickie's.
Through the partnership, PepsiCo will continue innovative activation and increased exclusivity around promotional opportunities. Heightened strategic customer marketing and partnerships are part of the agreement as well. Throughout the partnership, PepsiCo will activate during tentpole NHL events, including NHL All-Star Weekend, NHL Winter Classic®, NHL Stadium Series™, NHL Heritage Classic™, and NHL Global Series™. Each tentpole event includes a unique activation asset that PepsiCo will use with key customers. PepsiCo will also continue their long-standing integrated Pepsi Zero Sugar Shutouts digital platform on League-operated media channels. Also, as part of the extension, PepsiCo will continue to utilize players in activations and marketing efforts, as a partner of the NHLPA, through the players' group licensing program.
"We're thrilled to extend our long-standing partnership with the NHL and NHLPA allowing us to celebrate hockey fans and the sport they love throughout North America," said Justin Toman, Senior Director, Sports Marketing, PepsiCo. "Building on our legacy, our brands will continue to generate dynamic programming that takes the fan experience to new heights, especially at some of the most exciting points in the season including tentpole NHL events and the Stanley Cup Playoffs."
"PepsiCo is a blue-chip partner with an incredible capacity to activate across our season, bringing unique NHL experiences and promotions to our fans in channels where we would not otherwise be present. Renewing our over decade-long partnership, which will take us to a more than 20-season relationship is a testament to the value both our brands receive from this alliance," said Kyle McMann, NHL Senior Vice President, North American Business Development. "We look forward to continuing our partnership and collaborating to create unique activations and opportunities to engage our fans and celebrate our great game on and off the ice."
"The National Hockey League Players' Association is very pleased to be extending our already long-term partnership with PepsiCo, a worldwide brand that remains a leader in sports marketing," stated Devin Smith, Senior Director, Marketing & Community Relations. "PepsiCo has done a wonderful job working closely with the Players in previous marketing campaigns and we have big plans for further Player integration with them as we move forward."
PepsiCo brands will continue to integrate into NHL and NHLPA media assets, including NHL and NHLPA digital and social media platforms, in addition to maintaining strong presence around major League event platforms, such as NHL Winter Classic, NHL Heritage Classic, NHL Global Series, NHL Stadium Series, NHL All-Star Game, and Stanley Cup Playoffs.
About PepsiCo
PepsiCo products are enjoyed by consumers more than one billion times a day in more than 200 countries and territories around the world. PepsiCo generated more than $79 billion in net revenue in 2021, driven by a complementary beverage and convenient foods portfolio that includes Lay's, Doritos, Cheetos, Gatorade, Pepsi-Cola, Mountain Dew, Quaker, and SodaStream. PepsiCo's product portfolio includes a wide range of enjoyable foods and beverages, including many iconic brands that generate more than $1 billion each in estimated annual retail sales. Guiding PepsiCo is our vision to Be the Global Leader in Beverages and Convenient Foods by Winning with PepsiCo Positive (pep+). pep+ is our strategic end-to-end transformation that puts sustainability and human capital at the center of how we will create value and growth by operating within planetary boundaries and inspiring positive change for planet and people. For more information, visit www.pepsico.com.
About PepsiCo Canada
PepsiCo Canada is the country's largest food and beverage company, employing over 11,000 Canadians and operating over 384 manufacturing and distribution facilities across the country. The company is organized into two business units: PepsiCo Beverages Canada and PepsiCo Foods Canada. PepsiCo Beverages Canada includes brands such as Pepsi, Gatorade and Aquafina. PepsiCo Foods Canada is comprised of Frito Lay Canada (which includes brands such as the Lay's, Doritos, and Tostitos brands) and Quaker (which includes brands such as Quaker Chewy, Life, and Harvest Crunch). PepsiCo Canada, in turn, is part of the global PepsiCo, Inc., family.
About the NHL
The National Hockey League (NHL®), founded in 1917, consists of 32 Member Clubs. Each team roster reflects the League's international makeup with players from more than 20 countries represented, all vying for the most cherished and historic trophy in professional sports – the Stanley Cup®. Every year, the NHL entertains more than 670 million fans in-arena and through its partners on national television and radio; more than 191 million followers – league, team and player accounts combined – across Facebook, Twitter, Instagram, Snapchat, TikTok, and YouTube; and more than 100 million fans online at NHL.com. The League broadcasts games in more than 160 countries and territories through its rightsholders including ESPN, Turner Sports and NHL NetworkMC in the U.S.; Sportsnet and TVA Sports in Canada; Viaplay in the Nordic Region; and CCTV and Tencent in China; and reaches fans worldwide with games available to stream in every country. Fans are engaged across the League's digital assets on mobile devices via the free NHL® App; across nine social media platforms; on SiriusXM NHL Network Radio™; and on NHL.com, available in eight languages and featuring unprecedented access to player and team statistics as well as every regular-season and playoff game box score dating back to the League's inception, powered by SAP. NHL Original Productions and NHL Studios produce compelling original programming featuring unprecedented access to players, coaches and League and team personnel for distribution across the NHL's social and digital platforms.
The NHL is committed to building healthy and vibrant communities using the sport of hockey to celebrate fans of every race, color, religion, national origin, gender identity, age, sexual orientation, and socio-economic status. The NHL's Hockey Is For Everyone™ initiative reinforces that the official policy of the sport is one of inclusion on the ice, in locker rooms, boardrooms and stands. The NHL is expanding access and opportunity for people of all backgrounds and abilities to play hockey, fostering more inclusive environments and growing the game through a greater diversity of participants. To date, the NHL has invested more than $100 million in youth hockey and grassroots programs, with a commitment to invest an additional $5 million for diversity and inclusion programs over the next year.
About the National Hockey League Players' Association
The National Hockey League Players' Association (NHLPA), established in 1967, is a labour organization whose members are the players in the National Hockey League (NHL). The NHLPA works on behalf of the players in varied disciplines such as labour relations, product licensing, marketing, international hockey and community relations, all in furtherance of its efforts to promote its members and the game of hockey. In 1999, the NHLPA launched the Goals & Dreams fund as a way for the players to give something back to the game they love. Over the past 22 years, more than 80,000 deserving children in 34 countries have benefited from the players' donations of hockey equipment. NHLPA Goals & Dreams has donated more than $25 million to grassroots hockey programs, making it the largest program of its kind. For more information on the NHLPA, please visit www.nhlpa.com.
COURTESY NHLmedia.com