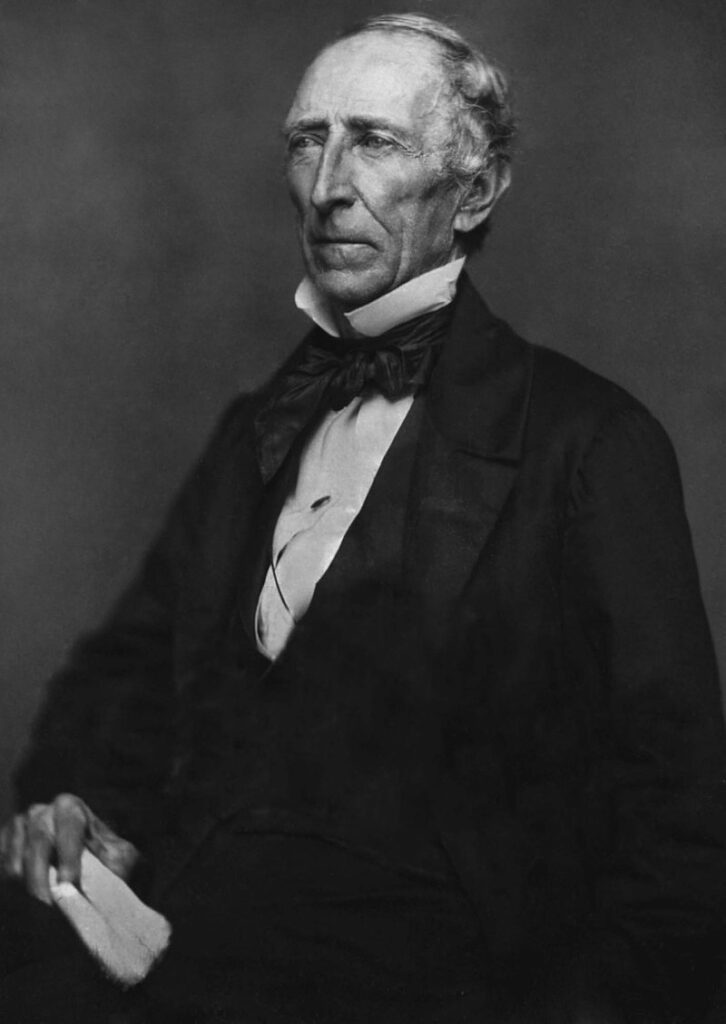 FROM WIKIPEDIA COMMONS
John Tyler (March 29, 1790 – January 18, 1862) was the 10th president of the United States, serving from 1841 to 1845, after briefly holding office as the 10th vice president in 1841. He was elected vice president on the 1840 Whig ticket with President William Henry Harrison, succeeding to the presidency after Harrison's death 31 days after assuming office. Tyler was a stalwart supporter and advocate of states' rights, including regarding slavery, and he adopted nationalistic policies as president only when they did not infringe on the powers of the states. His unexpected rise to the presidency posed a threat to the presidential ambitions of Henry Clay and other Whig politicians, and left Tyler estranged from both of the nation's major political parties at the time.
Tyler was born into a prominent slaveholding Virginia family. He became a national figure at a time of political upheaval. In the 1820s, the nation's only political party was the Democratic-Republican Party, and it split into factions. Tyler was initially a Democrat, but he opposed President Andrew Jackson during the Nullification Crisis as he saw Jackson's actions as infringing on states' rights and criticized Jackson's expansion of executive power during the Bank War. This led Tyler to ally with the Whig Party. He served as a Virginia state legislator and governor, U.S. representative, and U.S. senator. He was one of two regional Whig vice-presidential nominees in the 1836 presidential election and the sole nominee on the 1840 Whig presidential ticket as William Henry Harrison's running mate. Under the campaign slogan "Tippecanoe and Tyler Too", the Harrison-Tyler ticket defeated incumbent president Martin Van Buren.
President Harrison died just one month after taking office, and Tyler became the first vice president to succeed to the presidency without being elected. Amid uncertainty as to whether a vice president succeeded a deceased president, or merely took on his duties, Tyler immediately took the presidential oath of office, setting a lasting precedent, though some denied he was fully president. Tyler signed into law some of the Whig-controlled Congress's bills, but he was a strict constructionist and vetoed the party's bills to create a national bank and raise tariff rates. He believed that the president, rather than Congress, should set policy, and he sought to bypass the Whig establishment led by Senator Henry Clay. Most of Tyler's Cabinet resigned shortly into his term and the Whigs expelled him from the party, dubbing him "His Accidency". Tyler was the first president to have his veto of legislation overridden by Congress. He faced a stalemate on domestic policy, although he had several foreign-policy achievements, including the Webster–Ashburton Treaty with Britain and the Treaty of Wanghia with Qing China. Tyler was a firm believer in manifest destiny and saw the annexation of Texas as economically advantageous to the United States, signing a bill to offer statehood to Texas just before leaving office and returning to his plantation.
When the American Civil War began in 1861, Tyler sided with the Confederacy despite his initial support of the Peace Conference. He presided over the opening of the Virginia Secession Convention and won election to the Confederate House of Representatives shortly before his death. Some scholars have praised Tyler's political resolve, but historians have generally given his presidency a low ranking. Today, he is seldom remembered in comparison to other presidents and maintains only a limited presence in American cultural memory.
TODAY'S ALMANAC
Question of the Day
I have a scratch across my concrete driveway caused by a snowplow. Is there any way to make it less noticeable?
It depends on how deep the scratch is. If it's not very deep, you may be able to fill it with latex-based caulking. Make sure you wet the adjacent areas of concrete to improve adhesion. Check with your local hardware store about the best caulking product for the job.
Advice of the Day
To choose a fresh mackerel, look for a transparent, silvery hue and no red about the head.
Home Hint of the Day
Don't wait for the cool days of fall to start your outside paint job. There may be too much rain then. The best time to paint is during a run of decent, hot weather — the heat dries out the wood, which is the way you want it for painting.
Word of the Day
Myrmecophobia
Fear of ants
Puzzle of the Day
An adjective and a vegetable.(Use these clues to find the two words that, when combined, form the name of a flower.)
Answer: Sweet pea
Born
Arthur Middleton (U.S. statesman, signed U.S. Declaration of Independence) – 1742
Lord Kelvin (physicist, inventor of the Kelvin temperature scale) – 1824
Pearl S. Buck (Nobel prize-winning author, humanitarian) – 1892
Peter Lorre (actor) – 1904
Chris Isaak (singer) – 1956
Sean Hayes (actor) – 1970
Chris O'Donnell (actor) – 1970
Gretchen Wilson (country singer) – 1973
Died
Roy Campanella (baseball player) – 1993
Jay Berwanger (football player, first winner of the Heisman Trophy) – 2002
Strom Thurmond (died at age 100. He was the longest-serving senator in U.S. history) – 2003
Liz Claiborne (fashion designer) – 2007
Norma Lyon (fourth official butter cow sculptor of the Iowa State Fair) – 2011
Nora Ephron (screenwriter & director) – 2012
Events
John Tyler became the first president to marry while in office– 1844
The first boardwalk in the world was completed at the resort town of Atlantic City, NJ– 1870
Coney Island's Cyclone roller coaster made its debut– 1927
United Nations charter signed, San Francisco, CA– 1945
Opening ceremonies took place for the St. Lawrence Seaway, connecting the Great Lakes with the Atlantic– 1959
President John F. Kennedy visited W. Berlin and gave his Ich bin ein Berliner" speech"– 1963
CN Tower, 1,815 ' high, opened to the public, Toronto, Ontario– 1976
Bob Barker, host of the television game show The Price is Right, was inducted into the Academy of Television and Arts & Sciences Hall of Fame– 2004
Weather
Phoenix, Arizona, reached 122 degrees F– 1990
Los Angeles, California, soared to 112 degrees F– 1990
COURTESY www.almanac.com