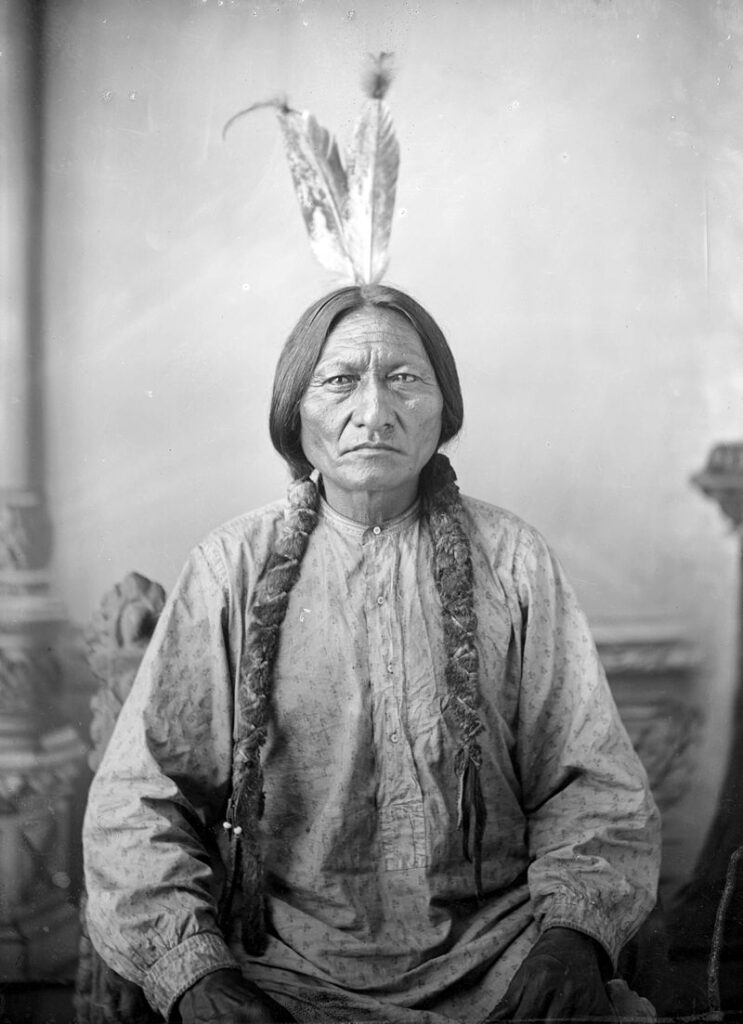 FROM WIKIPEDIA COMMONS
Sitting Bull (Lakota: Tȟatȟáŋka Íyotake [tˣaˈtˣə̃ka ˈi.jɔtakɛ]; c. 1831 – December 15, 1890) was a Hunkpapa Lakota leader who led his people during years of resistance against United States government policies. He was killed by Indian agency police on the Standing Rock Indian Reservation during an attempt to arrest him, at a time when authorities feared that he would join the Ghost Dance movement.
Before the Battle of the Little Bighorn, Sitting Bull had a vision in which he saw many soldiers, "as thick as grasshoppers," falling upside down into the Lakota camp, which his people took as a foreshadowing of a major victory in which many soldiers would be killed. About three weeks later, the confederated Lakota tribes with the Northern Cheyenne defeated the 7th Cavalry under Lt. Col. George Armstrong Custer on June 25, 1876, annihilating Custer's battalion and seeming to bear out Sitting Bull's prophetic vision. Sitting Bull's leadership inspired his people to a major victory. In response, the U.S. government sent thousands more soldiers to the area, forcing many of the Lakota to surrender over the next year. Sitting Bull refused to surrender, and in May 1877, he led his band north to Wood Mountain, North-Western Territory (now Saskatchewan). He remained there until 1881, at which time he and most of his band returned to U.S. territory and surrendered to U.S. forces.
After working as a performer with Buffalo Bill's Wild West show, Sitting Bull returned to the Standing Rock Agency in South Dakota. Due to fears that he would use his influence to support the Ghost Dance movement, Indian Service agent James McLaughlin at Fort Yates ordered his arrest. During an ensuing struggle between Sitting Bull's followers and the agency police, Sitting Bull was shot in the side and head by Standing Rock policemen Lieutenant Bull Head (Tatankapah, Lakota: Tȟatȟáŋka Pȟá) and Red Tomahawk (Marcelus Chankpidutah, Lakota: Čhaŋȟpí Dúta), after the police were fired upon by Sitting Bull's supporters. His body was taken to nearby Fort Yates for burial. In 1953, his Lakota family exhumed what were believed to be his remains, reburying them near Mobridge, South Dakota, near his birthplace.
TODAY'S ALMANAC
Question of the Day
What causes the greenish gray color around the yolks of hard-boiled eggs?
This is a harmless compound of iron and sulfur called ferrous sulfide, which forms when an egg is heated. To prevent its formation, boil the egg only as long as is necessary to set the yolk, then plunge it into cold water and peel it promptly.
Advice of the Day
Use a little mineral oil on a cotton ball to polish patent leather shoes.
Home Hint of the Day
Moss or sorrel in lawns is a sign of poor drainage and acidity. You can improve the situation by aerating the lawn and spreading lime on it.
Word of the Day
Melissophobia
Fear of bees
Puzzle of the Day
Lady mine (Change these words into a single word.)
Maidenly
Born
Eric Arthur Blair (better known by the pen-name George Orwell) – 1903
Joe O'Brien (harness racing driver) – 1917
June Lockhart (actress) – 1925
James Meredith (political activist) – 1933
Carly Simon (musician) – 1945
George Michael (singer, songwriter) – 1963
Angela Kinsey (actress) – 1971
Linda Cardellini (actress) – 1975
Died
Stanford White (Famous architect; killed by Henry K. Thaw on the roof of Madison Square Garden) – 1906
Warren Burger (U.S. Supreme Court chief justice) – 1995
Jacques-Yves Cousteau (oceanographer) – 1997
John Fiedler (actor; best known for providing the voice of Piglet in Winnie the Pooh cartoons) – 2005
Farrah Fawcett (actress) – 2009
Michael Jackson (musician) – 2009
Patrick Macnee (actor) – 2015
Events
Five English monks saw flaming torch spew fire, hot coals, and sparks on Moon– 1178
Massachusetts Bay Colony Governor John Winthrop introduced the fork to American dining– 1630
Virginia ratified the Constitution and was admitted as the 10th state– 1788
Sitting Bull defeated General George Custer at the Battle of the Little Bighorn, which became known as Custer's Last Stand.– 1876
A 19-year-old cellist in the orchestra of the Rio de Janeiro Opera House in Brazil picked up the baton and conducted the orchestra in a performance of Aida when the regular conductor failed to make an appearance. The cellist name: Arturo Toscanini. (His success prompted him to abandon his cello for a conductor's career)– 1886
4-day dedication ceremony for Mackinac Bridge began, Michigan– 1958
Kim Campbell was chosen as leader of the Progressive Conservative Party of Canada and became the first female Prime Minister of Canada– 1993
Final episode of Another World aired– 1999
An alligator attacked a golfer who was retrieving a ball from a pond, Venice, Florida– 2007
Weather
Hailstones shaped like Saturn fell in Guildford, England– 1888
It was 86 degrees F in Anchorage, Alaska– 1953
Virginian Roy C. Sullivan was struck by lightning for the seventh time.– 1977
121 degrees F, Willow Beach, Arizona– 1981
On June 25 and 26, a late snow fell in Newfoundland and Labrador.– 2018
COURTESY www.almanac.com