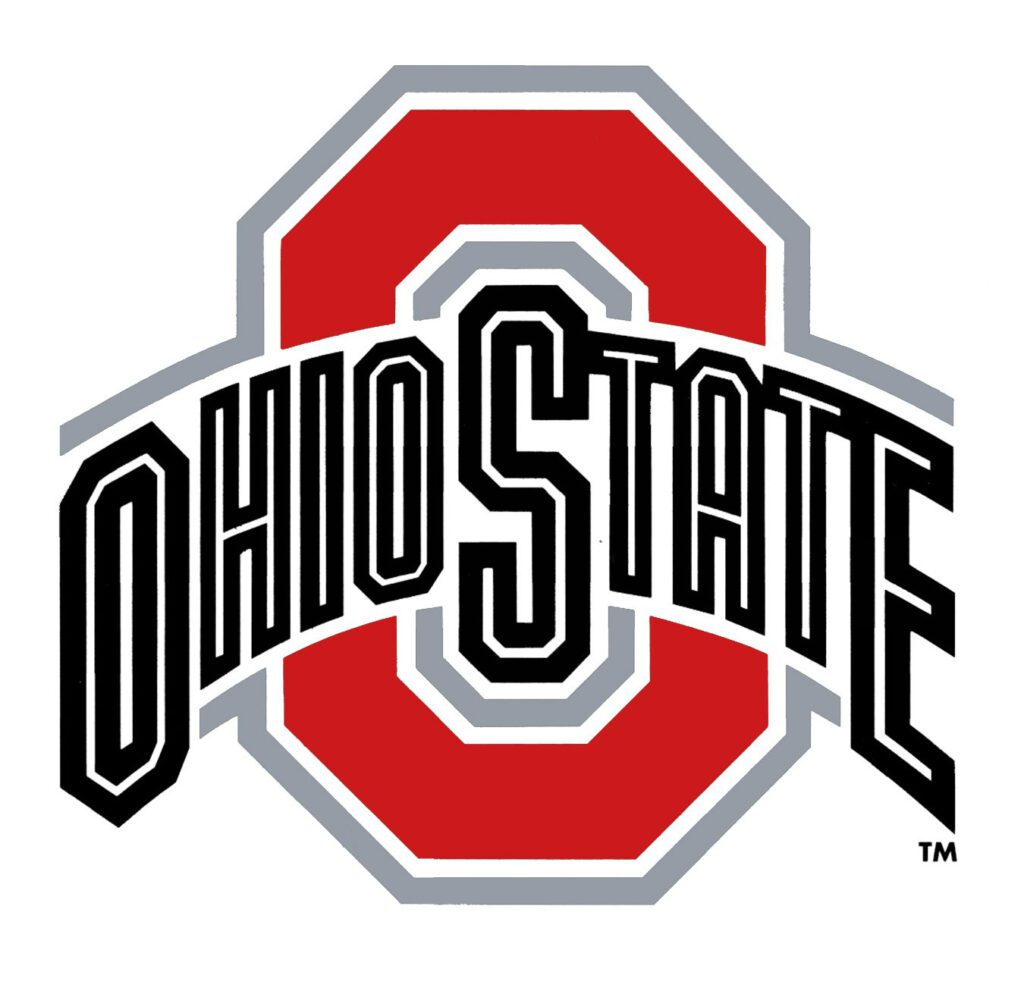 Distinguished panel commemorates anniversary; women's sports as strong as ever at Ohio State
COLUMBUS, Ohio – The Ohio State University Department of Athletics kicked off a year-long celebration of 50 Years of Title IX Thursday with a continental breakfast program at the Ty Tucker Tennis Center featuring a distinguished panel of guests, including Ohio State President Kristina M. Johnson.
On the panel alongside President Johnson, a field hockey player while at Stanford University who also helped establish the lacrosse program at Stanford, was her wife, Veronica Meinhard, an All-American swimmer at the University of Florida; current Ohio State basketball star Jacy Sheldon; national champion synchronized swimming coach Holly Vargo Brown; and retired Ohio State deputy athletic director Miechelle Willis, a standout in track and field while a student at Grambling University. Ohio State assistant cheer coach, Siobhan St. John, moderated the panel.
50 Years Ago Today
It was 50 years ago today, June 23, 1972, that the Education Amendments Act was signed into law by President Richard Nixon. Title IX of the new law read:
No person in the United States shall, on the basis of sex, be excluded from participation in, be denied the benefits of, or be subjected to discrimination under any educational program or activity receiving Federal financial assistance.
Title IX was subtle, but dramatic, and intended or not, it "altered women's sports forever," wrote Maggie Mertens, in Sports Illustrated, earlier this spring.
1965-66: The Start
In 1972, women's sports were taking place at Ohio State, but nowhere near the extent of the comprehensive program that exists today with the Department of Athletics currently boasting 17 intercollegiate women's sports, including all 14 women's sports offered by the Big Ten Conference, along with three co-ed sports.
Organized intercollegiate athletics competition for women within the Department of Athletics began in 1965-66, thanks to the leadership and championing of Phyllis Bailey. At the time, Ohio State University had a handful of women's sports club teams, and Bailey oversaw them as Associate Director of Recreation, Intramurals and Intercollegiate Sports for Women. She helped transition these club teams to intercollegiate teams. When that happened, Bailey, the basketball club team coach, became the varsity women's basketball team's first head coach, and lead the Buckeyes to a 28-10 record from 1965-70.
By the time Bailey was named an Assistant Athletics Director in 1975 and shortly thereafter, Ohio State's Department of Athletics featured 12 women's sports: Basketball, Gymnastics, Field Hockey, Volleyball, Softball, Tennis, Cross Country, Swimming, Diving, Synchronized Swimming and Indoor and Outdoor Track & Field.
In all, Bailey spent 39 years at Ohio State as a coach, teacher, mentor, role-model and pioneer, before retiring in 1994. She is enshrined in the Ohio State Athletics Hall of Fame.
Grants-in-Aid
Continued growth and expansion of women's intercollegiate athletics at Ohio State was assured in the fall of 1976 when a grants-in-aid program for women athletes began.
Before Bailey: Gladys Palmer
Well before Phyllis Bailey arrived at Ohio State another visionary, Gladys Palmer, the head of the Health and Physical Education Department at Ohio State University, led the development of a national governing body which would sponsor and control intercollegiate competition for women. The outcome was the first national championship for all of women's collegiate sports: the 1941 women's national golf championship, held on the OSU Scarlet Course.
This national championship continued to be held until 1973, when the Association of Intercollegiate Athletics for Women (AIAW) was formed, also with the involvement and leadership of Bailey. The AIAW conducted women's national championships through 1982.
Big Ten and NCAA Championships
In 1981-82, 10 years after the Education and Amendments Act was signed into law, the Big Ten Conference officially integrated women's athletics into the conference, and the NCAA started sponsoring women's national championships
Two Ohio State programs won Big Ten championships that first year: basketball, coached by Tara VanDerveer, and swimming and diving, coached by Jim Montrella and Vince Panzano (diving).
Ohio State Women's Athletics Today
For historical context and based on 1965-66 as Year 1 for women's intercollegiate athletics at Ohio State, the 2022-23 athletics/academics calendar represents the 58th year of women's intercollegiate sporting events. It's hard to imagine the women's programs at Ohio State any stronger than now. Consider:
§ This year 11 of Ohio State's 14 conference and/or national team championships were won by women's teams, including two co-ed teams, and dance;
§ Women's student-athletes accounted for 29 of the 51 conference and national individual event championships;
§ A program record-tying five women's teams – basketball, swimming and diving, tennis, track and field and rowing – won Big Ten Conference titles; this was last achieved by Ohio State teams 11 years ago and this is only the second time in the past 36 years to have as many as five Big Ten champions;
§ Two teams – swimming and diving, and outdoor track and field – have won three consecutive Big Ten championships and a third, tennis, has won two consecutive titles;
§ Three teams – the second-most in school history behind five in 2014-15 – won team national championships: hockey, synchronized swimming and co-ed pistol, as did dance;
§ Synchronized swimming has won four of the last five national championships; and
§ Ohio State now ranks first among all Big Ten programs with 51 team national championships and second in the conference with 78 Big Ten championships.
Women Coaches Report Card: B
Ohio State ranks extremely high in terms of percentage of women head coaches of women's teams. According to the most recent – 2020-21 – Women in College Coaching Report Card, determined by the Tucker Center for Research on Girls & Women in Sport, Ohio State received a Grade of B with 58.8 percent of its NCAA-sponsored women's team coached by a woman. Only one Big Ten school – Illinois – ranked higher than Ohio State. Michigan State, Minnesota, Northwestern and Rutgers also had B grades.
Ohio State has 12 women's sports coached by women: Cross Country, Golf, Gymnastics, Hockey, Lacrosse, Rowing, Soccer, Softball, Synchronized Swimming, Tennis, Track & Field and Volleyball.
Our Teams
The 36-sport Ohio State Department of Athletics features 17 women's sports and three co-ed sports, in addition to 16 men's sports. The women's sports are:
§ Basketball – 1965-66 first year; 2022-23 represents Team No. 58
§ Volleyball – 1971-72; Team No. 53
§ Field Hockey – 1971-72; Team No. 53
§ Gymnastics – 1970-71; Team No. 53
§ Golf – 1971-72; Team No. 52
§ Softball – 1971-72; Team No. 52
§ Tennis – 1972-73; Team No. 51
§ #Fencing – 1973-74; Team No. 50
§ Cross Country – 1975-76; Team No. 49
§ *Swimming & Diving – 1975-76; Team No. 48
§ Synchronized Swimming – 1977-78; Team No. 46
§ *Track & Field – 1978-79; Team No. 45
§ #Rifle – 1981-82; Team No. 42
§ #Pistol – 1992-93; Team No. 31
§ Soccer – 1993-94; Team No. 30
§ Lacrosse – 1995-96; Team No. 28
§ Rowing – 1995-96; Team No. 28
§ Hockey – 1999-2000; Team No. 24
#Co-ed sports; *Two sports (swimming and diving; indoor track & field and outdoor track & field)
Women's Athletics Excellence Fund Created
A generous, $2.5 million commitment from Anita and Michael Goldberg and RiteRug will assist the Ohio State University Department of Athletics in creating the Women's Athletics Excellence Fund to support and enhance the experience and development of Ohio State's women student-athletes, coaches and staff. The RiteRug commitment will fund a new endowment in perpetuity.
"As a company, RiteRug has worked hard to cultivate a culture that values leadership and hard work," Michael Goldberg, RiteRug CEO, said. "We strongly believe in the growth and development of women both within our organization and in our community. We have chosen to support Ohio State women's athletics because we believe that nothing exemplifies our values more than a female student-athlete in one of the most competitive academic and athletic programs in the nation. Our hope is that our gift has a ripple effect on these women, the program, and the community. That the student athletes we support can reach their highest potential as they share their talents and leadership skills with others on the team, in their classrooms and where they volunteer their time."
50 for 50
Starting next week and excluding a couple holiday weeks, Ohio State will be celebrating at OhioStateBuckeyes.com and via social media a series of 50 great moments, events, people and/or eras in its women's athletics history. Follow along as Ohio State celebrates 50 Years of Title IX at https://ohiostatebuckeyes.com/title-ix/
Title IX Merchandise
50 Years of Title IX merchandise, including coffee mugs and t-shirts, is available at The Team Shop, located at the Schottenstein Center, and online at www.go.osu.edu/shoptitleix50
About the Department of Athletics
The Ohio State University Department of Athletics is one of the most visible, respected and accomplished programs in the nation. It ranks among the largest in terms of number of student-athletes – over 1,000 – and in number of varsity sports (36). The department maintains entirely self-supporting operations. All grants-in-aid, buildings and capital expenditures, including debt service, are funded by the department's generated funds without subsidy from the university. No student fees, tax dollars or university funds are used to support the programs of the Department of Athletics.
#GoBucks
The People. The Tradition. The Excellence.
COURTESY OHIO STATE ATHLETICS