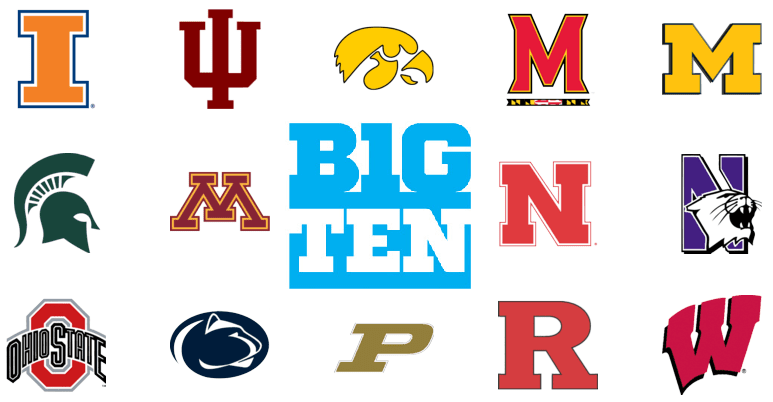 June 22, 2022
Star-studded lineup of speakers and trailblazers headlines two-day celebration of 50th anniversary of Title IX
ROSEMONT, Ill. – The Big Ten Conference will host its first Big Ten Women's Leadership Summit June 23-24, 2022, at the conference headquarters in Rosemont, Illinois, to commemorate the 50th anniversary of the passage of Title IX. The Big Ten Conference will welcome more than 75 student-athletes, coaches, and administrators from its 14 member institutions – along with a remarkable group of guest speakers – for networking, learning, and mentorship opportunities.
"The Big Ten Conference Women's Leadership Summit brings together some of the most exceptional women in collegiate athletics and underscores the mission of the Big Ten Conference to elevate women's sports," said Big Ten Commissioner Kevin Warren. "This event is a celebration of the 50th anniversary of Title IX and a reflection of our unwavering commitment to delivering transformational educational experiences and growth opportunities to our student-athletes."
The Big Ten Conference Women's Leadership Summit begins on the 50th anniversary (June 23, 2022) of Title IX – which prohibits discrimination in any education program on the basis of sex (gender) – with an exclusive dinner and red-carpet celebration at a local restaurant. Veteran ESPN Radio and espnW personality Sarah Spain will serve as emcee and Commissioner Warren will deliver opening remarks at the evening celebration.
The Big Ten Conference Women's Leadership Summit continues June 24, 2022, with a full day of programming at the Big Ten Conference headquarters in Rosemont. Attendees will hear from a variety of guest speakers, beginning with a History of Title IX panel that will feature trailblazers such as former Big Ten Conference Deputy Commissioner Diane Dietz, University of Iowa Deputy Director of Athletics/Senior Woman Administrator Barbara Burke, University of Maryland Head Field Hockey Coach Missy Meharg, University of Illinois Head Softball Coach Tyra Perry and former University of Minnesota Women's Swimming & Diving Coach Terry Ganley.
Other featured speakers will include four-time Olympian Jackie Joyner-Kersee, 2019 FIFA Women's World Cup Champion Tierna Davidson (now a member of the Chicago Red Stars of the National Women's Soccer League), ESPN broadcaster Sage Steele, plus Big Ten Network broadcasters Lisa Byington, Emily Ehman and Meghan McKeown.
Also scheduled to speak at this year's Big Ten Conference Women's Leadership Summit are Katrina Adams (former professional tennis player and CEO of the United States Tennis Association, and current chair of both the International Tennis Federation's Billie Jean King Cup and Gender Equality in Tennis committees), Dr. Wendy Borlabi (director of high performance and mental health for the NBA's Chicago Bulls), Lori Locust (assistant defensive line coach for the NFL's Tampa Bay Buccaneers) and Jennifer King (assistant running backs coach for the NFL's Washington Commanders).
While the Big Ten Conference Women's Leadership Summit is an invitation-only event, the Big Ten Network, along with the Big Ten Conference's primary social media channels on Twitter, Instagram, Facebook, LinkedIn, and YouTube, will provide coverage of both days of the celebration.
Big Ten Conference (bigten.org) is an association of world-class universities whose member institutions share a common mission of research, graduate, professional and undergraduate teaching, and public service. Founded in 1896, Big Ten has sustained a comprehensive set of shared practices and policies that enforce the priority of academics in the lives of students competing in intercollegiate athletics and emphasize the values of integrity, fairness, and competitiveness. The broad-based programs of the 14 Big Ten institutions will provide over $200 million in direct financial support to more than 9,800 students for more than 11,000 participation opportunities on 350 teams in 42 different sports. Big Ten sponsors 28 official conference sports, 14 for men and 14 for women, including the addition of men's ice hockey and men's and women's lacrosse since 2013.
#B1GWLS
COURTESY BIG 10 COMMUNICATIONS