May 30, 2022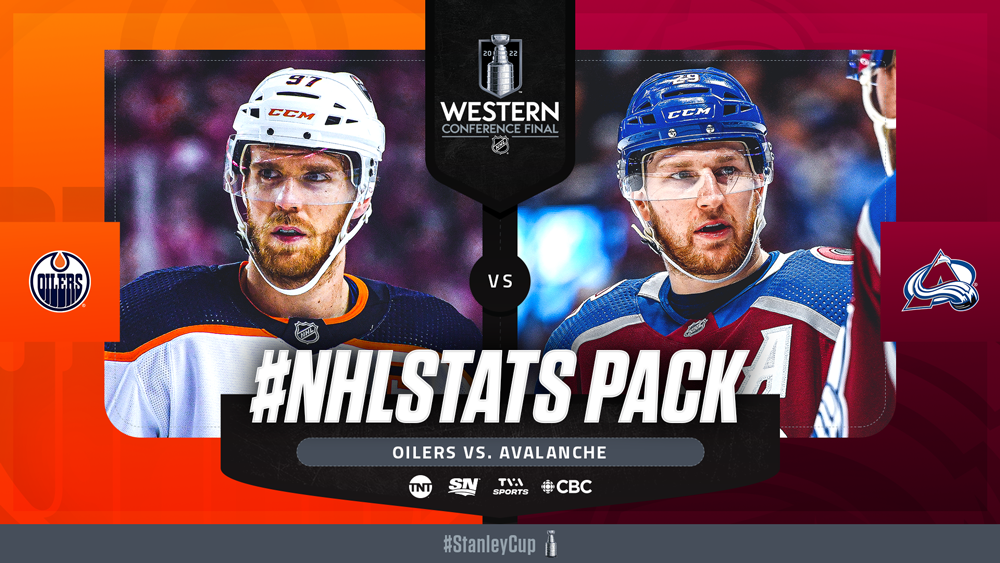 Playoff History
* This will be the third playoff meeting between the Avalanche and Oilers, following a five-game victory by Colorado in the 1997 Conference Semifinals and a Game 7 triumph by Edmonton in the 1998 Conference Quarterfinals. The Nordiques never faced the Oilers in the playoffs before they relocated to Denver in 1995-96, nor did the clubs meet in the postseason during their time together in the WHA.

* 1997 Conference Semifinals: The first-ever playoff meeting between Colorado and Edmonton opened Friday, May 2, 1997, at McNichols Sports Arena in Denver where the tandem of Peter Forsberg (2-1—3) and Joe Sakic (0-3—3) combined for six points and Patrick Roy (35 saves) outperformed Curtis Joseph (32 saves) to claim a Game 1 victory. Roy improved upon that with 42 saves in a Game 2 win but a go-ahead goal by Ryan Smyth late in the third period of Game 3 helped Edmonton cut the series deficit. In Game 4, Claude Lemieux scored his second game-winning goal of the series – in overtime – to send the series back to Denver with the Avalanche ahead 3-1. Lemieux had a goal in all five games of the series – and seven straight contests overall (tying the franchise playoff record) – as he collected 1-1—2 in the third period of Game 5, including an assist on the go-ahead, series-clinching goal by Adam Deadmarsh with less than 70 seconds remaining in regulation. It was Colorado's sixth straight series win since relocation.

* 1998 Conference Quarterfinals: Matching up against the Pacific Division champion Avalanche – who finished 15 points ahead of them in the standings – the Oilers won Game 1 by overcoming a multi-goal, third-period deficit with three goals in a span of 3:49. In Game 2, Peter Forsberg posted his second straight multi-goal game and matched a franchise playoff record with five points to help Colorado even the series. The Oilers erased another multi-goal, third period deficit in Game 3 but Joe Sakic nixed the comeback with his third career playoff overtime goal. In Game 4, Claude Lemieux notched his 19th career playoff game-winning goal to overtake Maurice Richard (18) for second place in Stanley Cup Playoffs history – behind only Wayne Gretzky (24) at the time – and give Colorado a 3-1 series lead. From that point on, Oilers goaltender Curtis Joseph took over: "Cujo" faced 31 shots in each of the final three contests and allowed only one goal over the three-game span – concluding the series with the first set of back-to-back shutouts in franchise playoff history. Edmonton staged another third-period comeback in Game 5, rode an early Drake Berehowsky goal to a Game 6 victory and had defenseman Janne Niinimaa provide the series-clinching tally on the road in Game 7.

—

Top Scorers, No. 1 Picks, Award Winners on Display
* The 2022 Western Conference Final will be the first series in Stanley Cup Playoffs history to feature each of the top four active skaters on the career playoff points-per-game list (min. 30 GP), with the Oilers tandem of Leon Draisaitl (1.61) and Connor McDavid (1.45) set to go head-to-head against Avalanche teammates Nathan MacKinnon (1.37) and Mikko Rantanen (1.19). Lightning forward Nikita Kucherov (1.15), who will play in the 2022 Eastern Conference Final, is the next closest active skater for career points-per-game in the playoffs.

* Expanding to the entire history of the Stanley Cup Playoffs, three players in this series rank among the top six for career points-per-game (min. 30 GP): Leon Draisaitl (1.61), Nathan MacKinnon (1.37) and Connor McDavid (1.45). The balance of the top six is made up of Wayne Gretzky (1.84), Mario Lemieux (1.61) and Barry Pederson (1.53) – none of whom ever faced one another in the Stanley Cup Playoffs.

* This will mark the second time in Stanley Cup Playoffs history that a final-four series will feature multiple No. 1 picks on each side, with the Avalanche icing Nathan MacKinnon (2013) and Erik Johnson (2006) against the Oilers tandem of Connor McDavid (2015) and Ryan Nugent-Hopkins (2011). The other such series came in the 1977 Semifinals when Guy Lafleur (1971) and Rejean Houle (1969) helped the Canadiens defeat Denis Potvin (1973) and Billy Harris (1972) of the Islanders; Montreal went on to win the Stanley Cup.

* Connor McDavid (Art Ross: 4x; Ted Lindsay: 3x; Hart: 2x), Leon Draisaitl (Art Ross: 1x; Ted Lindsay: 1x; Hart: 1x) and Nathan MacKinnon (Calder: 1x; Lady Byng: 1x) have combined for 14 NHL Awards. In addition, MacKinnon (QMJHL) and Draisaitl (WHL) each won a junior championship, with the former also claiming the Memorial Cup in 2013. The three players combined for four playoff MVP awards at the junior level: Draisaitl (WHL & Memorial Cup) and McDavid (OHL) in 2015 and MacKinnon (Memorial Cup) in 2013. MacKinnon (2015) and McDavid (2016) also won gold one year apart at the World Championship.

—

Matchup Notes
* The Oilers (4.33) vs. Avalanche (4.30) matchup is the fifth final-four series in Stanley Cup Playoffs history – and first in 34 years – to feature two clubs each entering with an average goals-per-game of 4.30 or higher. The other such matchups came in the 1988 Conference Finals (DET: 4.82 vs. EDM: 4.78), 1985 Conference Finals (CHI: 6.22 vs. EDM: 4.71), 1981 Semifinals (NYI: 5.44 vs. NYR: 5.20) and 1973 Semifinals (CHI: 4.40 vs. NYR: 4.40).

* The two general managers in this series are linked by one of the fiercest rivalries in NHL history as Colorado's Joe Sakic was captain of the Avalanche during their six playoff series from 1996 to 2008 against the Red Wings, who were managed by Edmonton's current GM Ken Holland (including 1996 when Holland was part of a managerial triumvirate with Jim Devellano and Scotty Bowman).

* Oilers defenseman Tyson Barrie will face his former team in the playoffs for the first time. Barrie tallied 1-13—14 in 21 career postseason games with the Avalanche from 2014 to 2019 and now has 1-4—5 over two playoff years with the Oilers – with his lone goal serving as the go-ahead game-winner in Game 6 of the First Round this year to help Edmonton stave off elimination. In Game 5 of the 2019 First Round in Calgary, Barrie (0-3—3) set an Avalanche/Nordiques franchise record for points by a defenseman in a potential series-clinching game – a feat matched this year by Cale Makar (1-2—3 in Game 4 of 2022 R1 at NSH).

* Avalanche defenseman Josh Manson is set to face off against his father Dave Manson, assistant coach of the Oilers. Josh previously reached the Conference Finals with the Ducks in 2017 when his team fell to the Predators in six games, while Dave played in four career Conference Finals as a member of the Stars, Oilers and Blackhawks. Of the four appearances, Dave's only Conference Finals series win came with Dallas in 2000 when the Stars defeated the Avalanche – the team captained by Colorado's current general manager Joe Sakic.

* Colorado won two of three meetings between the clubs in 2021-22, with all three games played over the course of a month. On March 21, Cale Makar and Nathan MacKinnon connected for the overtime goal following a 2-on-1 against Connor McDavid. On April 9, MacKinnon scored again and netted the shootout winner as the Avalanche tied a franchise record with their 52nd win of the season. On April 22, Evander Kane (3-1—4) and McDavid (0-3—3) combined for seven points as Edmonton defeated Colorado to clinch a playoff spot.

* Nathan MacKinnon scored a goal in all three games against Edmonton in 2021-22 and has a four-game goal streak against the club dating to Nov. 27, 2019 (4-3—7 in 4 GP).

* Connor McDavid has had multiple points in half of the games he has played against Colorado (8 of 16 GP), including two hat tricks and a career-best six-point showing on Nov. 14, 2019 in Denver. Leon Draisaitl had five assists in that game.

* Connor McDavid (9-15—24; 1.71 P/GP) and Nathan MacKinnon (6-10—16; 1.14 P/GP) are each averaging more than a point-per-game in their 14 head-to-head meetings in the regular season, with the Oilers holding an 8-4-2 advantage in those contests (COL: 6-7-1).

* Mike Smith has a career record of 13-1-5 against the Avalanche – the only club he has fewer than two regulation losses against – including a 2-0-1 mark in an Oilers sweater. Darcy Kuemper owns a 10-2-4 record in 16 career regular season appearances against the Oilers, going 2-1-0 with the Avalanche.

* Darcy Kuemper (6-1-0, 1.42 GAA, .947 SV%, 2 SO) holds the edge in seven career meetings against Mike Smith (1-4-2, 2.59 GAA, .920 SV%), though they have split their two head-to-head matchups since joining the Avalanche and Oilers, respectively.

* Evander Kane and Connor McDavid each have seven career goals in 12 games played against Darcy Kuemper, tied for the most among any NHL player (San Jose's Tomas Hertl has 7 G in 15 GP vs. Kuemper).

—

Conference Finals Experience
* The Oilers outweigh the Avalanche in terms of Conference Finals/Stanley Cup Semifinals experience, entering with 10 players who have skated in the round to Colorado's six.

* Now with Colorado, Artturi Lehkonen scored the series-clinching overtime goal against Vegas in Game 6 of the 2021 Stanley Cup Semifinals to send Montreal into the Stanley Cup Final for the first time since 1993.

* The Avalanche are in the 2022 Conference Finals thanks to the late-game heroics by Darren Helm in Game 6 of the Second Round. Helm's goal in that contest was the second series-clinching goal of his NHL career – and it came exactly 13 years after his first, in Game 5 of the 2009 Conference Finals with Detroit. In that contest, Helm scored in overtime to put Detroit into the Final for a second straight year and eliminate a Chicago team that included Duncan Keith, who was in the Stanley Cup Playoffs for the first time.

* Duncan Keith is the only current Oilers player with a winning goal in the Conference Finals, notching his in Game 1 of Chicago's matchup against Los Angeles in 2014. The only active defensemen with more career points in the final four than Keith (3-15—18 in 27 GP) are Victor Hedman (6-22—28 in 41 GP) and Ryan McDonagh (4-15—19 in 39 GP).

* Edmonton's Mike Smith is the only goaltender between the two clubs with Conference Finals experience, making three appearances (including one start) in 2011 with the Lightning (vs. BOS) and made all five starts for the Coyotes in 2012 (vs. LAK).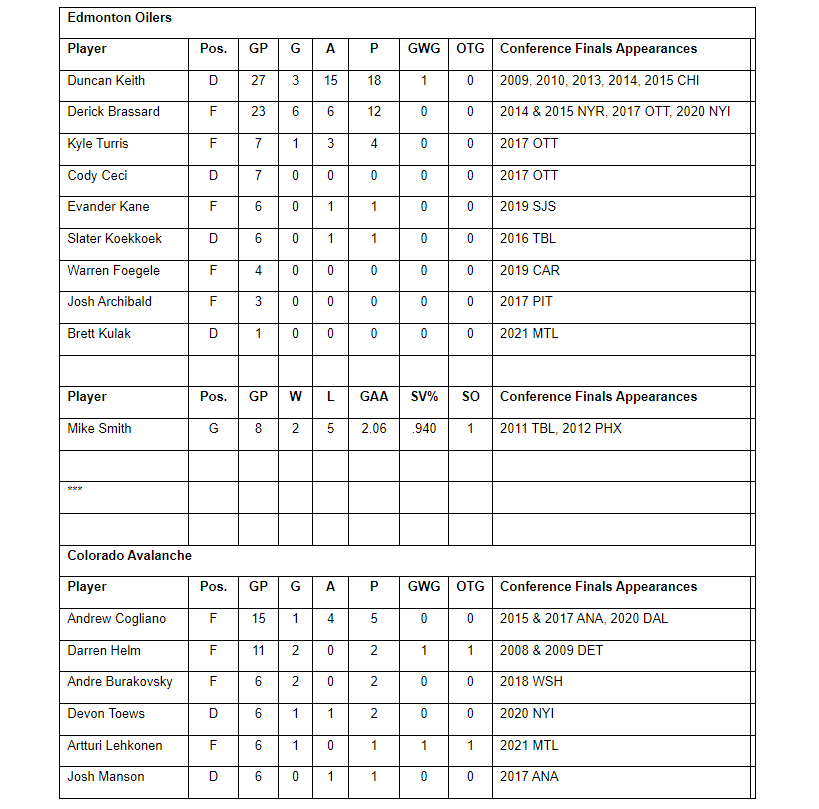 COURTESY NHLmedia.com