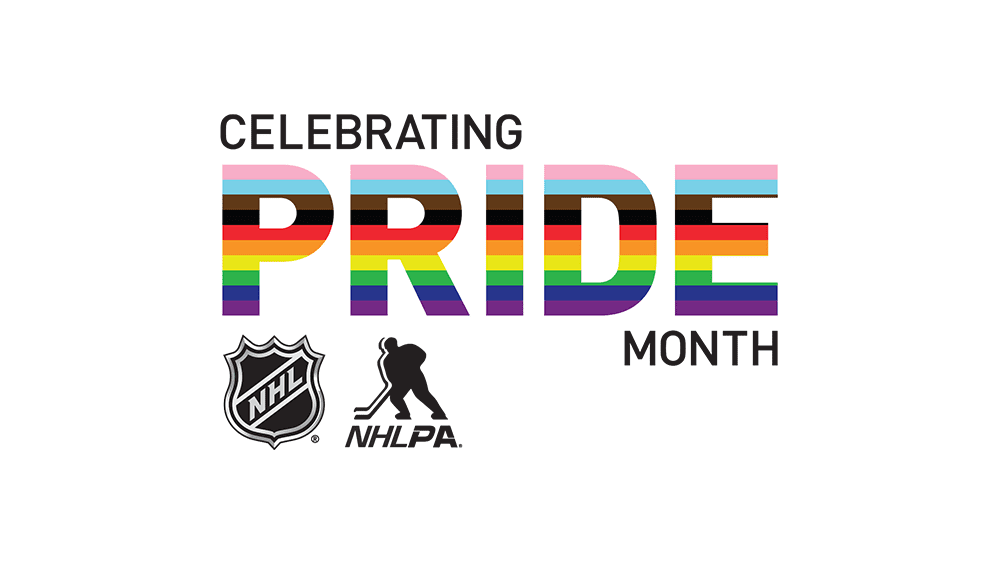 All 32 Clubs Hosted Pride Night This Season with Fundraising for Local LGBTQ+ Organizations; NHL and 24 Clubs to Participate in Local Pride Parades Across U.S. and Canada
NEW YORK/TORONTO (June 1, 2022) – The National Hockey League (NHL), National Hockey League Players' Association (NHLPA), and 32 Clubs continue to celebrate Pride Month this season. Pride Month is part of the NHL and NHLPA's joint Hockey Is For Everyone year-round initiative.
Throughout the 2021-22 regular season, all 32 NHL Clubs hosted a Pride Night. Several teams led fundraising efforts to benefit local LGBTQ+ organizations and charities. More than $785,000 was raised by teams, benefitting approximately 35 local organizations.
LGBTQ+ celebrities and influencers also participated in Club Pride Night ceremonies throughout the regular season, including: Denali Fox from RuPaul's Drag Race, who performed a routine in drag during the Chicago Blackhawks' intermission; a national anthem performance from singer-songwriter SoulBear prior to the Winnipeg Jets' puck drop; and Edmonton native and Edmonton Oil Kings defenseman Luke Prokop was an honored guest at the Edmonton Oilers' Pride Night.
On May 17, International Day Against Homophobia, Biphobia and Transphobia, the League revealed an updated Pride Shield logo to include all colors of the Progress Pride Flag. For the entire month of June, the League will continue to use this NHL Shield as the avatar for all social media platforms as a show of support for the LGBTQ+ community.
"For more than a decade the NHL has been increasing its efforts to show its year-round support on and off the ice for the LGBTQ+ community," said Kim Davis, NHL Senior Executive Vice President, Social Impact, Growth Initiatives & Legislative Affairs. "From in-game celebrations throughout the season with fans, to on-ice recognitions with players wearing Pride jerseys and using Pride Tape, to off-ice work with local advocacy organizations across the U.S. and Canada, the endeavor undertaken to ensure everyone feels safe and welcome is ongoing."
Since 2013 the NHL and NHLPA have been partners with the You Can Play Project, an advocacy organization fighting homophobia in sports, reaffirming that the official policy is one of inclusion on the ice, in the locker rooms, and in the stands.
The League also continues to partner with Pride Tape, an unmistakable badge of support across the hockey community. Since 2016, Pride Tape has been used on the sticks of the League's biggest stars. NHL players using Pride Tape sends a clear message to the LGBTQ+ community that hockey is an inclusive environment, and everyone is welcome.
"Pride Month is an opportunity for Players to celebrate alongside the entire LGBTQ+ community," said Jonathan Weatherdon, NHLPA Senior Director of Communications. "We are committed to ensuring that hockey is a safe and welcoming environment for everyone who wants to participate, either on the ice or in the stands."
This summer, the NHL will participate in Pride Parades in all three of its office locations – New York (June 26), Toronto (June 26), and Montreal (August 7). Additionally, 24 NHL Clubs will also participate in their local Pride Parades in cities across North America over the next few months.
For more information, visit NHL.com/Pride. To join the conversation, use the hashtag #HockeyIsForEveryone or #NHLPride.
COURTESY NHLmedia.com