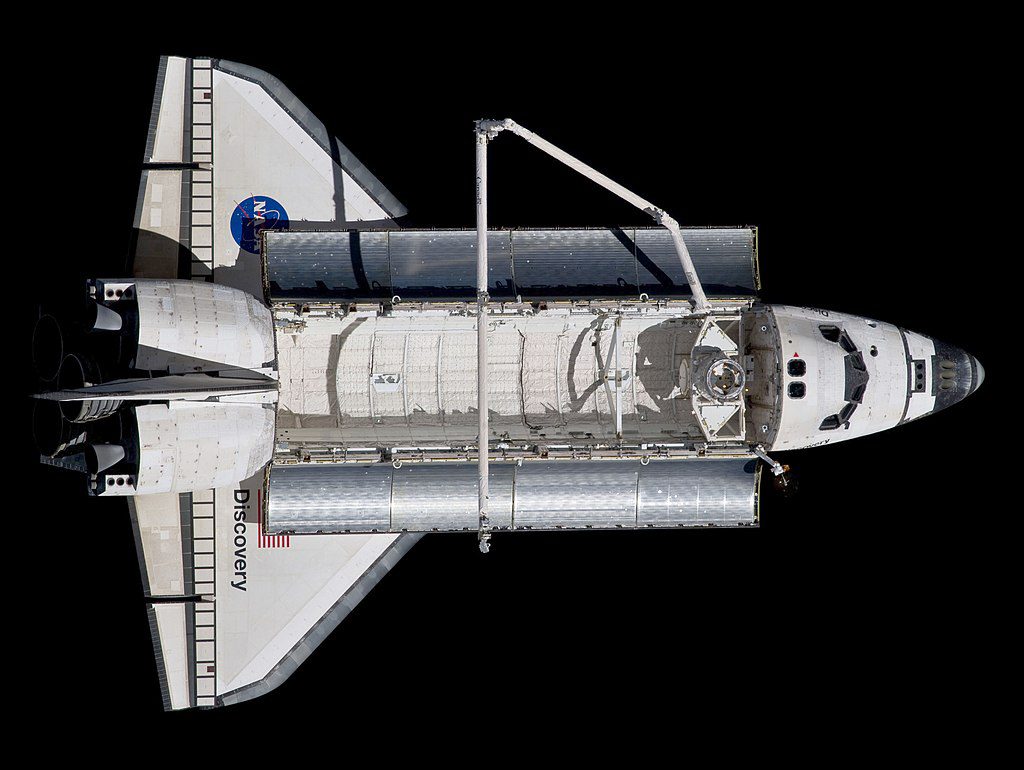 FROM WIKIPEDIA COMMONS
Space Shuttle Discovery (Orbiter Vehicle Designation: OV-103) is one of the orbiters from NASA's Space Shuttle program and the third of five fully operational orbiters to be built. Its first mission, STS-41-D, flew from August 30 to September 5, 1984. Over 27 years of service it launched and landed 39 times, aggregating more spaceflights than any other spacecraft to date. The Space Shuttle launch vehicle has three main components: the Space Shuttle orbiter, a single-use central fuel tank, and two reusable solid rocket boosters. Nearly 25,000 heat-resistant tiles cover the orbiter to protect it from high temperatures on re-entry.
Discovery became the third operational orbiter to enter service, preceded by Columbia and Challenger. It embarked on its final mission, STS-133, on February 24, 2011, and touched down for the last time at Kennedy Space Center on March 9, having spent a cumulative total of nearly a full year in space. Discovery performed both research and International Space Station (ISS) assembly missions, and also carried the Hubble Space Telescope into orbit.
Discovery was the first operational shuttle to be retired, followed by Endeavour and then Atlantis. The shuttle is now on display at the Steven F. Udvar-Hazy Center of the Smithsonian National Air and Space Museum.
TODAY'S ALMANAC
Question of the Day
What do ducks do in the rain?
Ducks just love rain. They are quite happy to stay out in it, and they often preen their feathers and poke around in puddles. (The British refer to a rainy day as "a lovely day for ducks.") They don't even seem to mind snow or sleet, but they dislike cold and windy weather.
Advice of the Day
Try a paste of baking soda and witch hazel for poison ivy.
Home Hint of the Day
If you use masking tape to mask around woodwork, affix it on the day you are going to paint and remove it immediately after you finish. Dry masking tape can be hard to remove.
Word of the Day
Minnesota
The name is from the Sioux word meaning "sky-tinted water" or "cloudy water."
Puzzle of the Day
What letter turns an animal into a covering?
C – ape
Died
Bartholomeu Dias (Portuguese discoverer of Cape of Good Hope) – 1500
Mary Pickford (actress) – 1979
Ramona Trinidad Iglesias Jordan (at age 114 years 272 days was recognized as the world's oldest person, died after a bout with pneumonia) – 2004
Luc Bourdon (hockey player) – 2008
Harvey Korman (actor) – 2008
Gavin MacLeod (actor) – 2021
Born
Patrick Henry (patriot) – 1736
Ebenezer Butterick (inventor) – 1826
Bob Hope (comedian) – 1903
John F. Kennedy (35th U.S. president) – 1917
Rupert Everett (actor) – 1959
Melissa Etheridge (musician) – 1961
Events
Rhode Island ratified the United States Constitution. They were the last of the original 13 colonies to do so.– 1790
Rhode Island became the 13th U.S. state– 1790
Wisconsin became the 30th U.S. state– 1848
Canadian ocean liner Empress of Ireland sank in St. Lawrence River– 1914
Sir Edmund Hillary and Sherpa Tenzing Norgay became the first men to reach the summit of Mt. Everest– 1953
U.S. Supreme Court upheld the constitutionality of state blue laws prohibiting commercial activity on Sunday– 1961
Steve Fonyo, who lost one of his legs to cancer, completed a cross-Canada marathon for cancer research– 1985
Discovery became the first space shuttle to dock with the International Space Station– 1999
Hennie Van Andel-Schipper, who was born in the Netherlands, took the title of the oldest living woman in the world at the age of 113 years 335 days, following the death of Ramona Trinidad Iglesias Jordan aged 114 years 272 days– 2004
Weather
Great hailstorms in Kansas caused $6 million of crop damage– 1951
Dime-size hail was reported in Keene, New Hampshire– 1987
Great Falls, Montana, received 12 inches of snow– 1989
COURTESY www.almanac.com