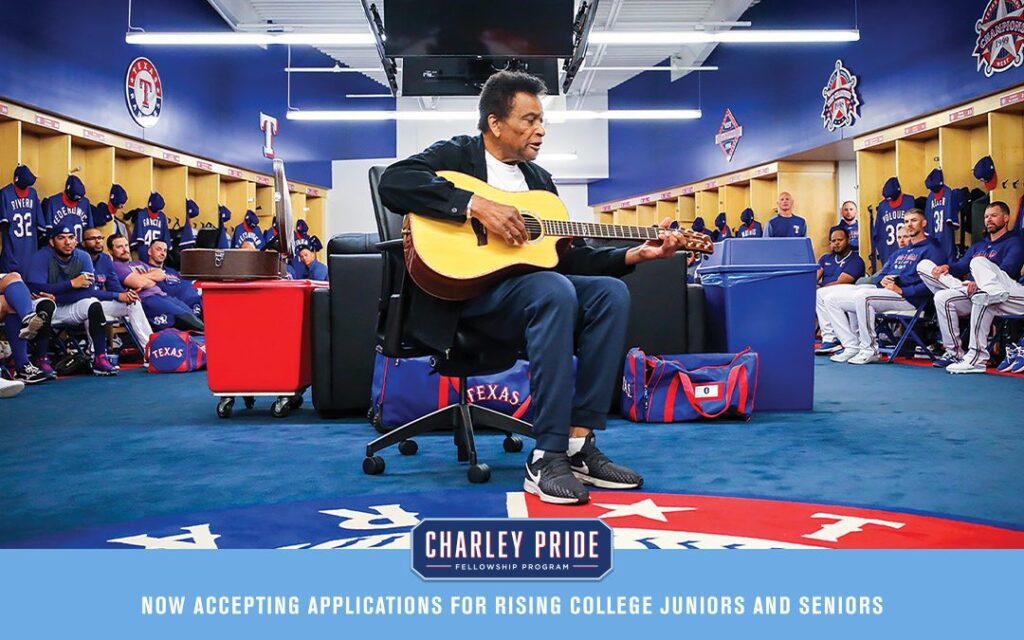 Five college students set to begin internship program on Tuesday, May 31
May 23rd, 2022
Arlington, Texas—The Texas Rangers Baseball Foundation today announced the five students selected to the Charley Pride Fellowship Program Class of 2022. In its second year, the program will again see five college students from diverse backgrounds spend their summer working in the Texas Rangers front office for this unique internship program.
Prominent Dallas businessman Roland Parrish and his Parrish Charitable Foundation are partnering with the Rangers Foundation in the Pride Fellowship Program for the second consecutive year.
Created in honor of late country music star and close friend of the Texas Rangers organization, Charley Pride, this program aims to build a launching pad for students from diverse backgrounds looking to gain experience in a baseball front office. The details of the program were in the process of being finalized when Mr. Pride passed away on December 12, 2020, at the age of 86.
The Charley Pride Fellowship Program Class of 2022:
Charley Pride Fellow Hometown Year School
Julian Braxton Highland Village, TX Senior Rice University
Nyagoa Gony Lincoln, NE Senior Purdue University
Jonah McReynolds Martinsville, VA Senior Virginia Commonwealth Univ.
Lucy Puente Fort Worth, TX Junior Texas Christian University
David Simpson III Dallas, TX Senior Prairie View A&M University
The 2022 Charley Pride Fellows were selected after an extensive application and interview process by the Texas Rangers Baseball Foundation. They begin their paid internship at Globe Life Field on Tuesday, May 31, with the program running through the first week in August.
The Foundation will hire, train, and support the five Fellows as they rotate through three front office departments. These students will gain valuable skills during the 10-week program that will benefit them should they choose to pursue a career in sports or any other industry.
Based on their selections, the class of 2022 will rotate between business analytics, ballpark entertainment, promotions & production, baseball operations, business partnerships, communications, marketing, and human resources.
To learn more about the Charley Pride Fellowship Program, visit texasrangers.com/charleypridefellowship.
COURTESY TEXAS RANGERS MEDIA RELATIONS, MLBpressbox.com & charleypride.com