#NHLStats Through the End of the Regular Season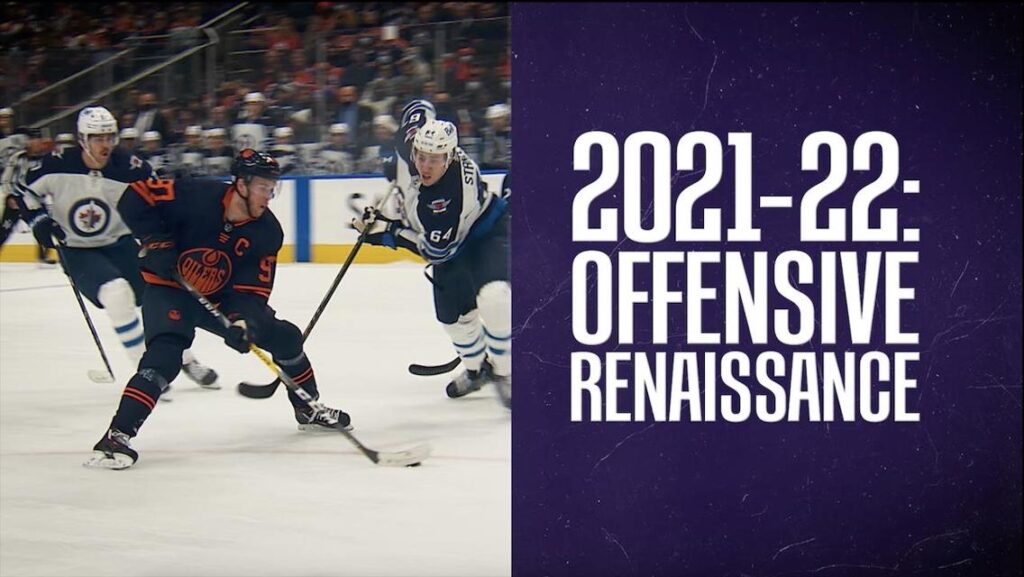 The 2021-22 NHL regular season concluded Sunday, May 1, when the Kraken and Jets contested the League's 1,312th and final game of the campaign.



* The highest-scoring season in 26 years finished with an average of 6.3 goals-per-game (equaling 6.3 G/GP in 1995-96).

* 78% of goals scored in regulation and overtime came at even strength, tied for the second-highest percentage in the NHL's expansion era (behind 79% in 1972-73).
* Eight players collected 100+ points, the most in 26 years (12 in 1995-96). Six of those players reached triple digits for the first time and four have yet to celebrate their 26th birthday.

* Auston Matthews became the first 60-goal scorer in a decade and the first U.S.-born player to hit the mark.

* Four players scored 50+ goals, the most in 16 years (5 in 2005-06) and equal to the combined total over the seven-season span from 2014-15 to 2020-21. It was the fifth season in League history to feature multiple U.S.-born 50-goal scorers and first in 25 years (also 1991-92, 1992-93, 1995-96 & 1996-97).

* 17 players scored 40+ goals, the most in 26 years (18 in 1995-96). That includes nine players who hit the mark for the first time.

* 51 players scored 30+ goals, the most in 28 years (55 in 1993-94). Twenty-six teams had at least one 30-goal scorer, the second highest such total in a single campaign behind 2005-06 (27).

* 69% of players who scored 30+ goals set a new career high (35 of 51), the second highest such percentage in the NHL's expansion era (behind 71% in 2018-19; 32 of 45).

* 137 players scored 20+ goals, the most in NHL history (previous high: 135 in 1980-81). That includes 40 players who hit the mark for the first time.

* 102 hat tricks were scored, the most in 29 years (112 in 1992-93). They were scored by 84 different players, the most in 40 years and tied for second-most in NHL history (86 in 1981-82 and 84 in 1980-81).
* The Panthers became the highest-scoring team (340 GF) in 26 years (PIT: 362 GF in 1995-96).
* Roman Josi (23-73—96 in 80 GP) became the highest-scoring defenseman in 29 years and eighth to accumulate at least 95 points in a season.
* 74% of players who had 70+ points set a new career high (37 of 50), the second highest such percentage in the NHL's expansion era (behind 76% in 2018-19 (42 of 55).

* All eight playoff-bound teams in the Eastern Conference reached the 100-point mark. It marked the first season in NHL history to feature eight clubs within the same conference yielding a triple-digit total (previous high: 7 from Western Conference in 2006-07 & 2009-10).


* 42% of games have were won by a team that trailed (551 of 1,312 GP), trailing only two seasons for the highest such percentage in League history – the highest rate came 101 years ago (46% in 1920-21; 22 of 48 GP) and the second highest came 16 years ago (44% in 2005-06; 537 of 1,230 GP). 10% of games were multi-goal comeback victories (132 of 1,312 GP).
* 65% of games that extended past regulation ended in the overtime period (186 of 288), consistent with trends seen since 2015-16 and up from an average of 43% over the 10 seasons before the 3-on-3 format was implemented. Overall, 22% of all games required more than 60 minutes (288 of 1,312 GP).

* There were 42 unique final scores, including games decided by margins of 10-7, 9-5 and 8-7. The last NHL regular season to feature as many different final scores was 2003-04, when there were also 42.

* The 2022 Stanley Cup Playoffs bracket features five teams that did not qualify in 2018-19 (the last 82-game season), in line with the playoff turnover seen every season under the Wild Card format (5+ teams each season).



* The average length of regulation games was 2:27 for a fourth consecutive season – the longest since a run of equal length spanned from 2011-12 to 2014-15.

* NHL on TNT's inaugural regular season delivered significant viewership gains while the League averaged around 460,000 viewers for its telecasts across TNT, ABC and ESPN, marking the NHL's best U.S. figure since 2016-17. ESPN and ABC averaged 616,000 viewers (26 games), while ESPN on its own averaged 469,000 (16 games).

* Attendance eclipsed 20.7 million as fans returned across the NHL and gathered to 90% of modified capacity during the third season impacted by the COVID-19 pandemic. That total includes 133,357 fans who attended the League's three outdoor games in 2021-22.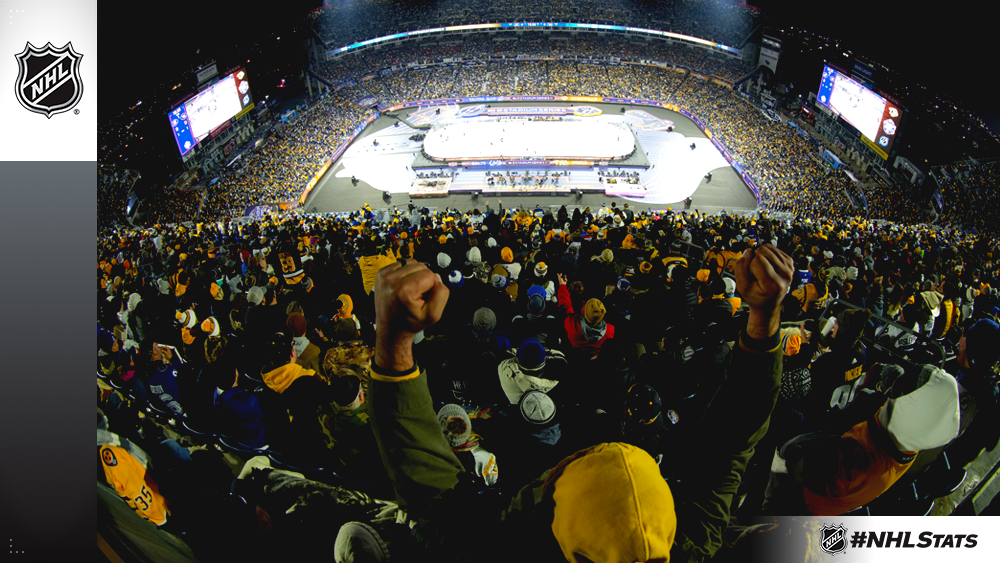 COURTESY NHLmedia.com