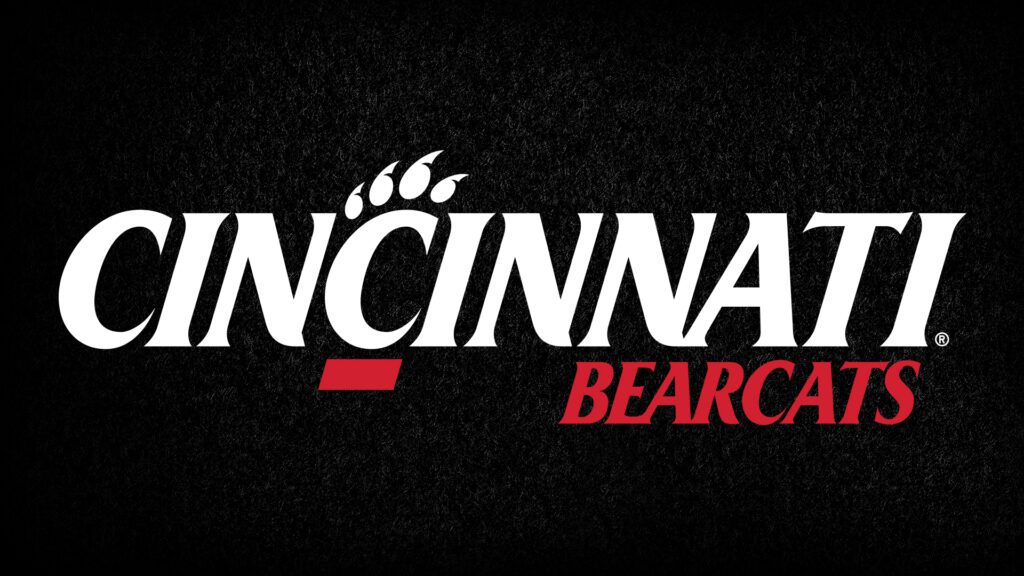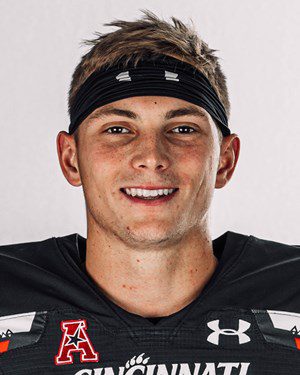 April 29, 2022
UC has three players go in first two rounds for first time ever
LAS VEGAS – Cincinnati wide receiver Alec Pierce became the highest drafted wide receiver in school history when the Indianapolis Colts selected the Glen Ellyn, Ill., native on Friday night in the second round of the 2022 NFL Draft with the No. 53 overall pick.
Less than 30 minutes later, Cincinnati safety Bryan Cook was picked by the Kansas City Chiefs in the second round with the 62nd overall pick.
The pair joins Ahmad "Sauce" Gardner, who was the highest pick in Cincinnati history at No. 4 overall to the New York Jets, to give Cincinnati three picks in the first two rounds of the NFL Draft for the first time in school history.
Pierce opened eyes all season with his deep and jump-ball capabilities, setting career-highs in receiving yards (867) and touchdowns (eight), that included 13 plays of 20-plus yards. His 17.34 yards per catch was the fourth-highest mark in school history, helped by a career-high 144 yards in the Notre Dame win. He also had a 21-yard score and 44-yard catch in the AAC Championship Game.
Pierce, named to Bruce Feldman's annual "Freaks" List, also became Cincinnati's first CoSIDA First Team Academic All-American since 1997, earning his mechanical engineering degree in 3 1/2 years. He played just six games in 2020 due to injury, but still managed 17 catches for 315 yards (18.5 per reception) and three touchdowns.
"I couldn't be more excited for Alec and his family," Cincinnati head coach Luke Fickell said. "Alec is tough, intelligent and an incredible athlete. The Colts are getting a guy who has the potential to be a star in this league. He's an explosive player, and we weren't surprised when he tested off the charts at the combine. He's obviously a smart guy, earning an engineering degree and receiving First Team Academic All-America. He's got such a competitive streak that I tried to move him to linebacker when he was a freshman. We are glad he moved back to wide receiver. I'm excited to see him grow in Indianapolis."
Pierce is the seventh Cincinnati wide receiver drafted all-time and the first since Chris Moore went in the fourth round (No. 111) to the Baltimore Ravens in 2016.
He's the first Bearcat drafted by the Colts since defensive lineman Ricardo Matthews was a seventh round pick in 2010.
Cook was a Reese's Senior Bowl invitee after a breakout season. He totaled 93 tackles, including 5.5 for loss, with nine pass breakups and interceptions against Indiana and Alabama. His ball-hawking prowess helped the UC secondary rank No. 1 in the country in pass efficiency defense (103.37), No. 2 in passing yards allowed (169.2), No. 3 in interceptions (19) and No. 4 in opponent completion percentage (54.0).
The Cincinnati native, who starred at Mount Healthy High School and transferred home from Howard University for the 2019 season. He was eligible for the next two seasons, earning two starts out of 10 appearances in the 2020 Peach Bowl campaign.
He was a Second Team CoSIDA Academic All-American in 2021.
"We are thrilled for Bryan and his family," Fickell said. "The Chiefs are getting a relentless competitor who will always put the team first. Bryan really embodied the selfless, team-first culture we want to instill in all of our players here at the University of Cincinnati. After Bryan transferred back home here, he had to sit out, battled a few small injuries and was behind a couple of other future NFL players. He kept working hard. He got better every year. When given his opportunity to start this season, he flourished and was really one of our defensive MVPs. I believe he's just scratching the surface at what he can be, and he'll be an outstanding pro."
Cook is the first Bearcat drafted by the Chiefs since offensive lineman Parker Ehinger went in the fourth round (No. 105) in 2016.
Cook is the third Cincinnati safety selected in the last two years. He joins former teammates Darrick Forrest and James Wiggins, who were fifth and seventh round picks, respectively, in 2021.
THE BEARCATS ARE READY TO RELOAD
Led by the reigning consensus National Coach of the Year Luke Fickell and 12 returning starters, the Bearcats are the two-time defending AAC Champions and are coming off of a 13-1 season that culminated in a trip to the 2021 College Football Playoff. With a 44-7 mark since the start of 2018, Cincinnati's 86% winning percentage ranks among the nation's Top 5 winning percentages over the last four years.

FOLLOW THE BEARCATS
For all the latest information on Cincinnati Athletics, please visit GoBEARCATS.com. For up-to-the-minute updates, follow Cincinnati Athletics on Twitter, Instagram and Facebook.
COURTESY UC SPORTS COMMUNICATIONS