April 28, 2022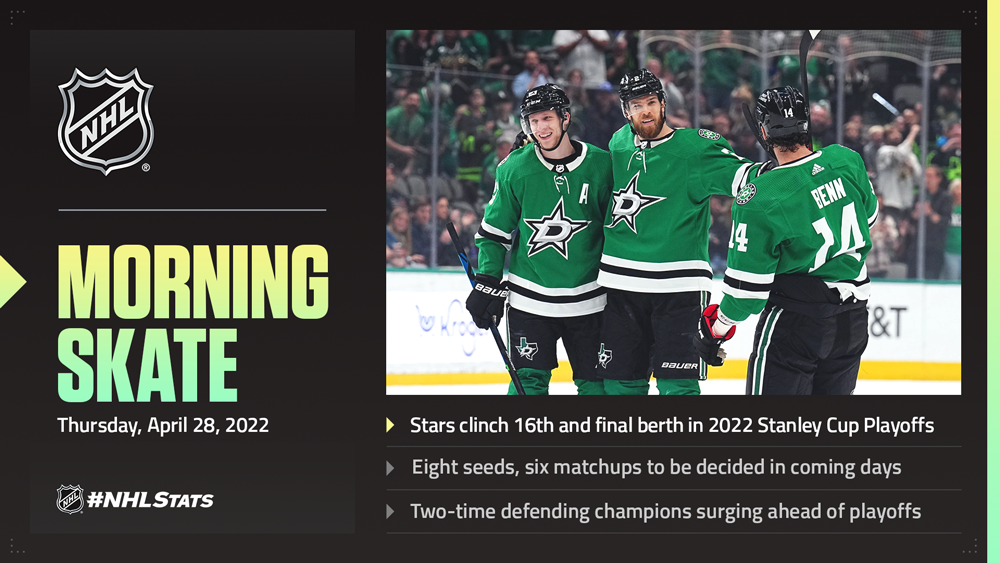 * Sixteen teams will play Stanley Cup Playoffs hockey in May after the Stars secured the final berth to fill out the bracket – with much to be decided in the next two days.

* Dallas climbed the standings into the first Wild Card spot in the Western Conference – one of eight seeds yet to be decided, to go along with the six unknown matchups for the First Round.

* The League-leading Panthers will take another shot at clinching their first Presidents' Trophy when they hit the ice Thursday, while the state-rival Lightning will look to continue their surge as they hunt for a three-peat.



STARS GO DOWN TO THE WIRE, BUT CLINCH FINAL PLAYOFF SPOT
Needing one point or a Golden Knights loss to clinch the 16th and final berth in the Stanley Cup Playoffs, the Stars entered the third period with a 3-0 lead and with Vegas deadlocked at 3-3 nearly 1,000 miles away in Chicago. As the clocked ticked down in a tie game at United Center, the Stars saw their three-goal lead slip away against the Coyotes but managed to secure their spot mere moments before the Golden Knights lost in a shootout.
* The Stars return to the playoffs after reaching the Stanley Cup Final in 2020. This marks their 17th postseason appearance since relocating to Dallas in 1993-94 and 34th in franchise history.
* Click hereto read more on Dallas in the #NHLStats Pack: Team Clinching Notes, which now features facts on all 16 teams headed to the 2022 Stanley Cup Playoffs.



* Joe Pavelski posted his 20th multi-point game of the season to set a new career high for points in a campaign – a rare achievement for a player of his age. In search of his first Stanley Cup, Pavelski enters 2022 with 61-58—119 in 161 career playoff games – one of eight players in NHL history with 160+ playoff contests without yet hoisting the Cup (or who retired without one). To date, the three highest playoff game counts before winning a championship are 214 (Ray Bourque, 2001 COL), 169 (Glen Wesley, 2006 CAR) and 162 (Dave Andreychuk, 2004 TBL).

* Pavelski, 37, enters the Stars' final game of the season as the team leader in points (27-54—81 in 81 GP) with 22-year-old Jason Robertson (40-38—78 in 73 GP) only three behind him.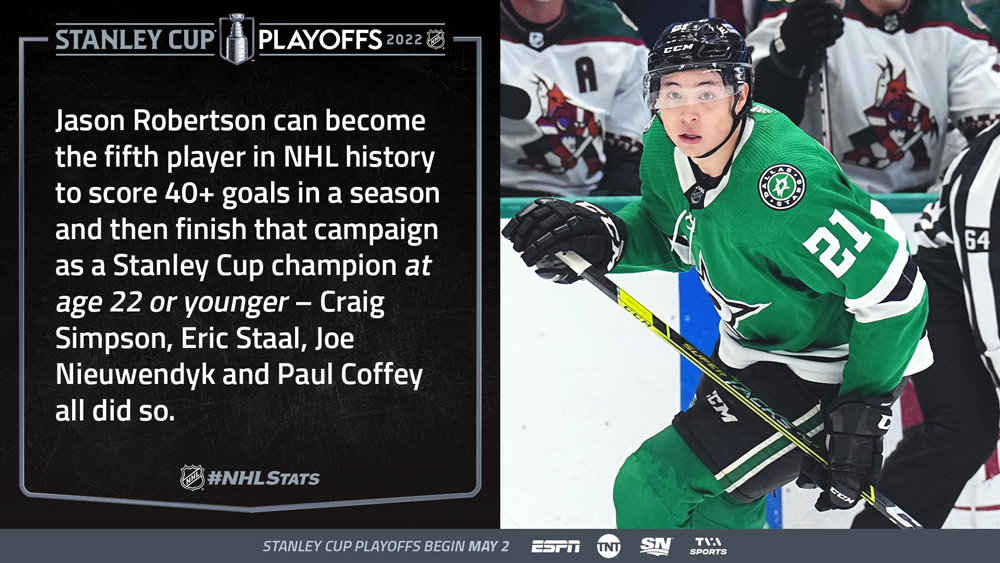 PLAYOFF-BOUND TEAMS HAVE PLENTY TO SORT OUT IN NEXT TWO DAYS
While all 16 teams are confirmed for the 2022 Stanley Cup Playoffs, the bracket is not yet set in stone as clubs will sort that out by Friday, before the postseason puck drops Monday, May 2.
* REMINDER: Early registration is open for the 2022 Stanley Cup Playoffs Bracket Challenge at NHL.com/Bracket.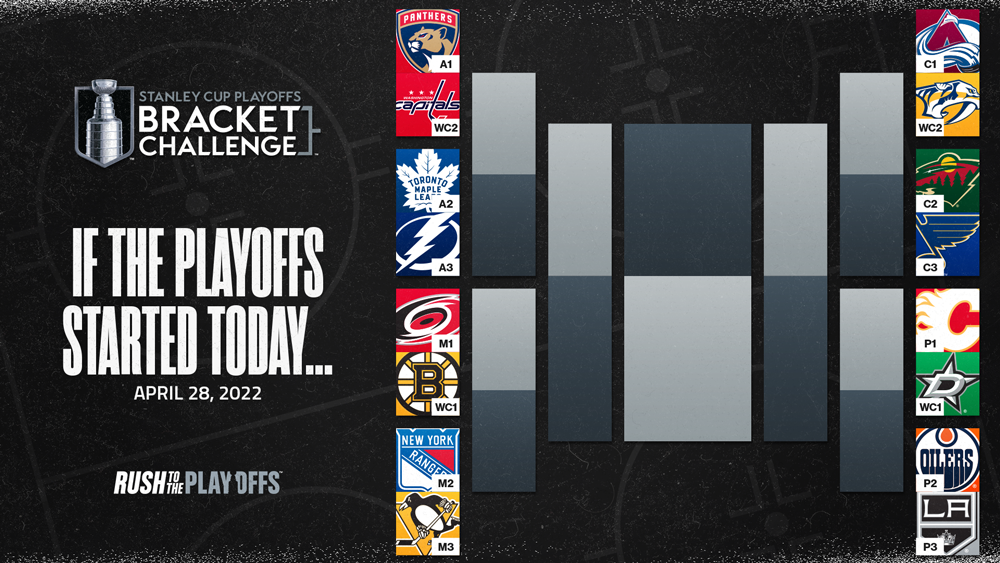 Unconfirmed Seeds
Half of the 16 playoff seeds are unconfirmed, four in each conference:
Eastern Conference
No. 3 in Atlantic: Tampa Bay or Boston
No. 3 in Metropolitan: Pittsburgh or Washington
Wild Card 1: Boston or Tampa Bay
Wild Card 2: Washington or Pittsburgh
Western Conference
No. 2 in Central: Minnesota or St. Louis
No. 3 in Central: St. Louis or Minnesota
Wild Card 1: Dallas or Nashville
Wild Card 2: Nashville orDallas
Potential Matchups
Six of eight First Round matchups are unconfirmed, including all four in the Eastern Conference:
Eastern Conference
* Florida (No. 1 in Atlantic) will face Wild Card 2, either Pittsburgh or Washington. The Panthers have played the Penguins in the playoffs once (1996 CF) but have yet to face the Capitals.
* Toronto (No. 2 in Atlantic) will face No. 3 in Atlantic, either Tampa Bay or Boston. The Maple Leafs have yet to face the Lightning in the playoffs but have met the Bruins 16 times, including three of their past six series since 2013.
* Carolina (No. 1 in Metropolitan) will face Wild Card 1, either Boston or Tampa Bay. The Hurricanes lost to the Lightning in the 2021 Second Round (their only playoff meeting) and have faced the Bruins six times (including back-to-back in 2019 and 2020).
* NY Rangers (No. 2 in Metropolitan) will face No. 3 in Metropolitan, either Pittsburgh or Washington. The Rangers have recent playoff history with both clubs, clashing with the Penguins seven times (including three straight years from 2014-2016) and Capitals on nine occasions (including five times in seven years from 2009 to 2015).
Western Conference
* Colorado (No. 1 in Central) will face Wild Card 2, either Nashville or Dallas. The Avalanche have met the Predators in the playoffs once (2018 R1) and have faced the Stars five times (including in the sixth-highest scoring series in NHL history).
* Calgary (No. 1 in Pacific) will face Wild Card 1, either Dallas or Nashville. The Flames played the Stars in their most recent postseason trip (2020 R1, their second meeting) but have never squared off against the Predators in the playoffs.
* Minnesota and St. Louis will meet in the First Round, with home ice to be determined Friday when each team plays its regular-season finale.
* Edmonton and Los Angeles will meet in the First Round and are the only fully locked-in series – the Oilers will have home ice in their first head-to-head series in 30 years.

#NHLSTATS: LIVE UPDATES
In addition to the Stars clinching a playoff berth, the Thursday edition of #NHLStats: Live Updates included these notes:

* The Coyotes won after trailing by three or more goals in the third period for the eighth time in franchise history and just the second time in the past 11 years (Feb. 24, 2021 vs. ANA).

* The Kings earned their sixth multi-goal comeback win of the season. The only campaigns they had with more were in 2005-06 (9x) and 2009-10 (7x).

* Eric Comrie (35 saves) recorded his first NHL shutout and made the fifth-most saves by a goaltender in his first shutout with the Jets/Thrashers franchise.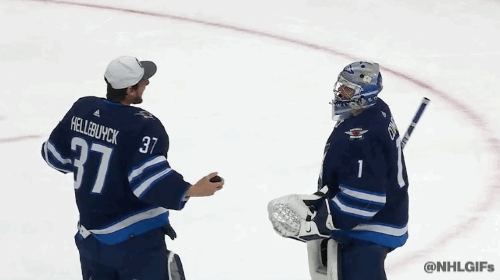 QUICK CLICKS

* Sidney Crosby voted most complete player in NHL Players' Association poll
* Trophy Tracker: Roman Josi, Cale Makar top Norris Trophy picks as best defenseman
* Maple Leafs aim to end playoff struggles in 'new season'
* NHL Buzz: Juuse Saros out final two games for Predators



PANTHERS READY TO POUNCE ON PRESIDENTS' TROPHY
The Panthers (57-17-6, 120 points) will take a second crack at clinching the first Presidents' Trophy in franchise history when they travel to Ottawa to clash with the Senators (32-41-7, 71 points). Florida also sits one victory shy of becoming the seventh team in NHL history to collect 58 wins in a season – a feat accomplished by only three franchises to date: the Canadiens (3x) and Red Wings (2x) of the Original Six as well as the state-rival Lightning (1x).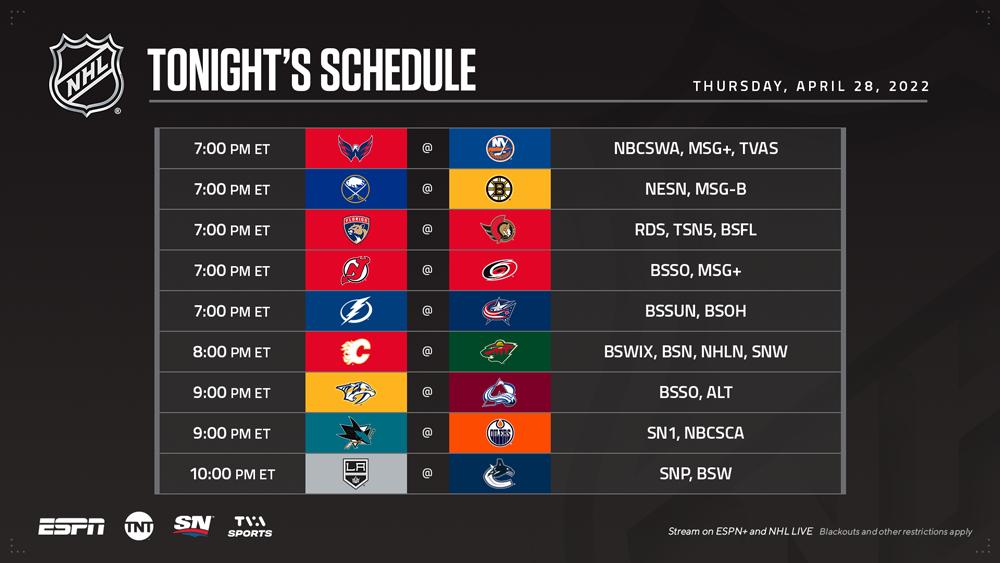 * The Panthers will clinch the Presidents' Trophy if they defeat Ottawa in any fashion AND Nashville defeats Colorado in any fashion; OR if they get one point AND Nashville wins in regulation.

* The Presidents' Trophy can be awarded to a different team for the sixth consecutive season following Colorado (2020-21), Boston (2019-20), Tampa Bay (2018-19), Nashville (2017-18) and Washington (2016-17). If Florida finishes as the No. 1 seed in the NHL, it would mark the first time that six different teams have claimed the trophy over a span of as many seasons since its inception in 1985-86.
STAMKOS, KUCHEROV LOOK TO SPARK LIGHTNING OFFENSE (AGAIN)
The two-time defending Stanley Cup champion Lightning(50-22-8, 108 points) enter their penultimate game of the regular season on a four-game winning streak and with victories in seven of their past nine contests dating to April 10. During that stretch, Tampa Bay has outscored opponents by more than double (45-20) led by the duo Steven Stamkos (2.44 P/GP) and Nikita Kucherov (2.33 P/GP) who top the League in points-per-game over that span.

* Stamkos (39-62—101 in 79 GP) has climbed from 18th to eighth in League scoring since April 10, reaching 100 points in a season for the first time thanks to an active run of seven consecutive multi-point games. The Lightning captain has three or more points in each of his past five outings – a feat exceeded by only three players in NHL history: Jari Kurri (6 GP in 1992-93 w/ LAK), Wayne Gretzky (6 GP in 1985-86) and Bobby Orr (6 GP in 1970-71).

* Kucherov (24-42—66 in 45 GP) sits one shy of matching the longest goal streak in franchise history and is averaging 1.47 points per game overall in 2021-22, trailing only Connor McDavid (1.54 P/GP) for the highest such total this season.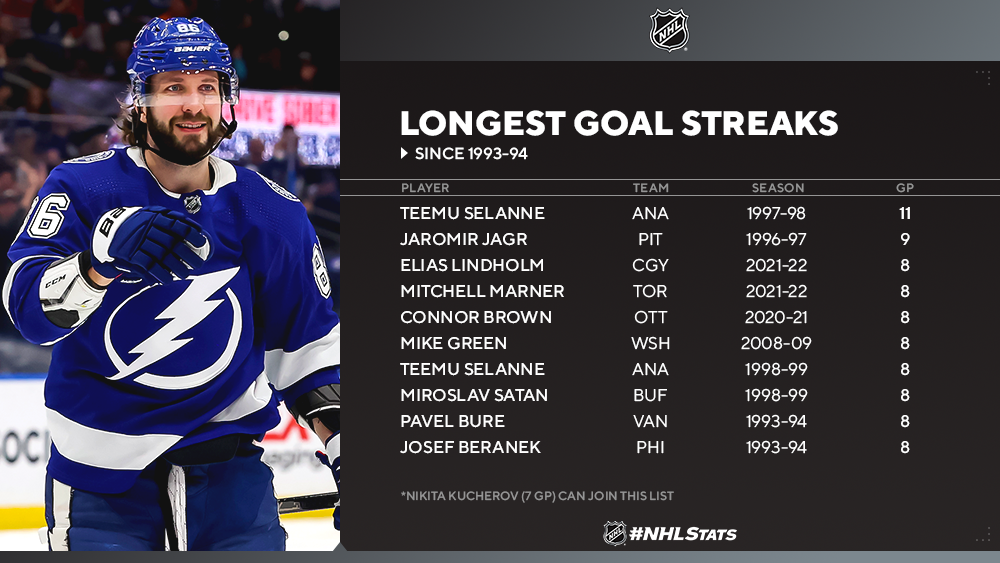 COURTESY NHLmedia.com