2022 NHL Gaming World Championship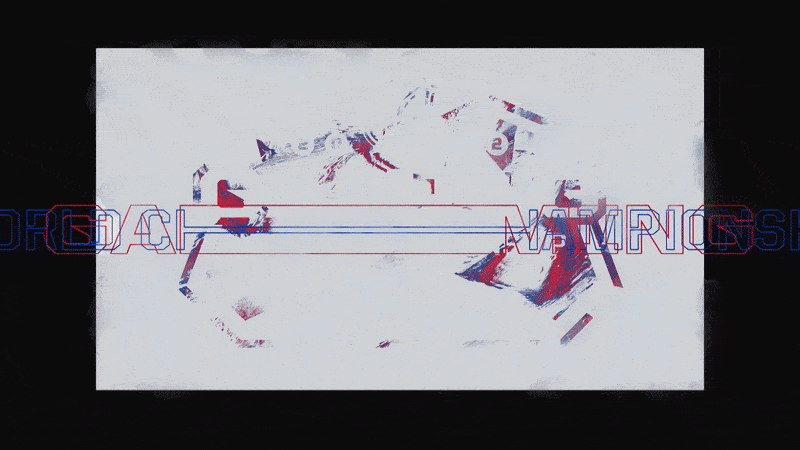 CHEL Intel – April 26, 2022
While the 2022 Stanley Cup Playoffs are right around the corner, the 2022 NHL® Gaming World Championship™ — featuring the top EA SPORTS™ NHL® 22 players in the world — is already in full playoff mode. These elite gamers in Europe and North America are vying for their respective Championship and share of the $100k USD prize pool.
Over the past weekend, 16 North American players reached the Console Semifinals in the PS4, PS5, Xbox One and Xbox X brackets, while 64 European players representing the four consoles moved onto the Round-of-16.
The competition, beginning with the NHL GWC North American Xbox Console Semifinals on Saturday, May 14, will be co-streamed live on the NHL and ELEAGUE TV Twitch channels.
The Underdog:
* CoreyPerry1 (Carson Bellaire) who is representing the Seattle Kraken in the Xbox Series X Console Final in GWC North America, was ranked No. 45 coming into the Online Club Play-in.
* CP1 beat three higher-ranked players to reach the Semifinals – No. 3-ranked OFs, No.11-ranked Mxtayer and No. 14-ranked Kneecko.
* He will face No. 18-ranked player SAP Alien in the Xbox Series X Console Final on Saturday, May 14.
NHL GWC North America
* 16 players representing 14 NHL Clubs remain in GWC contention for the $26,000 USD North American grand prize.
* The Minnesota Wild and Pittsburgh Penguins both have two representatives remaining in the competition.
* All Console Finals will be streamed live with the top two players advancing to the North American Championship to be held on Wednesday, July 6 in Montreal.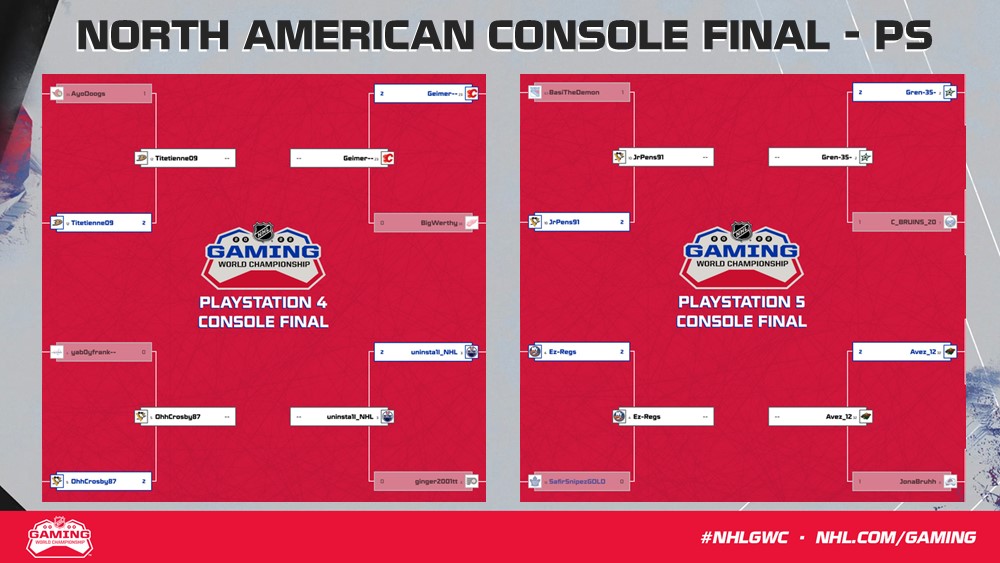 PS4
Geimer–: Matthew Geim (Calgary Flames)
OhhCrosby87: Jaden Brown (Pittsburgh Penguins)
Titeienne09: Etienne Viau(Anaheim Ducks)
Uninsta1l_NHL: Ben Thomson (Edmonton Oilers)
PS5
Avez_12: Derek Avery (Minnesota Wild)
Ez-Regs: Justin Reguly (New York Islanders)
Gren-35: Matthew Grenier (Dallas Stars)
JrPens91: David Roebuck (Pittsburgh Penguins)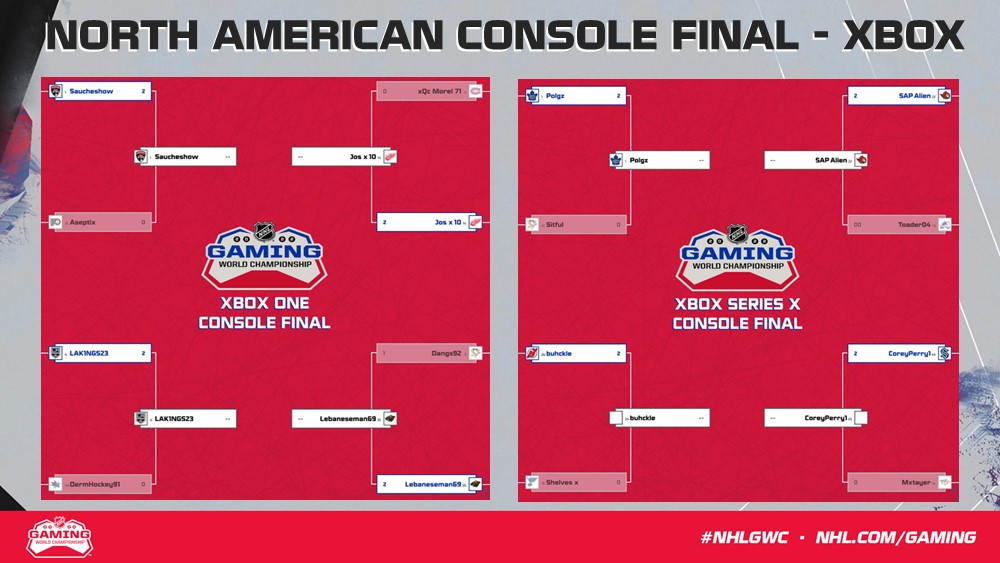 Xbox One
Saucheshow: Matteo Russo (Florida Panthers)
LAK1NGS23: Josh Gonzalez (Los Angeles Kings)
Jos x 10: Joseph Olmstead (Detroit Red Wings)
Lebaneseman69 – Johnny Khalil (Minnesota Wild)
Xbox Series X
Buhckle: Alex Buhckle (New Jersey Devils)
CoreyPerry1: Carson Bellaire (Seattle Kraken)
Polgz: Ethan Polgar (Toronto Maple Leafs)
SAP Alien: Edward Nicol-McCabe (Ottawa Senators)
NHL GWC Europe
* This past weekend, competitors from each Console played down to the Round-of-16.
* Finland leads the way with 49 players advancing, while Sweden has seven players still competing for the $15,000 USD grand prize.
* Other European countries still represented include: Czech Republic (PStachurcik, radohunter, Sebicek0033, Ozouvi_); United Kingdom (CHL Coach, ertmanisk); Denmark (xProAm69x); and Norway (sindrewitnes01).
* Six of the remaining 64 players were also winners of their respective European Qualifier tournaments.
Czech Republic PS5: Sebicek0033 (Jakub Sebesta)
Finland PS4: RitvanPoika (Hannes Kettunen)
Finland PS5: temppanen (Teemu Karvonen)
Finland Xbox One: theplayer#2248 (Toivo Suomalainen)
Finland Xbox Series X: Kibeeex (Tommi Lehtimäki)
Norway PS5: sindrewitnes01 (Sindre Witnes)
Complete brackets for each console can be viewed at the below links:
EU Console Finals Xbox Series X
Tournament format explainer video
Saturday, April 30: North American GWC HUT Draft
Saturday, April 30: NHL GWC European Console Final – Xbox One (Round of 16 + Round of 8); Xbox Series X (Round of 16 + Round of 8)
Sunday, May 1: NHL GWC European Console Final – PS4 (Round of 16 + Round of 8); PS5 (Round of 16 + Round of 8)
Saturday, May 7: European GWC HUT Draft
Saturday, May 14: NHL GWC North American Xbox Console Semifinals (LIVE)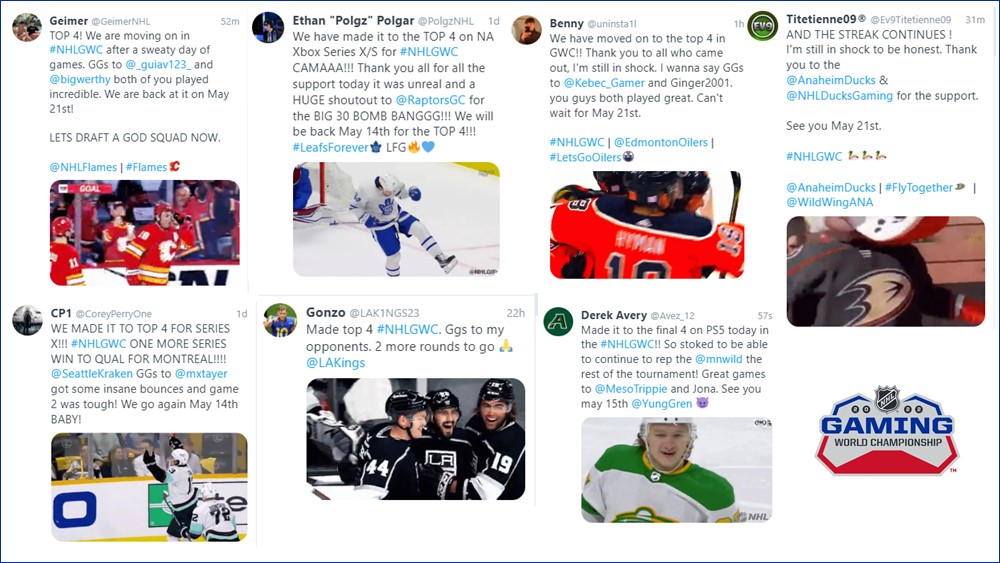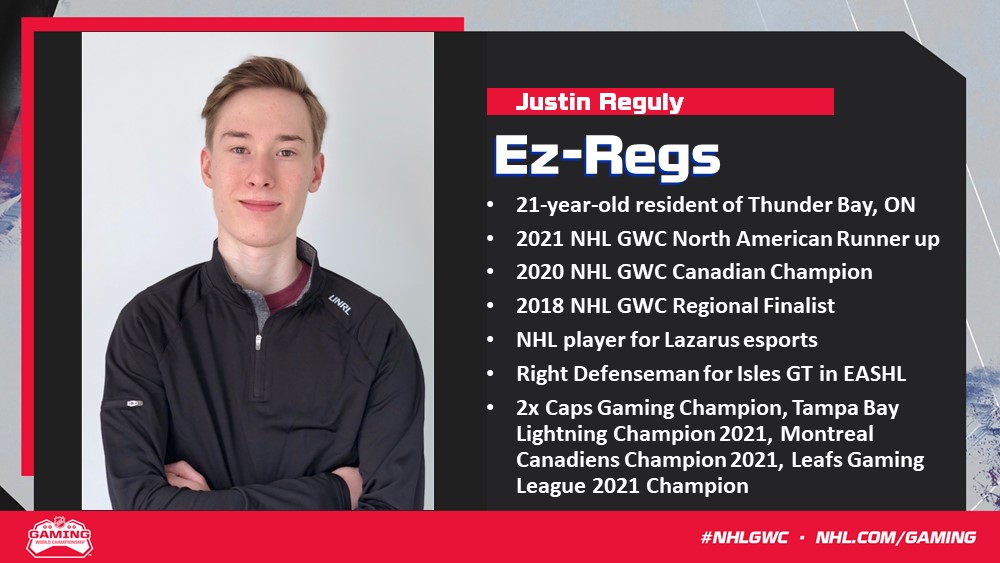 COURTESY NHLmedia.com