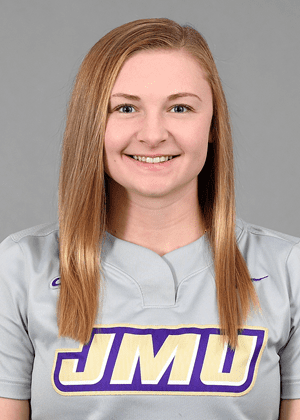 4/26/2022
Dear JMU community,
Our hearts are aching, hearing the news of the loss of one of our student-athletes. Lauren Bernett was a high-achieving member of our softball team and a great ambassador of JMU and our athletics program. She was a key member of our 2021 Women's College World Series team as a freshman catcher last year.

College athletics is great because of the people with whom we get to interact every day. We are a tight family. We are grateful that Lauren has been part of our JMU Athletics community and will always consider her to be a Duke. We will miss her dearly.

Our thoughts are with her family; her coaches, teammates and friends; the rest of our department staff and student-athletes; and the entire JMU community. JMU Nation is a close community, and we grieve together.
Jonathan Alger
JMU President
Jeff Bourne
JMU Director of Athletics
Wednesday's home softball doubleheader vs. Longwood has been canceled. Information about other remaining contests on JMU's schedule will be shared once available.
Lauren Bernett Bio File
YEAR Sophomore
POSITION Catcher
HEIGHT 5-5
HOMETOWN McDonald, Pa.
HIGH SCHOOL South Fayette
MAJOR Biology
As a Sophomore ('22)
CAA Player of the Week (4/25)
Tied the single game RBI record against College of Charleston with seven (4/16).
As a Freshman ('21):
VaSID All-State Second Team
Had a season-high of 18 putouts against Liberty (5/21)
Went 2-for-4 with one RBI in the Columbia Super Regional Finals (5/30)
Recorded three home runs, one at the Knoxville Regional in the championships game against Liberty (5/23)
Recorded a season-high of three hits against George Washington (2/27)
Named CAA Rookie of the Week (3/2) after recording four hits, two being doubles in JMU's opening weekend at the Cavalier Classic
Fall '20 Dean's List
JMU Athletics Director's Scholar-Athlete (Fall 2020, Spring 2021)
CAA Commissioner's Academic Honor Roll (Fall 2020, Spring 2021)
Before JMU
Four-year varsity letter winner
TCS East Coast Summer Nationals Runner-Up in 2018
Played travel ball for Team Pennsylvania Fastpitch – played 18u since her freshman year
Personal
Daughter of Scott and Kim Bernett
Mother played softball at Washington and Jefferson College
Sister to two brothers and two sisters
Member of the National Honor Society
Plans on majoring in Biology with a minor in Pre-Vet
COURTESY JAMES MADISON ATHLETIC COMMUNICATIONS