April 24, 2022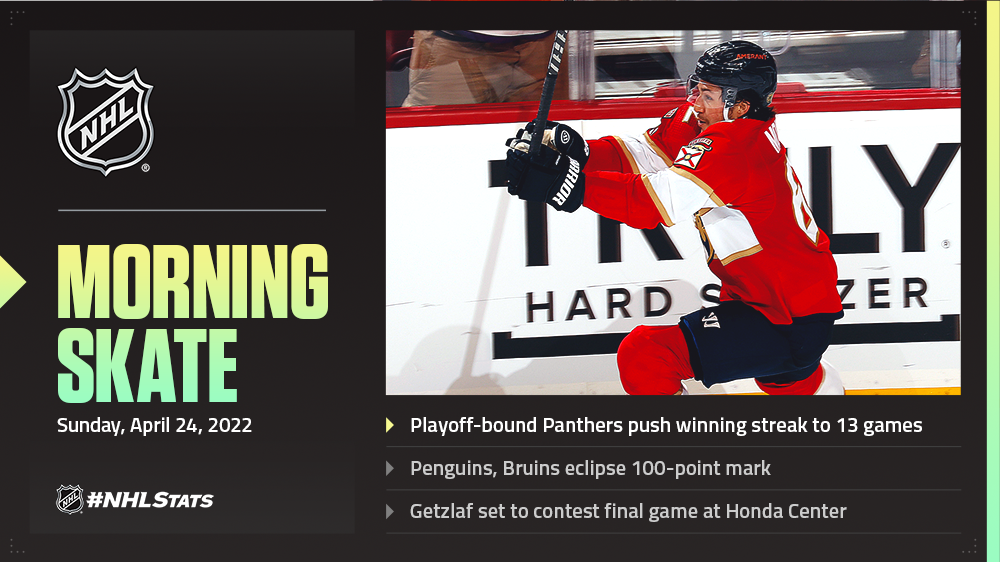 * Saturday was highlighted by the Panthers rallying past the Maple Leafs to extend their winning streak to a franchise-record 13 games.

* Pittsburgh and Boston became the 10th and 11th teams to reach the 100-point mark this season, while two more clubs can get to triple digits Sunday.

* Sunday is also set to mark the final game at Honda Center for Ducks captain Ryan Getzlaf, who can reach the top of one more all-time list as his 17-season NHL career comes to a close.


PANTHERS MAKE MORE FRANCHISE, NHL HISTORY WITH 13TH STRAIGHT WIN
Claude Giroux (1-2—3) got the tying goal in the second period and assisted on the overtime winner by Brandon Montour as the League-leading Panthers (57-15-6, 120 points) erased a 2-0 deficit to earn their 13th consecutive victory dating to March 29. Florida established a new franchise record for longest winning streak, eclipsing the previous mark of 12 games from Dec. 15, 2015–Jan. 10, 2016.

* Montour potted the Panthers' 13th overtime goal of 2021-22, marking the highest single-season total by a team in NHL history. Florida improved to 16-0-6 in 22 games which have gone past regulation this season – the only teams in League history with more than 16 such wins in a single campaign are the Coyotes in 2009-10 (19-0-7), Oilers in 2007-08 (19-0-6), Wild in 2006-07 (17-0-8) and Canucks in 2006-07 (17-0-7).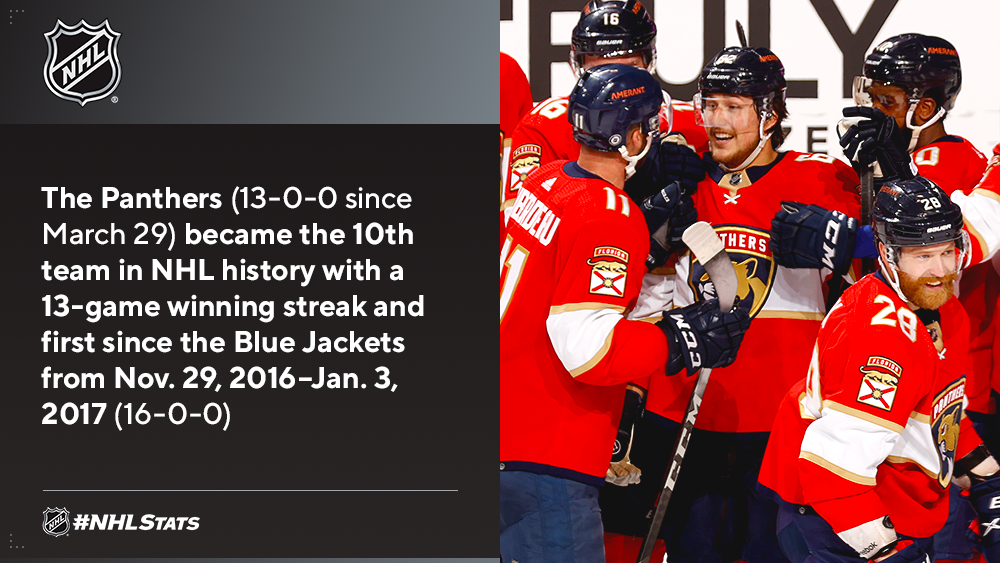 BLUES, STAMKOS ALSO STRETCH STREAKS SATURDAY
More streaks were extended as the Blues (48-20-11, 107 points) and Lightning (48-22-8, 104 points) inched closer to second place in the Central and Atlantic Division, respectively.

* Justin Faulk (2-1—3) scored the overtime winner as St. Louis fended off a three-goal comeback attempt by Arizona to improve to 13-0-2 in its last 15 games dating to March 28, extending the longest point streak in franchise history. Vladimir Tarasenko (33-47—80 in 72 GP) assisted on the winning goal to push his point streak to nine games (8-11—19) and become the first Blues player to reach the 80-point mark in a season since Pavol Demitra in 2002-03 (36-57—93 in 78 GP).

* St. Louis matched the point total of Minnesota (50-21-7, 107 points), its opponent in the 2022 First Round – the Wild occupy second place in the Central Division by virtue of holding a game in hand. The Blues face the Ducks on Sunday before squaring off with the Avalanche (April 26) and Golden Knights (April 29) to close out the regular season.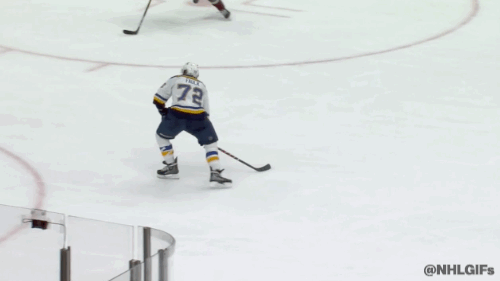 * Steven Stamkos (1-2—3) scored multiple points for a fifth straight game (3-10—13), which trails only Vincent Lecavalier (8 GP from Nov. 3-19, 2007) and Nikita Kucherov (7 GP from Dec. 18, 2018–Jan. 3, 2019) for the longest such runs in franchise history. Stamkos' 13 points since his streak began on April 14 rank second in the NHL over that span (tied) behind Wild forward Kevin Fiala (6-11—17 in 6 GP).

* Tampa Bay moved within five points of Toronto (51-21-7, 109 points), which occupies second place in the Atlantic Division. The Lightning visit the Panthers on Sunday, with Florida being the last playoff-bound team Tampa Bay faces during the regular season (also April 26 vs. CBJ, April 28 at CBJ & April 29 at NYI).

HURRICANES, PENGUINS PICK UP PIVOTAL WINS TO MAINTAIN PLAYOFF POSITIONING
With the Rangers (51-22-6, 108 points) and Capitals (44-23-11, 99 points) on their heels for first and third place in the Metropolitan Division, respectively, the Hurricanes (51-20-8, 110 points) and Penguins (45-23-11, 101 points) secured two crucial points to maintain their current playoff positions.

* Brady Skjei (1-0—1)and Nino Niederreiter (1-0—1) helped the Hurricanes tie the game within the final five minutes of regulation and Seth Jarvis (1-0—1) scored in overtime to lift Pyotr Kochetkov to victory in his NHL debut. Carolina, which overcame a multi-goal deficit in the final five minutes of regulation to win for the third time in franchise history (also Dec. 18, 2007 vs. TOR & Feb. 21, 1985 at NYR), became the fourth team to do so in 2021-22 joining Florida (April 2 at NJD), Minnesota (Oct. 19, 2021 vs. WPG & Nov. 6, 2021 at PIT) and Tampa Bay (Oct. 14, 2021 at DET).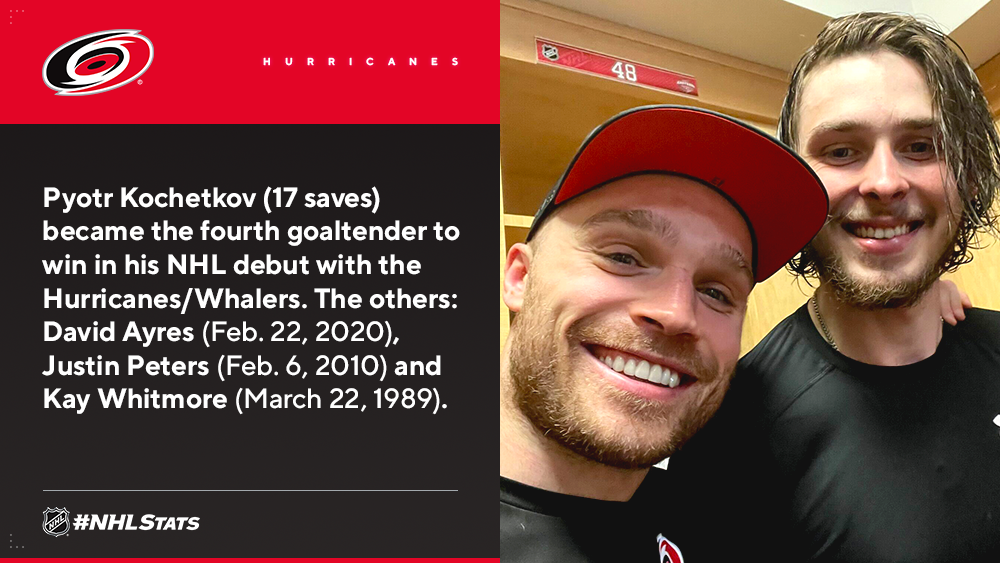 * Sidney Crosby (1-1—2) became the third player in Penguins history to notch double-digit 30-goal seasons and helped the franchise register its 14th 100-point campaign. Pittsburgh is eyeing a top-three finish in its division for the seventh consecutive season dating to 2015-16, which would tie Washington for the longest such streak since 2013-14 should the Capitals finish outside that group in 2021-22 (7 straight from 2014-15–2020-21).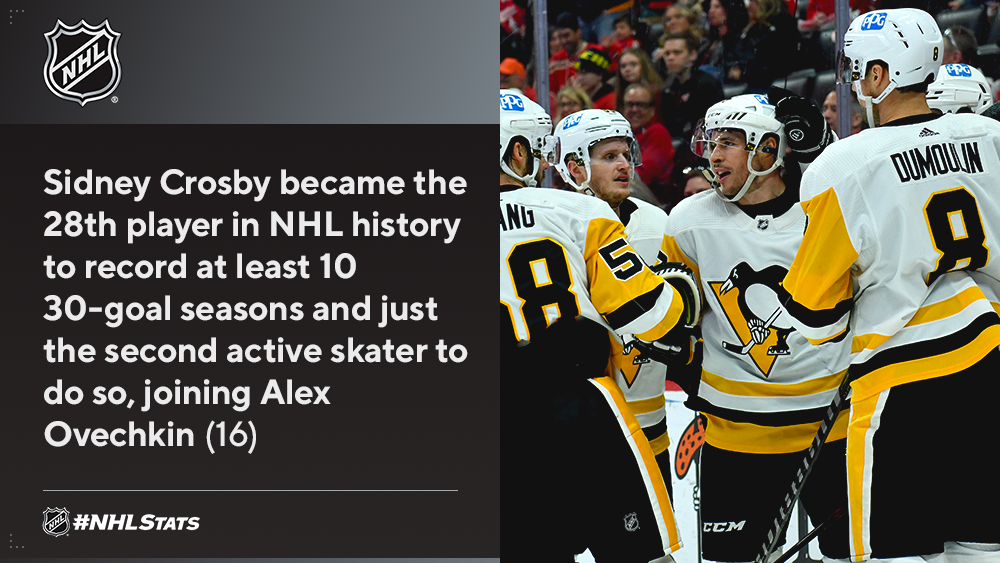 MORE FROM SATURDAY FEATURED IN #NHLSTATS: LIVE UPDATES
Saturday's edition of #NHLStats: Live Updates featured more notes from the 12-game slate. Some highlights include:

* Kings captain Anze Kopitar (365-701—1,066 in 1,209 GP) had two helpers and became the seventh active player to reach the 700-assist milestone. Los Angeles (43-27-10, 96 points) moved within two points of Edmonton (46-26-6, 98 points), which occupies second place in the Pacific Division.

* Stars forward Roope Hintz had two of his team's three unanswered goals as Dallas defeated Seattle and also improved its chances of clinching one of the three remaining berths in the 2022 Stanley Cup Playoffs. The Stars (44-30-5, 93 points) matched the point total of the Predators (44-29-5, 93 points), who occupy the first Wild Card spot in the Western Conference by virtue of holding a game in hand.

* Flames forward Elias Lindholm (40-40—80 in 79 GP) had 1-1—2 and became the second Calgary player to reach the 40-goal mark this season, joining Matthew Tkachuk (40-61—101 in 79 GP). The only other campaigns where multiple Flames players had 40 goals for the franchise were 1982-83 (Lanny McDonald & Kent Nilsson), 1987-88 (Joe Nieuwendyk, Hakan Loob, Mike Bullard & Joe Mullen), 1988-89 (Mullen & Nieuwendyk), 1990-91 (Theo Fleury & Nieuwendyk) and 1993-94 (Gary Roberts, Fleury & Robert Reichel).

* Predators captain Roman Josi (1-0—1) boosted his 2021-22 totals to 21-69—90 (76 GP) and became the first defenseman to reach the 90-point mark in a season since Ray Bourque with the Bruins in 1993-94 (20-71—91 in 72 GP). Josi hit the milestone by scoring his 10th power-play goal of the campaign, which mark the most by an NHL defenseman in a season since his former teammate Shea Weber had 12 with Montreal in 2016-17.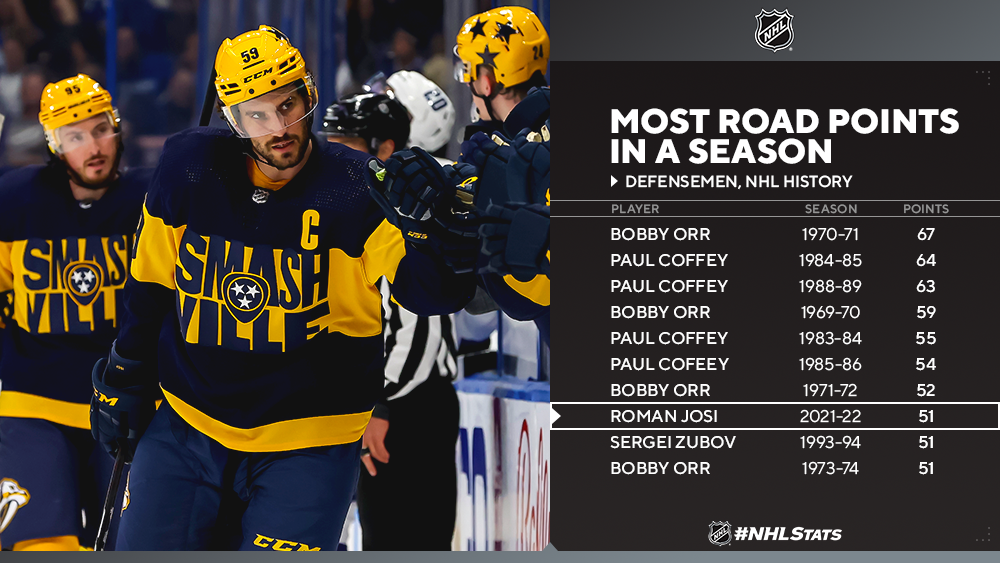 QUICK CLICKS

* Hockey Night in Canada honors Guy Lafleur
* Oilers clinch playoff berth led by Connor McDavid, coaching change
* Bruins defenseman Charlie McAvoy gives sister Kayla, Rangers intern, pre-game fist bump
* Ducks captain Ryan Getzlaf fails at trivia about his long NHL career
* Kraft Hockeyville Canada announces Top 4 communities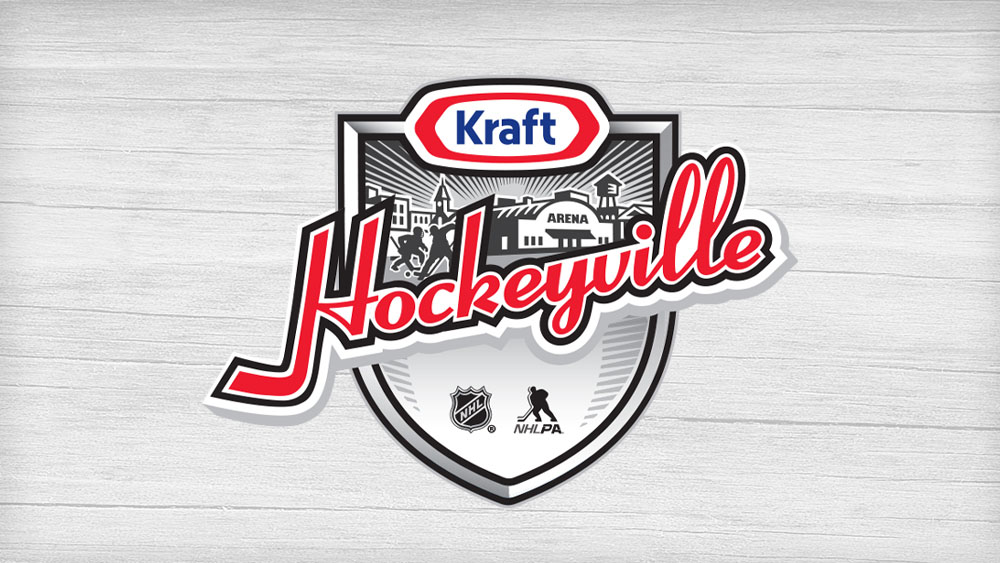 SUNDAY SET TO FEATURE TEAMS EYEING 100 POINTS, GETZLAF'S FINAL HOME GAME
Sunday's slate is set to feature the Capitals (44-23-11, 99 points) and Oilers (46-26-6, 98 points) each sitting within striking distance of a triple-digit point total this season as well as Ryan Getzlaf contesting his final game at Honda Center. With 11 teams having already collected at least 100 standings points in 2021-22, this campaign can eclipse the most 100-point clubs in a single season in NHL history (12 in 2014-15).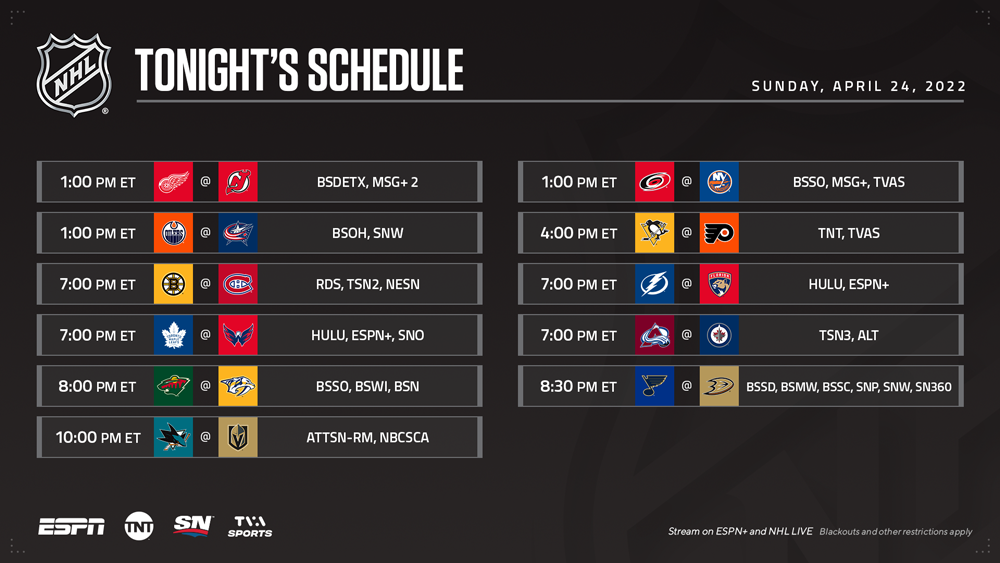 * Capitals captain Alex Ovechkin, who leads Washington with 50-40—90 (76 GP) this season, looks to guide his club to their 13th 100-point campaign in franchise history and sixth since 2013-14 (also 2014-15, 2015-16, 2016-17, 2017-18 & 2018-19). Pittsburgh (6x) is the only team with as many through that span.

* Oilers captain Connor McDavid (43-73—116 in 77 GP) has posted three points in each of his previous two outings en route to matching a single-season career high (also 41-75—116 in 2018-19). McDavid can become the first Edmonton player with more than 116 points in a season since Mark Messier in 1989-90 (45-84—129 in 79 GP).

* Ducks captain Getzlaf has contested 570 of his 1,156 career games at Honda Center, marking the most by any NHL player at the venue – former teammate Teemu Selanne ranks second with 509. Getzlaf has 547 career points at Honda Center, which are one back of Selanne for the highest such total in League history.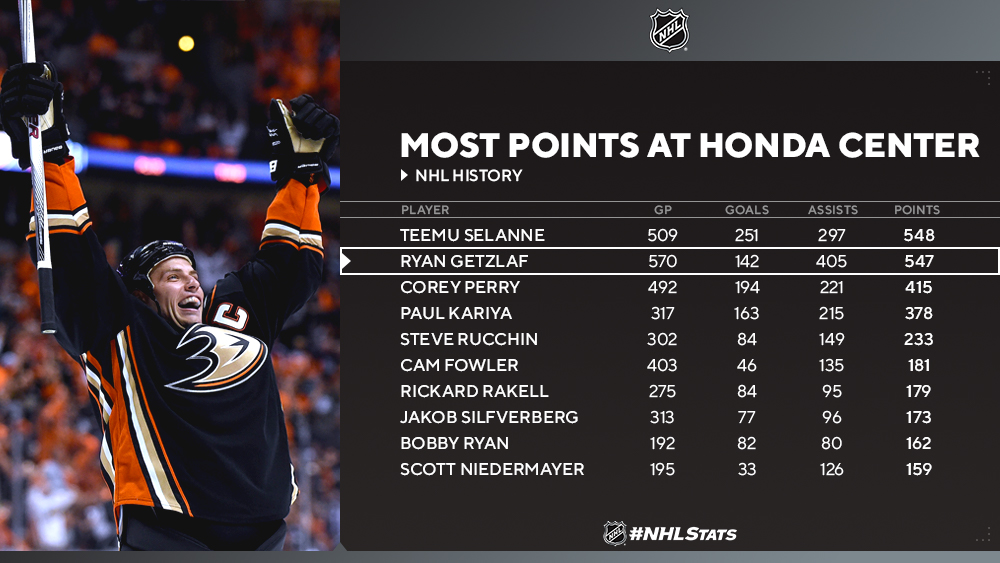 COURTESY NHLmedia.com