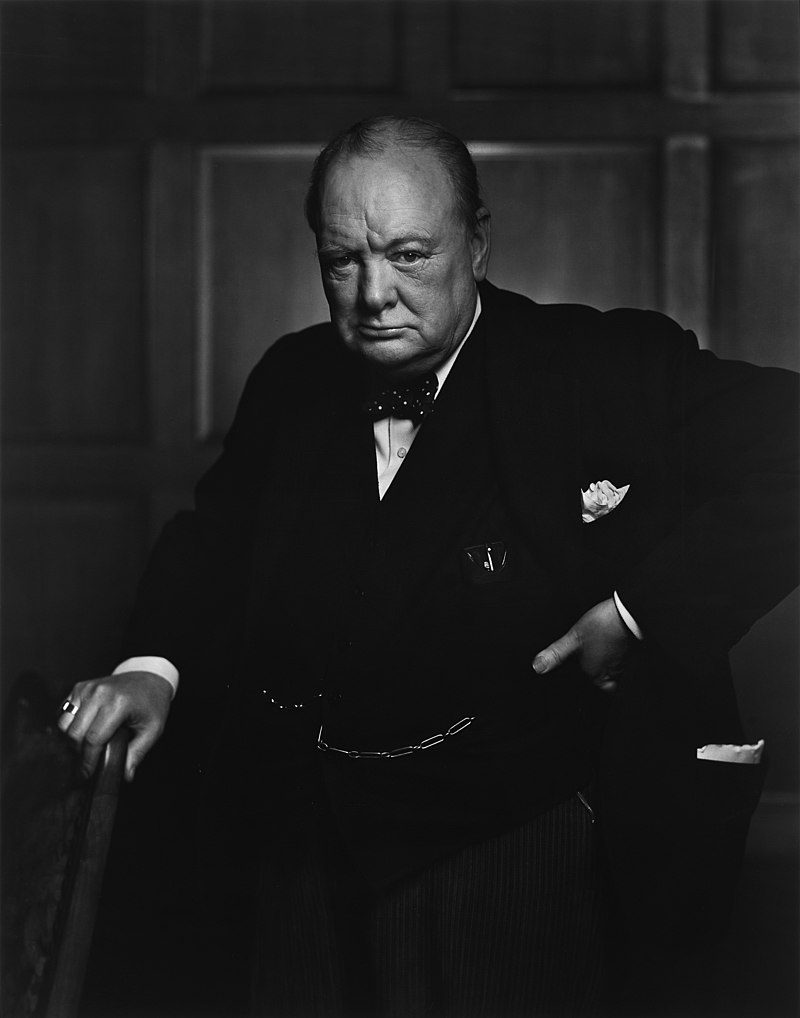 FROM WIKIPEDIA COMMONS
Sir Winston Leonard Spencer Churchill, KG, OM, CH, TD, DL, FRS, RA (30 November 1874 – 24 January 1965) was a British statesman who served as Prime Minister of the United Kingdom from 1940 to 1945, during the Second World War, and again from 1951 to 1955. Best known for his wartime leadership as Prime Minister, Churchill was also a Sandhurst-educated soldier, a Boer War hero, a Nobel Prize-winning writer and historian, a prolific painter, and one of the longest-serving politicians in British history. Apart from two years between 1922 and 1924, he was a Member of Parliament (MP) from 1900 to 1964 and represented a total of five constituencies. Ideologically an economic liberal and imperialist, he was for most of his career a member of the Conservative Party, which he led from 1940 to 1955. He was a member of the Liberal Party from 1904 to 1924.
Of mixed English and American parentage, Churchill was born in Oxfordshire to a wealthy, aristocratic family. He joined the British Army in 1895 and saw action in British India, the Anglo-Sudan War, and the Second Boer War, gaining fame as a war correspondent and writing books about his campaigns. Elected a Conservative MP in 1900, he defected to the Liberals in 1904. In H. H. Asquith's Liberal government, Churchill served as President of the Board of Trade and Home Secretary, championing prison reform and workers' social security. As First Lord of the Admiralty during the First World War, he oversaw the Gallipoli Campaign but, after it proved a disaster, he was demoted to Chancellor of the Duchy of Lancaster. He resigned in November 1915 and joined the Royal Scots Fusiliers on the Western Front for six months. In 1917, he returned to government under David Lloyd George and served successively as Minister of Munitions, Secretary of State for War, Secretary of State for Air, and Secretary of State for the Colonies, overseeing the Anglo-Irish Treaty and British foreign policy in the Middle East. After two years out of Parliament, he served as Chancellor of the Exchequer in Stanley Baldwin's Conservative government, returning the pound sterling in 1925 to the gold standard at its pre-war parity, a move widely seen as creating deflationary pressure and depressing the UK economy.
Out of government during his so-called "wilderness years" in the 1930s, Churchill took the lead in calling for British rearmament to counter the growing threat of militarism in Nazi Germany. At the outbreak of the Second World War he was re-appointed First Lord of the Admiralty. In May 1940, he became Prime Minister, replacing Neville Chamberlain. Churchill formed a national government and oversaw British involvement in the Allied war effort against the Axis powers, resulting in victory in 1945. After the Conservatives' defeat in the 1945 general election, he became Leader of the Opposition. Amid the developing Cold War with the Soviet Union, he publicly warned of an "iron curtain" of Soviet influence in Europe and promoted European unity. He lost the 1950 election, but was returned to office in 1951. His second term was preoccupied with foreign affairs, especially Anglo-American relations and the preservation of the British Empire. Domestically, his government emphasised house-building and completed the development of a nuclear weapon (begun by his predecessor). In declining health, Churchill resigned as Prime Minister in 1955, although he remained an MP until 1964. Upon his death in 1965, he was given a state funeral.
Widely considered one of the 20th century's most significant figures, Churchill remains popular in the UK and Western world, where he is seen as a victorious wartime leader who played an important role in defending Europe's liberal democracy against the spread of fascism. He is also praised as a social reformer. However, he has been criticised for some wartime events – including the area bombing of German cities and his government's response to the Bengal famine – and also for his imperialist views, including comments on race.
TODAY'S ALMANAC
Founder of The Old Farmer's Almanac. Born in Grafton, Massachusetts, nine years before the start of the American Revolution, Thomas was brought up on a farm in Shrewsbury, Massachusetts. He was fascinated by science and at age 16 read Ferguson's Astronomy, which he came across in his father's library. He later wrote that "it was from the pleasing study of this work I first imbibed the idea of calculating an almanack." With this dream in mind, he became a bookseller, taught school, built a store and bindery near the family farm, and studied astronomy in his spare time. In early 1792, he went to Boston to study mathematics under the tutelage of another almanac maker, Osgood Carlton, and that fall delivered the copy for the first edition of what he called The Farmer's Almanac to printers Joseph Belknap and Thomas Hall. With its format and contents established, it was ready for the longest publishing tenure in American history. Although Thomas died more than 150 years ago and 12 Almanac editors have followed him, no other name but his has ever appeared on the cover of The Old Farmer's Almanac. Read more about the life and times of Robert B. Thomas.
Question of the Day
What is a hot posset? I know it is a drink from the medieval times, but that is all.Posset is a Middle English word of uncertain origin, but there's no uncertainty about what it is. It's a drink composed of hot milk curdled with ale, wine, or other liquor, with sugar and spices sometimes added. It was (and still is) popular not only as a delicacy but also as a remedy for colds and other infections.
Advice of the Day
Ivy will flourish with an occasional drink of cold tea instead of water.
Home Hint of the Day
To get scuff marks off any hardwood floor, mop the floor with a solution of 1/4 cup of TSP (or other product containing trisodium phosphate) and 2 gallons of hot water.
Word of the Day
ShipshapeArranged in a manner befitting a ship; hence, trim; tidy; orderly.
Puzzle of the Day
What do you get from a nervous cow?A milkshake.
Born
Robert B. Thomas (founder of The Old Farmer's Almanac) – 1766
Robert Penn Warren (poet) – 1905
Shirley MacLaine (actress) – 1934
Jill Ireland (actress) – 1936
Barbra Streisand (singer & actress) – 1942
Kelly Clarkson (singer) – 1982
Died
Reverend Eleazar Wheelock (founded Dartmouth College) – 1779
Lucy Maud Montgomery (author) – 1942
Cosmonaut Vladimir Komarov (became the first person to die during a space mission) – 1967
Bud Abbott (comedian & actor) – 1974
Estée Lauder (started a kitchen business blending face creams and built it into a multimillion-dollar international cosmetics empire) – 2004
Elizabeth Post (etiquette expert) – 2010
Events
La Marseillaise composed– 1792
U. S. Library of Congress established– 1800
The soda fountain was patented– 1833
Joshua Slocum left Boston on his 37-foot sloop named Spray. He arrived in Newport, Rhode Island, on June 27, 1898, becoming the first sailor to have circumnavigated the globe alone– 1895
Spain declared war on the United States (Spanish-American War)– 1898
British Prime Minister Winston Churchill was knighted by Queen Elizabeth II– 1953
Hubble space telescope launched– 1990
Cardinal Joseph Ratzinger inaugurated as Pope of the Roman Catholic Church. He took the name Pope Benedict XVI– 2005
Weather
A local windstorm blew down commercial buildings and damaged ships in Galveston, Texas– 1877
COURTESY www.almanac.com