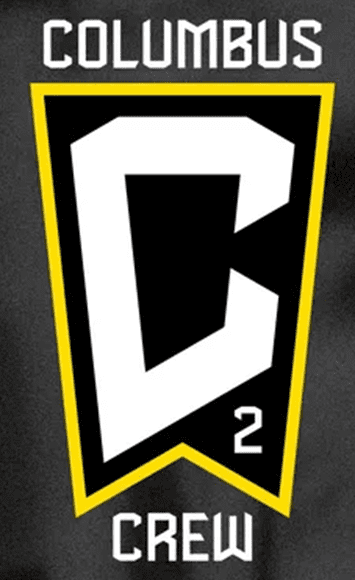 COLUMBUS
CREW 2
2022 REGULAR SEASON:
(3-1-0, 9 pts.)
TORONTO
FC II
2022 REGULAR SEASON:
(1-1-1, 5 pts.)
Date: Sunday, April 24
Match Time: 2:00 p.m. ET
Kickoff: 2:08 p.m. ET
Location: Historic Crew Stadium (Columbus, OH)
Free Live Stream on MLSNEXTPro.com: Sean Saint Jacques
2022 SCHEDULE AND RESULTS
2022 REGULAR-SEASON RECORD: OVERALL: 2-1-0 HOME: 0-0-0 AWAY: 2-1-0
DATE OPPONENT TIME (ET)/RESULT
Sat., Mar. 26 @ Inter Miami CF II L, 0-1
Sun., Apr. 3 @ Chicago Fire FC II W, 1-0
Sun., Apr. 10 @ Philadelphia Union 2 W, 1-0
Fri., Apr. 15 ORLANDO CITY B W, 2-0
Sun., Apr. 24 TORONTO FC II 2:00 p.m.
PHILIP QUINTON AND ISAAC ANGKING JOIN COLUMBUS
CREW FIRST TEAM ON SHORT-TERM LOAN AGREEMENT
On Tuesday, Crew 2 announced that defender Philip
Quinton and midfielder Isaac Angking had joined the
Columbus Crew First Team on short-term loan agreements. Both Quinton and Angking were then named to the Crew's roster for the Club's 2022 Lamar Hunt U.S.
Open Cup Third Round road contest against Detroit City
FC.
JACEN RUSSELL-ROWE FILE FROM MARYLAND TERRAPINS
POSITION Forward
HEIGHT 6-1
WEIGHT 180
CLASS Sophomore
MAJOR Undecided (Letters & Sciences)
HOMETOWN Brampton, Ontario
HIGH SCHOOL Toronto FC Academy
2020/21 Big Ten All-Freshman Team
As a Sophomore (2021-22): Appeared in 18 matches and started 12…scored two goal and tied for the team lead with five assists…played 1,028 minutes…notched an assist in the season opener against Charlotte (8/26)…scored a goal and notched an assist against UMBC (8/29)…scored against Northwestern (10/8)…notched two assists at Michigan State (10/22)…notched an assist against Indiana (10/31).
As a Freshman (2020-21): Played in eight matches and started six…scored two goals and recorded nine shots…played 433 minutes…named to the Big Ten All-Freshman Team…scored on his Maryland debut, a 30-yard wonder strike at Penn State (2/19)…scored the game winning goal in a 1-0 win over Wisconsin (3/7)…missed a month due to injury before returning to play Missouri State in the second round of the NCAA Tournament (5/2).
Before Maryland: Played for the Toronto FC Academy and the Canadian Youth National Team set up…nominee for Canadian Youth International Player of the Year in 2019…represented Canada at the 2019 FIFA U-17 World Cup in Brazil and scored two goals in three appearances…became the third Canadian to score in back-to-back game at the U-17 World Cup…helped Canada qualify for the U-17 World Cup at the 2019 CONCACAF Men's Under-17 Championship, scoring two goals including one against the United States…debuted in the Canadian youth program at an identification camp in 2016…at Toronto FC, bagged 19 goals in 13 games for the U-16/17 set up in the 2018-19 season in the U.S. Soccer Development Academy…for his career in the USSDA, Russell-Rowe tallied 40 goals in 33 appearances…made an appearance in USL League One for Toronto FC II…represented Toronto FC in the Generation Adidas Cup in 2018 and 2019 along with playing in the LIGA MX International Tournament in 2017 and 2018…participated in the 2018 ESP Adidas All-Star event…coached by Danny Dichio at Toronto FC…attended St. Edmund Campion High School and was an Honor Roll Student.