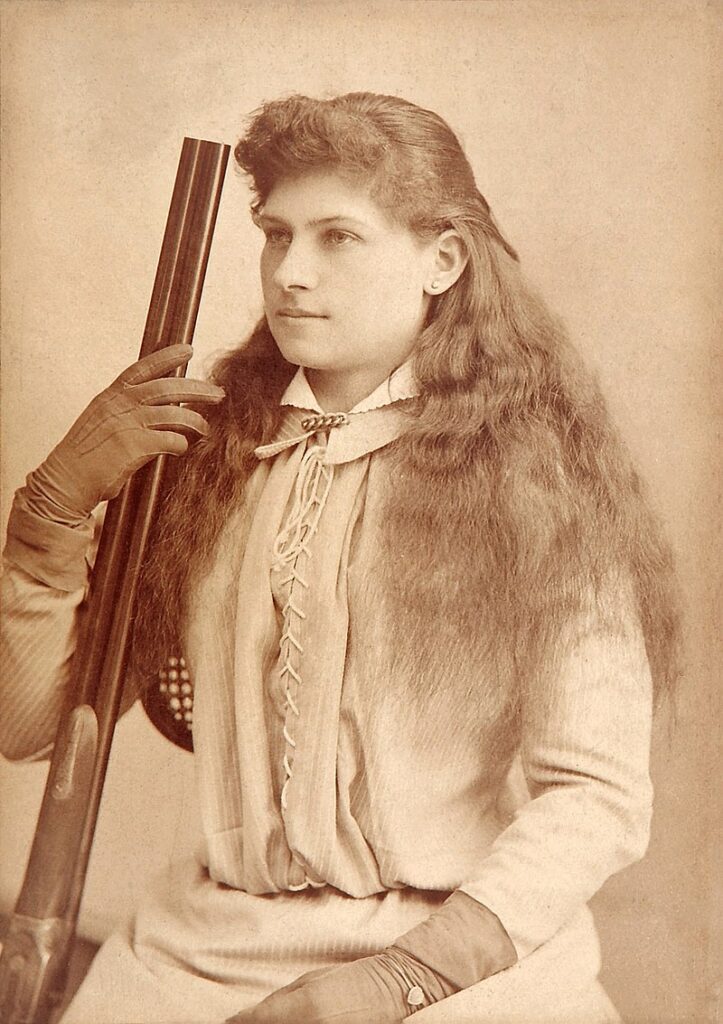 FROM WIKIPEDIA COMMONS
Annie Oakley (born Phoebe Ann Moses; August 13, 1860 – November 3, 1926) was an American sharpshooter who starred in Buffalo Bill's Wild West show.
Oakley developed hunting skills as a child to provide for her impoverished family in western Ohio. At 15, she won a shooting contest against experienced marksman Frank E. Butler, whom she later married. The pair joined Buffalo Bill in 1885, performing in Europe before royalty and other heads of state. Audiences were astounded to see her shooting out a cigar from her husband's lips or splitting a playing-card edge-on at 30 paces. She earned more than anyone except Buffalo Bill himself.
After a bad rail accident in 1901, she had to settle for a less taxing routine, and toured in a play written about her career. She also instructed women in marksmanship, believing strongly in female self-defense. Her stage acts were filmed for one of Thomas Edison's earliest Kinetoscopes in 1894. Since her death, her story has been adapted for stage musicals and films, including Annie Get Your Gun.
TODAY'S ALMANAC
This full Moon heralded the appearance of the moss pink, or wild ground phlox (one of the first spring flowers). It is also known as the Sprouting Grass Moon, the Egg Moon, and the Fish Moon. Historically, Native Americans living in what is now the northern and eastern United States kept track of the seasons by giving a distinctive name to each full Moon. This name was used to refer to the entire month in which the Moon occurred. With some variations, the same Moon names were used throughout the Algonquian tribes from New England to Lake Superior. Learn more about the Full Moon for April.
Question of the Day
How can I get the cat urine smell out of my carpet? And is there some way to keep cats out of a room?Cats, like many other animals, tend to urinate repeatedly in the same places. When cleaning or removing urine stains, you must neutralize the odor — not just mask it — or the cat will likely return to the spot and dampen it again. Urine can seep down into the carpet padding and floor boards, so start cleaning the area as quickly as possible.
1) First, absorb as much urine as possible by pressing the area with paper towels, then rinse with water.
2) Apply diluted vinegar (3 parts vinegar to 1 part water) to the spot (do not rub) and let dry. (Test a small section first to make sure that the vinegar won't harm the carpet.) Rinse the area with water.
3) Sprinkle baking soda over the spot, let sit for several hours, and then vacuum. Repeat as necessary.
With regard to keeping cats out of a particular room (assuming the room doesn't have a door), you'd have to either keep them penned or erect a barricade that they couldn't vault; but one way to break a cat's habit of urinating in a room is to dip a cotton ball in lemon extract, squeeze out the excess, and place it in an aluminum tea ball (designed to hold loose tea). Hang the tea ball by its hook in the spot where your cat is urinating — the smell should keep the cat away. Refresh the lemon once a week until the cat is trained.
Advice of the Day
Take calculated risks. —George S. Patton Jr.
Home Hint of the Day
For many years, red paint was the cheapest paint made. That's why all schoolhouses used to be red and why barns, when they were painted at all, were also red.
Word of the Day
AphelionThe point in a planet's orbit that is farthest from the Sun.
Puzzle of the Day
What did one arithmetic book say to the other arithmetic book?Boy, do I have problems!
Died
Mary Molly" Brant" (Native American leader) – 1796
Ralph Ellison (writer) – 1994
Robert Urich (actor) – 2002
Otho (Roman emperor) – 2069
Born
Ford Madox Brown (painter) – 1821
Anatole France (writer) – 1844
Herbert Baxter Adams (historian) – 1850
Grace Livingston Hill (author) – 1865
Wilbur Wright (aviator) – 1867
Charlie Chaplin (entertainer) – 1889
Henry Mancini (composer) – 1924
Pope Benedict XVI – 1927
Dusty Springfield (singer) – 1939
Kareem Abdul-Jabbar (basketball player) – 1947
Bill Belichick (football coach) – 1952
Martin Lawrence (actor) – 1965
Jon Cryer (actor) – 1965
Events
Scientist Isaac Newton was knighted– 1705
Agricultural College founded in Guelph, Ontairo– 1874
Magnitude 7.0 earthquake occurred west of Eureka, California– 1899
Annie Oakley hit 100 clay targets in a row, setting women's record– 1922
Two ships exploded in harbor, Texas City, Texas– 1947
Toronto Maple Leafs won third consecutive NHL Stanley Cup– 1949
Walter Cronkite joined CBS Evening News as anchorman– 1962
Two giant pandas, given to the U.S. by China, arrived at the National Zoo in Washington, D.C.– 1972
Britain's Prince Andrew and his wife, Sarah, the Duchess of York, announced their plans to divorce– 1996
Sputnik-99 launched by hand from Mir space station– 1999
Weather
A severe freeze from Georgia to Texas killed cotton crops– 1849
COURTESY www.almanac.com