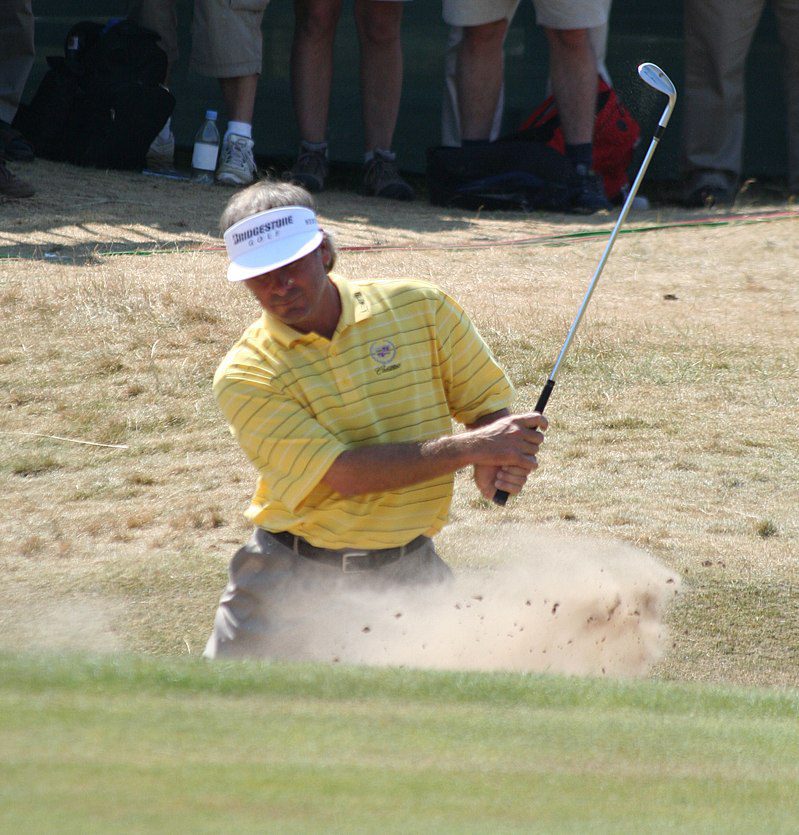 FROM WIKIPEDIA COMMONS
Frederick Steven Couples (born October 3, 1959) is an American professional golfer who has competed on the PGA Tour and the PGA Tour Champions. A former World No. 1, he has won 64 professional tournaments, most notably the Masters Tournament in 1992, and the Players Championship in 1984 and 1996.
In August 2011, he won his first senior major at the Senior Players Championship and followed this up in July 2012 when he won the Senior Open Championship. He was inducted into the World Golf Hall of Fame in 2013. Couples garnered the nickname "Boom Boom" for his long, accurate driving ability off the tee during the prime of his career.
TODAY'S ALMANAC
Question of the Day
I live in New York City and have a three-year-old fig tree. It bore fruit for the first time this year, but it failed to ripen. Why? What is a good fertilizer?A good garden fertilizer, such as 5-10-5, used at the rate of one pound per 50 square feet, will probably supply sufficient nutrients. However, in northern states, fig trees need heavy protection during the winter and usually bear little fruit. Check with your local fruit growers or your local extension service to see if your cultivar has a good track record in your area.
Advice of the Day
Buy next year's wood for the stove now and season it yourself.
Home Hint of the Day
Planning to use steel wool on a project where rusting is a concern? Choose bronze wool (available at marine supply stores) instead . It doesn't rust, so you don't have to worry about the small slivers that invariably stick to the surface you're working on.
Word of the Day
ApogeeThe point in the Moon's orbit that is farthest from Earth.
Puzzle of the Day
What is the hardest part about skydiving?The ground.
Born
John George Lambdon (governor-general of British North America) – 1792
Beverly Cleary (author) – 1916
Dr. Peter Safar (originator of CPR) – 1924
Montserrat Caballe (opera singer) – 1933
Herbie Hancock (musician) – 1940
David Letterman (talk show host) – 1947
Tom Clancy (author) – 1947
David Cassidy (singer and actor) – 1950
Andy García (actor) – 1956
Vince Gill (musician) – 1957
Jennifer Morrison (actress) – 1979
Claire Danes (actress) – 1979
Stubbs the Cat (honorary mayor of Talkeetna, Alaska) – 1997
Died
Clara Barton (founder of the American Red Cross) – 1912
Franklin D. Roosevelt (32nd U.S. president) – 1945
Sugar Ray Robinson (boxer) – 1989
Abbie Hoffman (social and political activist) – 1989
Georgia Engel (actress, best known as Georgette Franklin on The Mary Tyler Moore Show) – 2019
Events
Charles A. Gayler received a patent for a fireproof safe– 1833
First U.S. championship billiards game– 1859
The US Civil War began– 1861
Women granted the right to vote in Ontario– 1917
Nova Scotia's Moose River gold mine collapsed, trapping 3 people– 1936
Bill Haley and His Comets recorded Rock Around the Clock– 1954
The polio vaccine developed by Dr. Salk was found to be successful after subjection to a year of clinical trials– 1955
Aquarius/Let the Sunshine In by the 5th Dimension topped the charts for 6 weeks– 1969
Terry Fox began his Marathon of Hope across Canada in St. John's, Newfoundland, by dipping his artificial leg into the Atlantic Ocean– 1980
Space shuttle Columbia first launched– 1981
Harold Washington was elected the first African-American mayor of Chicago– 1983
Texaco Inc. became the largest U.S. company in history to file bankruptcy after it is ordered to pay Pennzoil $8.53 billion in damages for unfair business practices– 1987
Golfer Fred Couples won the Masters tournament– 1992
Weather
Philadelphia, Pennsylvania, was hit by a tornado; 150 houses lost their roofs– 1856
Fourteen inches of snow at Bloomfield, Vermont– 1929
231-mph wind gust on Mt. Washington, New Hampshire, second highest wind speed in the world– 1934
21 inches of snow fell in Selby, South Dakota– 1995
Ice out, Lake Winnipesaukee, NH– 2009
COURTESY www.almanac.com