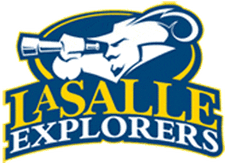 4/5/2022
PHILADELPHIA – La Salle University has announced Fran Dunphy, a 1970 graduate and the all-time winningest coach in Philadelphia Big 5 history, as the 20th head coach in the history of its men's basketball program.
Dunphy, a member of the Philadelphia Big 5, La Salle Athletics, Penn Athletics, and Philadelphia Sports Writers Halls of Fame, has amassed nearly 600 victories over his 30 years as head coach at Penn (1989-06) and Temple (2006-19). He is the only coach to oversee multiple Big 5 programs, and his teams have competed in 17 NCAA Tournaments.
"During my time at La Salle, I have met many passionate alums who personify what it means to be an Explorer," Vice President for Athletics & Recreation Brian Baptiste said. "Fran Dunphy is at the top of that list, and to be able to introduce him as the 20th head coach in La Salle men's basketball history is an honor and privilege. In my conversations with Fran, he has made it clear that he still has a passion for coaching and a burning desire to help his alma mater. I know he's excited to get to work and I know our student-athletes will benefit from having him as the leader of our program."
As a dual-sport student-athlete at La Salle from 1967-70, Dunphy played both baseball and basketball for the Explorers, and was a member of the 1968-69 team that was coached by all-time La Salle great Tom Gola. The team finished that season 23-1 and ranked second in the final Associated Press Top 25 Poll. As a senior, Dunphy averaged 18.6 points per game and also led La Salle in assists.
"La Salle has given me so much over the years," Dunphy said. "It gave me a chance to be a a part of multiple teams as a student-athlete, an opportunity to form life-long friendships, and helped mold me into the man I am today. I can't wait to work with the young men on the team, re-introduce myself to the campus community, and to help my alma mater any way I can."
Following his playing days, Dunphy jumped right into coaching and was an assistant on La Salle's 1979-80 squad that earned a trip to the NCAA Tournament. Individually, Michael Brooks earned National Player of the Year honors and would go on to be drafted 9th overall in the NBA Draft by the Clippers.
Dunphy then spent five seasons as an assistant at American University before returning home to join La Salle's staff from 1985-88. During that time, the Explorers successfully recruited eventual National Player of the Year Lionel Simmons from South Philadelphia High School, advanced to the finals of the National Invitation Tournament in 1987, and won a Metro Atlantic Athletic Conference championship in 1988.
In 1989, Dunphy was named head coach at the University of Pennsylvania. Over the next 17 seasons, he would win 10 Ivy League titles, post nine 20-win seasons, and amass a total of 310 victories – the most by any coach in Penn history. The Quakers won 48 straight Ivy League games from 1992-96, and his '93-94 team went 25-3, was ranked as high as No. 24 nationally, and defeated Nebraska in the opening round of the NCAA Tournament.
Dunphy's career continued at Temple, when he took over for Naismith Hall of Famer John Chaney in 2006. The Owls advanced to the NCAA Tournament eight times in his 13 years, including a run of seven consecutive seasons from 2007-13. During his 13 seasons at Temple, Dunphy's teams defeated nationally-ranked teams a total of 18 times, including victories over Duke, Kansas, Villanova, Syracuse, Connecticut, Florida State, West Virginia, Tennessee, Xavier, and Georgetown.
"We are so proud to introduce Fran Dunphy as our head men's basketball coach," said William W. Matthews, III, Esq., '90, Chair of La Salle University's Board of Trustees. "Coach Dunphy is committed to excellence. He has demonstrated over his tremendous career that he knows how to develop players who achieve success on the court and in the classroom. As a La Salle alumnus, he knows our university's Lasallian mission and embraces our program's rich history, of which he was a part. Our entire university community wishes the best for Coach Dunphy and the program in the years ahead."
In 2020, Dunphy transitioned into an interim athletic director position at Temple. Over the past two years, the Drexel Hill, Pa. native has been active with his alma mater. He was the recipient of an honorary degree at La Salle University's 2020 Commencement ceremony at Lincoln Financial Field, and has broadcast numerous men's basketball games on ESPN+
COURTESY LA SALLE ATHLETIC COMMUNICATIONS