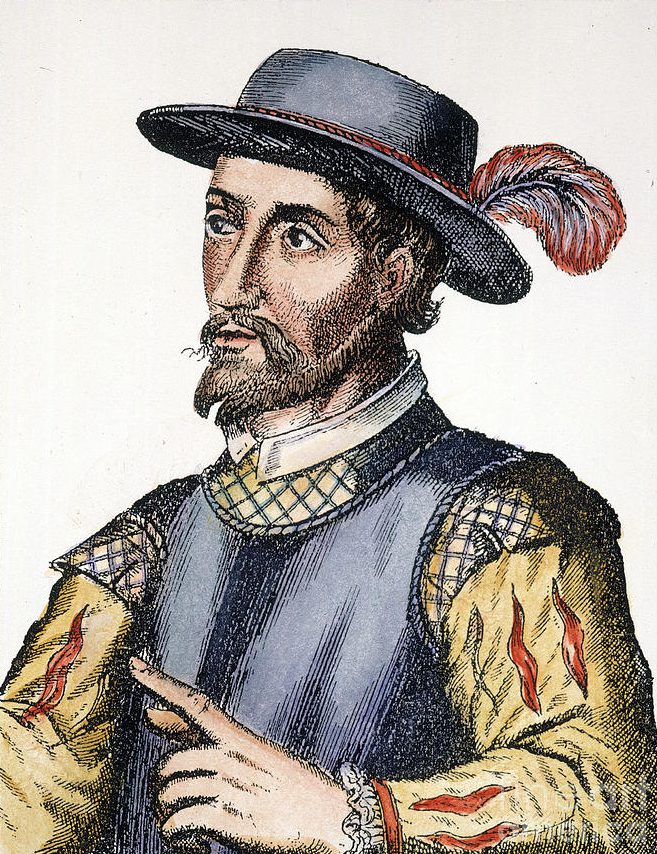 FROM WIKIPEDIA COMMONS
Juan Ponce de León (/ˌpɒns də ˈliːən/, also UK: /ˌpɒnseɪ də leɪˈɒn/, US: /ˌpɒns də liˈoʊn, ˌpɒns(ə) deɪ -/, Spanish: [ˈxwam ˈponθe ðe leˈon]; 1474 – July 1521) was a Spanish explorer and conquistador known for leading the first official European expedition to Florida and serving as the first governor of Puerto Rico. He was born in Santervás de Campos, Valladolid, Spain in 1474. Though little is known about his family, he was of noble birth and served in the Spanish military from a young age. He first came to the Americas as a "gentleman volunteer" with Christopher Columbus's second expedition in 1493.
By the early 1500s, Ponce de León was a top military official in the colonial government of Hispaniola, where he helped crush a rebellion of the native Taíno people. He was authorized to explore the neighboring island of Puerto Rico in 1508 and for serving as the first Governor of Puerto Rico by appointment of the Spanish crown in 1509. While Ponce de León grew quite wealthy from his plantations and mines, he faced an ongoing legal conflict with Diego Columbus, the late Christopher Columbus's son, over the right to govern Puerto Rico. After a long court battle, Columbus replaced Ponce de León as governor in 1511. Ponce de León decided to follow the advice of the sympathetic King Ferdinand and explore more of the Caribbean Sea.
In 1513, Ponce de León led the first known European expedition to La Florida, which he named during his first voyage to the area. He landed somewhere along Florida's east coast, then charted the Atlantic coast down to the Florida Keys and north along the Gulf coast; historian John Reed Swanton believed that he sailed perhaps as far as Apalachee Bay on Florida's western coast. Though in popular culture he was supposedly searching for the Fountain of Youth, there is no contemporary evidence to support the story, which all modern historians call a myth.
Ponce de León returned to Spain in 1514 and was knighted by King Ferdinand, who also re-instated him as the governor of Puerto Rico and authorized him to settle Florida. He returned to the Caribbean in 1515, but plans to organize an expedition to Florida were delayed by the death of King Ferdinand in 1516, after which Ponce de León again traveled to Spain to defend his grants and titles. He would not return to Puerto Rico for two years.
In March 1521, Ponce de León finally returned to southwest Florida with the first large-scale attempt to establish a Spanish colony in what is now the continental United States. However, the native Calusa people fiercely resisted the incursion, and he was seriously wounded in a skirmish. The colonization attempt was abandoned, and its leader died from his wounds soon after returning to Cuba in early July. Ponce de León was interred in Puerto Rico; his tomb is located inside the Cathedral of San Juan Bautista in San Juan.
TODAY'S ALMANAC
Saturday, April 2, 2022
Question of the Day
What is a sous-chef? I hear the term regularly on cooking shows.Sous is the French word for under, beneath, below. "Chef" is also French, meaning chief, head, commander; the term is defined in the United States as "head cook." Sous-chef means deputy head or deputy commander, but we use it exclusively as the title given an assistant to a restaurant or hotel chef.
Advice of the Day
It is bad luck to step in a cloud reflected in a puddle.
Home Hint of the Day
Avoid adding plywood or pressure-treated wood to your burn pile. The fumes from these materials can be toxic.
Word of the Day
Celestial equatorThe circle around the celestial sphere that is halfway between the celestial poles. It can be thought of as the plane of Earth's equator projected out onto the sphere.
Puzzle of the Day
What kind of shoes do frogs wear?Open-toad!
Born
Hans Christian Andersen (author) – 1805
Erastus Brigham Bigelow (industrialist, inventor, a founder of Massachusetts Institute of Technology) – 1814
Buddy Ebsen (actor) – 1908
Charles Honi" Coles" (tap dancer) – 1911
Sir Alec Guinness (actor) – 1914
Emmylou Harris (country music singer) – 1947
Christopher Meloni (actor) – 1961
Clark Gregg (actor) – 1962
Died
Samuel Morse (inventor) – 1872
C. S. Forester (author) – 1966
Pope John Paul II – 2005
Jane Henson (co-creator of The Muppets) – 2013
Events
Juan Ponce de Leon discovered Florida and claimed it for the King of Spain– 1513
U.S. Mint established– 1792
American Farmer journal founded– 1819
Bread riot occurred in Richmond, Virginia– 1863
7.9 earthquake triggered tsunami, Hawaii– 1868
Charles Martin Hall patented an inexpensive way to make aluminum– 1889
As the World Turns debuted on television– 1956
Dallas made its television debut– 1978
Weather
Wind gusted to at least 199.5 miles per hour at Cannon Mountain, New Hampshire– 1973
A severe storm blasted the northeastern United States for three days. Winds reached 140 miles per hour on top of Mount Washington, New Hampshire, and Maine received two to three feet of snow– 1975
9.4 inches of snow closed Chicago's O'Hare airport– 1975
Twisters tore through the Midwest and South, killing 18 people– 2006
A rare 0.1" snowfall occurred in Charlotte, North Carolina– 2019
COURTESY www.almanac.com