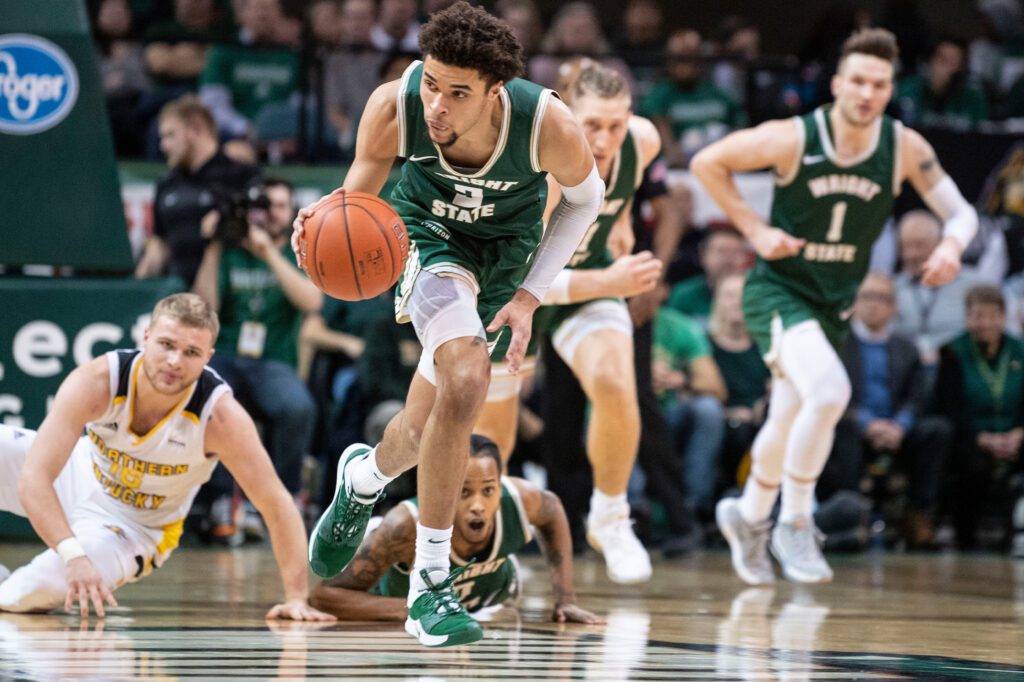 Last Tuesday news broke that the Horizon League Tournament champion Wright State Raiders had lost their big man, Grant Basile to the ever-popular transfer portal. There were were rumors from WSU Alumni and Fans that Tanner Holden was going to do the same.
Well, exactly a week later, The Raiders top player said that he is entering the portal as well.
The Wheelersburg, Ohio native announced it on Twitter.
Tanner Holden @tannerholden_ 23·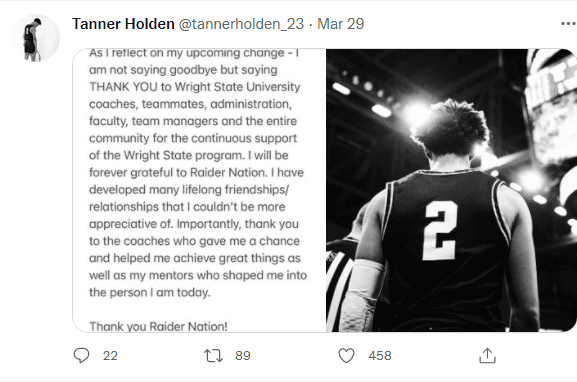 The junior had quite a season as he and the Raiders got to the NCAA Tournament after a tough pre-season schedule that saw them drop to 2-7 and recover to go 22-14 and win the Horizon League automatic bid.
The 6'6, 185-pound guard had a fantastic season, averaged 20.1 points, 7.1 rebounds, and 2.6 assists per game on 50% shooting from the floor.
He and the Raiders made a name for themselves around the country in the First Four by beating Bryant for their first-ever NCAA Division I Tournament win at nearby UD Arena. And Holden, showing the nation who he was, scoring a game-high 37 points in the contest.
The lefty Holden, who knew when to take over games and lead the Raiders in clutch situations, was named to the Lou Henson All-America team on Tuesday, which honors the nation's best mid-major players in Division I men's college basketball.
The Raiders will also lose Columbus, Ohio native, James Manns, a 6'7, 210-pound, redshirt senior, who came off the bench for instant offense, announced he is entering the portal as well.
No one knows where Holden will end up but rumors are swirling that Ohio State, Dayton, Cincinnati and Ohio want his services.
THE TANNER HOLDEN FILE:
POSITION Guard
HEIGHT 6-6
WEIGHT 185
CLASS Junior
HOMETOWN Wheelersburg, OH
HIGHSCHOOL Wheelersburg
2021-22: Named to the preseason Horizon League Second Team.
Tanner Holden (79% FT) has made 215 free throws (No. 1 in the country) on 273 total attempts (No. 2 nationally) ahead of the NCAA First Round. Holden's 711 total points scored is No. 4 in the country, while his 20.3 points per game average is No. 17 nationally.
Tanner Holden scored 20 or more points a Horizon League-best 20 times entering Friday's NCAA First Round, while he's also added two 30-point games to his résumé. Holden's 37 points in the NCAA First Four was one shy of his career-best and was two points shy of the most by any player in the Horizon League this season.
2020-21: Appeared and started in all 24 games, averaging 34.2 minutes per game, highest on the roster…. Averaged 15.8 points per game, second-best on the team…. Had the second-most rebounds on the team with 175, averaging 7.3 rebounds per contest… Recorded a season-high 24 points versus Youngstown State on January 9, while also recording a career-high 10 field goals that same night… Named First Team All-Horizon League…. NABC All-District 12 Second Team selection.
2019-20: Started 30 of his 31 regular season games played this season, averaging 12.1 points per game, the third-most on the Raider roster, while adding 6.5 rebounds per game, the second-most on the roster… Had 20 double-digit scoring games during his inaugural regular season, including 14 in Horizon League play, while turning in three double-doubles… His best game of the season was a 27-point, 17-rebound effort in Wright State's win at Toledo in mid-December with both totals being his season-highs… Was named to the Horizon League All-Freshman Team.
Notes: A 6-6 dual athlete at Wheelersburg High School in Ohio… For his efforts during his junior year, Holden was named to the 2018 First-Team All-State Division III in Ohio by averaging nearly 18 points and hauling in 11 rebounds per game… Was also a standout football player, winning the 2017 Division V State Football Championship and honored with the 2017 Division V Co-Offensive Player of the Year award… Was a finalist for the Mr. Football Award in Ohio.