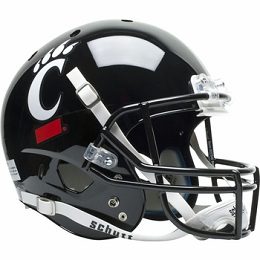 March 24, 2022
Watch: Ridder, Fickell meet with media at Pro Day
CINCINNATI – Representatives from all 32 NFL teams and nearly 100 total scouts, GMs or coaches attended the Cincinnati football team's annual Pro Day on Thursday at the Sheakley Athletic Complex.
The likes of Bengals head coach Zac Taylor, Steelers head coach Mike Tomlin, Titans head coach Mike Vrabel, Texans head coach Lovie Smith and Commanders head coach Ron Rivera were all present to watch UC stars such as quarterback Desmond Ridder, cornerback Coby Bryant and several other Bearcats in what was the largest Pro Day in school history.
Bryant was clocked at 4.47 in the 40-yard dash time, while Ridder showed off his pinpoint accuracy and strong arm during a scripted throwing session.
Linebacker Darrian Beavers impressed with a 39-inch vertical jump and a 10-3 broad jump, and defensive tackle Curtis Brooks registered 33 reps at 225 in the bench press.
Cornerback Ahmad "Sauce" Gardner, a projected first round pick who could be the first defensive back selected in the 2022 NFL Draft, did not participate in any drills, but did meet with several teams at the event.
Cincinnati head coach Luke Fickell couldn't contain his pride for his former players while watching the drills throughout the day and conversing with NFL coaches and GMs.
"I told you I went down to the Senior Bowl I spent a couple minutes there before I realized, wow, this is what we have wanted," Fickell said. "Then you drive or you fly away and think that is what we created, now we got a lot of work to do. Same thing, we are going to be out here happy, talking to all these guys, selling our guys, and being really excited about our guys. Then they are going to walk away, and we are going to go up to that office and think we have a lot of work to do. That's the joys of it."
Vrabel, Fickell's college roommate at Ohio State, attended UC's spring practice earlier in the day and spoke to the current Bearcats at the end.
"I wanted nothing more than to remind them that these guys (NFL personnel) are not just here because of Desmond Ridder (former UC quarterback), Ahmad Gardner (former UC cornerback) and Coby Bryant (former UC cornerback)," Fickell said. "They are here because of what they have created too. (Vrabel) kind of emphasized that, walked up there and talked about culture and talked about what an advantage it is to have a culture. There are things that travel, he said. Effort and fundamentals. It wasn't anything about these guys out here or about the season that we had. It was spot on in reminding them there is a lot of talent out here and football is played between those lines. It's just another opportunity."
Ridder made some electric throws during the Pro Day. The talented gunslinger has seen how far this program has come since entering it back in 2017.
"You probably could have counted on two hands the amount of scouts over here the previous Pro Days. So, to be able to come out here and have all these eyes out here, have all you guys' cameras, NFL Network… it just means a lot to us. All the hard work that we put in, not only for myself, but every single guy out here. Not only for us, but the guys coming in the years to come to see what they have to look forward to. And hopefully we keep this on a national stage for years to come."
Wide receiver Alec Pierce continued to impress scouts with his athletic ability, receiving skills and leadership qualities. Mock drafts vary on what round he is expected to be drafted.
"I'd love to go second round, maybe third round," he said. "I think that's kind of the range that teams have graded me out as. Hopefully teams should be on the front end there."
After the historic Pro Day, Cincinnati fans should expect to see more than a few Bearcats names come off the draft board.