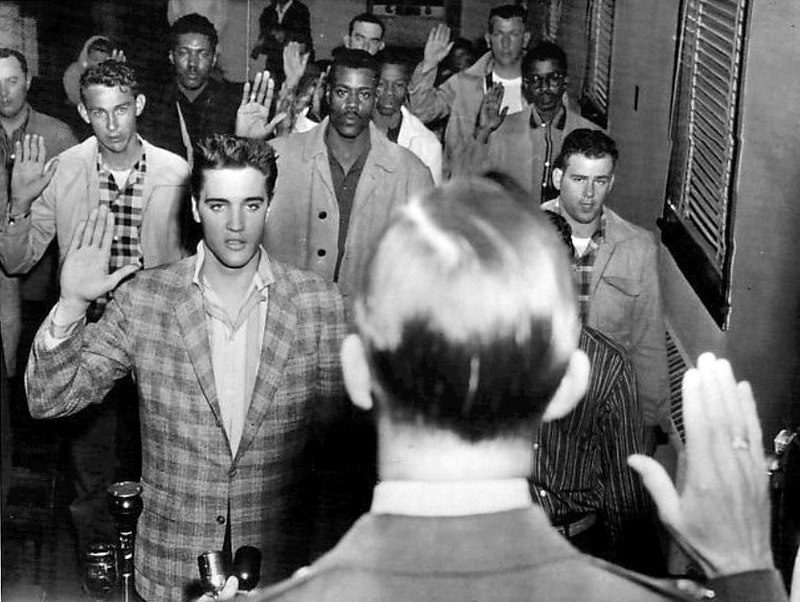 FROM WIKIPEDIA COMMONS
Elvis Aaron Presley (January 8, 1935 – August 16, 1977) was an American singer and actor. Dubbed the "King of Rock and Roll", he is regarded as one of the most significant cultural icons of the 20th century. His energized interpretations of songs and sexually provocative performance style, combined with a singularly potent mix of influences across color lines during a transformative era in race relations, led him to both great success and initial controversy.
Presley was born in Tupelo, Mississippi, and relocated to Memphis, Tennessee, with his family when he was 13 years old. His music career began there in 1954, recording at Sun Records with producer Sam Phillips, who wanted to bring the sound of African-American music to a wider audience. Presley, on rhythm acoustic guitar, and accompanied by lead guitarist Scotty Moore and bassist Bill Black, was a pioneer of rockabilly, an uptempo, backbeat-driven fusion of country music and rhythm and blues. In 1955, drummer D. J. Fontana joined to complete the lineup of Presley's classic quartet and RCA Victor acquired his contract in a deal arranged by Colonel Tom Parker, who would manage him for more than two decades. Presley's first RCA Victor single, "Heartbreak Hotel", was released in January 1956 and became a number-one hit in the United States. Within a year, RCA would sell ten million Presley singles. With a series of successful network television appearances and chart-topping records, Presley became the leading figure of the newly popular sound of rock and roll.
In November 1956, Presley made his film debut in Love Me Tender. Drafted into military service in 1958, Presley relaunched his recording career two years later with some of his most commercially successful work. He held few concerts, however, and guided by Parker, proceeded to devote much of the 1960s to making Hollywood films and soundtrack albums, most of them critically derided. In 1968, following a seven-year break from live performances, he returned to the stage in the acclaimed television comeback special Elvis, which led to an extended Las Vegas concert residency and a string of highly profitable tours. In 1973, Presley gave the first concert by a solo artist to be broadcast around the world, Aloha from Hawaii. Years of prescription drug abuse and unhealthy eating habits severely compromised his health, and he died suddenly in 1977 at his Graceland estate at the age of 42.
Having sold over 500 million records worldwide, Presley is recognized as the best-selling solo music artist of all time by Guinness World Records. He was commercially successful in many genres, including pop, country, R&B, adult contemporary, and gospel. Presley won three Grammy Awards, received the Grammy Lifetime Achievement Award at age 36, and has been inducted into multiple music halls of fame. He holds several records, including the most RIAA certified gold and platinum albums, the most albums charted on the Billboard 200, the most number-one albums by a solo artist on the UK Albums Chart, and the most number-one singles by any act on the UK Singles Chart. In 2018, Presley was posthumously awarded the Presidential Medal of Freedom by Donald Trump.
1958–1960: Military service and mother's death
On March 24, 1958, Presley was drafted into the U.S. Army as a private at Fort Chaffee, near Fort Smith, Arkansas. His arrival was a major media event. Hundreds of people descended on Presley as he stepped from the bus; photographers then accompanied him into the fort. Presley announced that he was looking forward to his military stint, saying that he did not want to be treated any differently from anyone else: "The Army can do anything it wants with me."
Presley commenced basic training at Fort Hood, Texas. During a two-week leave in early June, he recorded five songs in Nashville. In early August, his mother was diagnosed with hepatitis, and her condition rapidly worsened. Presley was granted emergency leave to visit her and arrived in Memphis on August 12. Two days later, she died of heart failure at the age of 46. Presley was devastated and never the same; their relationship had remained extremely close—even into his adulthood, they would use baby talk with each other and Presley would address her with pet names.
After training, Presley joined the 3rd Armored Division in Friedberg, Germany, on October 1. While on maneuvers, Presley was introduced to amphetamines by a sergeant. He became "practically evangelical about their benefits", not only for energy but for "strength" and weight loss as well, and many of his friends in the outfit joined him in indulging. The Army also introduced Presley to karate, which he studied seriously, training with Jürgen Seydel. It became a lifelong interest, which he later included in his live performances. Fellow soldiers have attested to Presley's wish to be seen as an able, ordinary soldier, despite his fame, and to his generosity. He donated his Army pay to charity, purchased TV sets for the base, and bought an extra set of fatigues for everyone in his outfit.
While in Friedberg, Presley met 14-year-old Priscilla Beaulieu. They would eventually marry after a seven-and-a-half-year courtship. In her autobiography, Priscilla said that Presley was concerned that his 24-month spell as a GI would ruin his career. In Special Services, he would have been able to give musical performances and remain in touch with the public, but Parker had convinced him that to gain popular respect, he should serve his country as a regular soldier. Media reports echoed Presley's concerns about his career, but RCA Victor producer Steve Sholes and Freddy Bienstock of Hill and Range had carefully prepared for his two-year hiatus. Armed with a substantial amount of unreleased material, they kept up a regular stream of successful releases. Between his induction and discharge, Presley had ten top 40 hits, including "Wear My Ring Around Your Neck", the bestselling "Hard Headed Woman", and "One Night" in 1958, and "(Now and Then There's) A Fool Such as I" and the number-one "A Big Hunk o' Love" in 1959. RCA Victor also generated four albums compiling previously issued material during this period, most successfully Elvis' Golden Records (1958), which hit number three on the LP chart.
TODAY'S ALMANAC
Question of the Day
What is the origin of the phrase "burning the candle at both ends"?That phrase was coined by the American poet Edna St. Vincent Millay in 1920. It comes from her poem "First Fig": "My candle burns at both ends; / It will not last the night; / But ah, my foes, and oh, my friends— / It gives a lovely light!"
Advice of the Day
When sheep collect and huddle, Tomorrow will become a puddle.
Home Hint of the Day
If a knot comes loose from the flooring you've laid, just glue it back in place with carpenter's glue. If you lose a knot that's come loose, fill the hole with wood putty and stain the area to look like a knot.
Word of the Day
OccultationThe eclipse of a star or planet by the Moon or another planet.
Puzzle of the Day
There is a word of five syllables; take away the first, and no syllable will remain.Mo-no-syllable
Died
Queen Elizabeth I (English monarch) – 1603
Jules Verne (author) – 1905
Archbishop Oscar Romero (Salvadorian human rights activist) – 1980
Richard Widmark (actor) – 2008
Robert Culp (actor) – 2010
Garry Shandling (comedian) – 2016
Marie-Claire Kirkland-Casgrain (Canadian politician) – 2016
Born
Horace Gray (Supreme Court justice) – 1828
John Wesley Powell (explorer) – 1834
Harry Houdini (magician) – 1874
Edward Weston (photographer) – 1886
Fatty Arbuckle (comedian) – 1887
George Sisler (baseball player) – 1893
Ub Iwerks (animator, cartoonist) – 1901
Thomas E. Dewey (politician) – 1902
Clyde Barrow (bank robber) – 1909
Joseph Barbera (cartoonist, producer) – 1911
Steve McQueen (actor) – 1930
Billy Stewart (singer) – 1937
Tommy Hilfiger (fashion designer) – 1951
Jim Parsons (actor) – 1973
Peyton Manning (football player) – 1976
Keisha Castle-Hughes (actress) – 1990
Events
Roger Williams granted charter for colony Rhode Island– 1644
Clement Hardy was issued a patent for a rotary disk plow– 1896
NYC Mayor Robert A. Van Wyck formally broke ground for construction of the NYC subway system– 1900
President FDR issued statement appealing to Hungarians to help Jews escape from Nazis (WWII)– 1944
Nicholas Alkemade survived an 18,000-foot fall from a plane– 1944
The Tennessee Williams play Cat on a Hot Tin Roof opened on Broadway, with Barbara Bel Geddes as Maggie, Ben Gazarra as Brick, and Burl Ives as Big Daddy– 1955
Entertainer Elvis Presley was inducted into the U.S. Army– 1958
Maser patented– 1959
Senator Robert Kennedy was first to reach summit of Mt. Kennedy in Yukon Territory– 1965
U.S. spacecraft Ranger 9 crash-landed precisely on target in the Alphonsus crater of the moon after transmitting to Earth 5,814 photographs of the crater region– 1965
The beaver became a symbol of Canadian sovereignty– 1975
Libyan and U.S. forces exchanged gunfire after U.S. naval planes entered a restricted area across the Gulf of Sidra– 1986
French premier Jacques Chirac signed a contract to build the first Disneyland-type amusement park in Europe, on the outskirts of Paris– 1987
The largest oil spill in U.S. history, initially estimated at 240,000 barrels, occurred after the Exxon Valdez struck Bligh Reef in Alaska's Prince William Sound– 1989
Boston archbishop Sean O'Malley was elevated to cardinal at a ceremony in St. Peter's Square in Rome– 2006
Weather
Eighty-three degrees F at Plymouth, Indiana– 1910
Twenty-five inches of snow, Kansas City, Missouri– 1912
92 degrees F in St. Louis, Missouri– 1929
Snow in the mid-Atlantic states covered cherry blossoms, which had bloomed in the previous week's 80-degree temperatures– 1990
COURTESY www.almanac.com