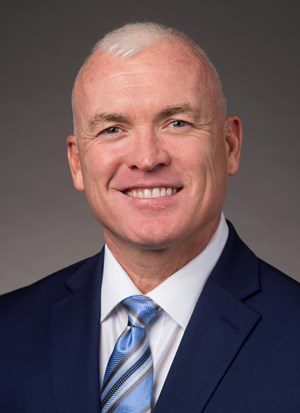 The fifth head coach in program history
FORT MYERS, Fla. – Pat Chambers, an 11-year veteran head coach, was officially introduced as the new FGCU men's basketball head coach on Tuesday, March 15 in a special press conference from the Hillmyer-Tremont Suite in Alico Arena. Chambers is the fifth head coach in program history and brings with him a wealth of experience in college basketball including head coaching stints at Penn State and Boston University.

Introduced by FGCU President Dr. Michael V. Martin and Director of Athletics Ken Kavanagh, the introductory event filled the Hillmyer-Tremont Suite with nearly 150 in attendance.

"We are thrilled to welcome the Chambers as the newest members of our FGCU Athletics Family. Amidst tremendous interest in our opening from a quality pool of both current head coaches and high major assistants, Pat's candidacy rose to the top based on the terrific overall profile of his personality and proven track record on and off the court," said Kavanagh. "In turn, we now look forward to his energizing our student-athletes and supporters in our pursuit of annually competing for ASUN Championships, while also maintaining our strong results in the classroom and in generating outstanding young men as Green & Blue ambassadors."

Chambers spent nine years leading the Penn State (2011-20) program and two years as head coach at Boston University (2009-11). He has 190 career victories as a head coach in that span including four 20-plus win seasons. Part of his career as a head coach was highlighted by leading the Nittany Lions to a No. 9 national ranking in 2019-20 which tied the program's best-ever ranking set in 1996.

"I am so thankful to President Martin and Director of Athletics Ken Kavanagh for this opportunity to lead the FGCU men's basketball program – it is an incredibly exciting time and I am truly grateful and humbled," said Chambers. "The passion and drive from everyone involved with the process kept getting me more and more excited to be here. I have to thank everyone at La Salle – Director of Athletics Brian Baptiste, Head Coach Ashley Howard, the staff, and the players – I am so grateful for all of you. I would not be here if it weren't for all the hard work of my former players and staff at each stop of my journey as well. Most importantly of all, I can't thank my wife Courtney and our children enough for allowing me to continue to live the dream of doing what I love. Their love, support, sacrifice, and resilience means the world to me during the crazy adventure."

In addition to his head coaching experience, Chambers has served in various capacities with three different programs. At Villanova, he started with the Wildcats in 2004 as the Director of Operations before being elevated to Assistant Coach (2006-08) and then Associate Head Coach (2008-09). He started his coaching career at Delaware Valley College in 1995-96 and most recently served as an assistant coach at La Salle.

At Penn State, he led the Nittany Lions to 148 wins during his nine year tenure which included 18 ranked wins and 56 Big Ten wins which are the most for a head coach in program history. His 148 wins rank as the fifth-most for a head coach at PSU. During the 2019-20 campaign, he was a Naismith Coach of the Year candidate after the Nittany Lions spent 10 weeks ranked in the top 25 and had its highest-ever NET ranking at No. 15. He had a pair of 20-win seasons in Happy Valley after going 26-13 in 2017-18 en route to winning the NIT Championship and 21-10 in 2019-20 before the season was canceled due to the COVID-19 pandemic.

Before joining PSU, he spent two years with Boston University leading the Terriers to a 42-28 record. In 2010-11, he led BU to an America East Conference Championship and the Terriers' first berth to an NCAA Tournament since 2002. In 2009-10, BU was also 21-14 and reached the CBI Semifinal in the postseason. He was the fastest coach in program history to earn a conference championship and the only BU coach to earn 20 wins in each of his first two seasons.

During his tenure at Villanova, Chambers was part of a staff that helped the Wildcats to a tremendous five-year stretch that included a Final Four (2009), two Sweet Sixteens (2005, 2008), an Elite Eight appearance (2006), and reaching the second round (2007). In 2008-09 as the Associate Head Coach, Chambers helped Villanova to a 30-8 overall record and the No. 3 recruiting class in the country. All told, during his time with Nova, the Wildcats were 126-45 including the program's single-season win record of 30-8 in 2008-09.

Along with his service under the mentorship of Villanova head coach Jay Wright, the Newtown Square, Pa., native played for Naismith Hall of Fame coach Herb Magee while a student-athlete at Philadelphia University. Magee continues to rank as the second all-time winningest men's basketball head coach behind Duke's Mike Krzyzewski.

Chambers began his coaching career as an assistant coach at Delaware Valley College in 1995-96. After taking a break to work in the family business, he return to coaching in 1999 as the top varsity assistant coach at Episcopal Academy through 2004.

A standout guard under Magee at Philadelphia University, Chambers graduated from the university in 1994 with a degree in marketing and a minor in finance. He joined the NCAA Division II university's basketball team as a walk-on in 1990 and went on to have an outstanding career, becoming the team's starting point guard, earning first-team All-ECAC honors and leaving as the school record holder in assists with 709. Chambers helped lead the Rams to four NCAA Division II Sweet 16 appearances and two Elite Eight appearances.
Chambers (51) and his wife, Courtney, have four children, Grace, Ryan, Caitlin, and Patrick.

WHAT THEY'RE SAYING ABOUT CHAMBERS:
Villanova Head Coach Jay Wright:
"Pat Chambers will bring his energy, passion and commitment to Florida Gulf Coast University. He is an outstanding tactician, recruiter, and program builder. He's been successful everywhere he has been. He's a good man and great coach!"

Lamar Stevens – Former player, currently with Cleveland Cavaliers, former Penn State player:  
"Coach Chambers is, and will always be, a true coach and mentor to me. His selfless nature is infectious to any program. I believe he will make a difference from day one. He has a giving heart and truly cares for his players, coaches, staff, and his team. He is an honorable family man; one who goes the extra mile for his wife and children. He's been an asset to me and many of my former teammates during my tenure as well as those before me. I'm excited about his next chapter and looking forward to celebrating Florida Gulf Coast's successes under his leadership. You have a true gem in Coach Chambers."  


La Salle AD Brian Baptiste:  
"I could not be more excited for Pat, Courtney, and their family for this wonderful opportunity at FGCU. Pat is a man of strong faith, a proven winner, and leader of men that is poised to take the Eagles basketball program to greater heights. Without a doubt, I know he will attack each day with great enthusiasm and energy. He is driven to develop and empower the men within the program to become the greatest version of themselves as they grow into leaders of tomorrow on and off the court. This is a great day for the entire FGCU community!"

La Salle Head Coach Ashley Howard:  
"Coach Chambers is a dynamic leader who makes everyone around him better. I am grateful for Pat's selfless contribution to our program this season and look forward to great things to come for him and the FGCU program."

Myreon Jones, Sr – Father of Myreon Jones, Jr., former Penn State/current Florida player:
"I've coached middle school, high school, and junior college basketball throughout the course of 15 years and I've run across a lot of people that don't always have the kids as their number one priority. Coach Chambers is true to his word and not only is he teaching your son about basketball, but he is also teaching him how to become a productive young man. He is a family man, a players' coach, a role model, and a friend for life. Love you Coach, you deserve it, and congratulations my guy!!
COURTESY GULF COAST ATHLETIC COMMUNICATIONS