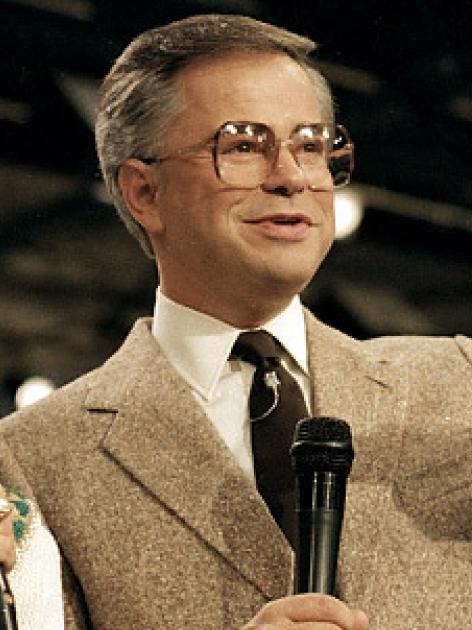 FROM WIKIPEDIA COMMONS
James Orsen Bakker (/ˈbeɪkər/; born January 2, 1940) is an American televangelist and convicted fraudster. Between 1974 and 1987, Bakker hosted the television program The PTL Club with his then wife, Tammy Faye, and developed Heritage USA, a now-defunct Christian theme park in Fort Mill, South Carolina.
In the late 1980s, Bakker resigned from the PTL ministry over a cover-up of hush money to church secretary Jessica Hahn for an alleged rape. Subsequent revelations of accounting fraud brought about felony charges, conviction, imprisonment, and divorce. Bakker later remarried and returned to televangelism, founding Morningside Church in Blue Eye, Missouri, and reestablishing the PTL ministry. He currently hosts The Jim Bakker Show, which focuses on discussing biblical prophecy while promoting emergency survival products. Bakker has written several books, including I Was Wrong and Time Has Come: How to Prepare Now for Epic Events Ahead.
TODAY'S ALMANAC
Question of the Day
How many cows make a herd? How many geese make a gaggle? How many lions make a pride?We're tempted to say two, but then it would be a small herd and a "giggle" instead of a gaggle! Actually, if you're speaking of domestic cattle and geese, the only limit we can think of is the farmer's ambitions. As for the size of a pride, we think it depends on the great good nature of the dominant male (although 30 is considered a crowd). While on the subject, there are lots of little-known collectives, such as these bird groupings: a "chatter" of budgerigars, a "twittering" of magpies, a "murmuration" of starlings, and an "exaltation" of larks.
Advice of the Day
Expect good luck if a fly falls into your drinking glass.
Home Hint of the Day
To set a hinge more deeply, loosen the hinge from either the door or the jamb, chisel away the wood underneath and reinstall the hinge.
Word of the Day
Right ascensionThe celestial longitude of an object in the sky, measured eastward along the celestial equator in hours of time from the vernal equinox; analogous to longitude on Earth.
Puzzle of the Day
Why is a star like an old barn?Because there are r-a-t-s in both.
Born
David Livingstone (explorer) – 1813
Richard Francis Burton (explorer, scholar) – 1821
Albert Pinkham Ryder (painter) – 1847
Wyatt Earp (legendary marshal) – 1848
William Jennings Bryan (politician) – 1860
Earl Warren (Supreme Court justice) – 1891
Albert Speer (architect) – 1905
Adolf Eichmann (Nazi leader) – 1906
Leonidas Alaoglu (mathematician) – 1914
Jay Berwanger (football player) – 1914
Irving Wallace (novelist) – 1916
Phillip Roth (writer) – 1933
Phyllis Newman (actress) – 1935
Glenn Close (actress) – 1947
Bruce Willis (actor) – 1955
Connor Trinneer (actor) – 1969
Died
Edgar Rice Burroughs (author) – 1950
The Rev. Carl McIntire (right-wing radio preacher) – 2002
Brian Maxwell (Canadian world-ranked marathoner who created the PowerBar in his kitchen to improve his performance) – 2004
John DeLorean (automotive innovator who left General Motors Corp. to develop a radically futuristic sports car) – 2005
Gus Bernier (host of the children's program The Uncle Gus Show) – 2005
Arthur C. Clarke (science fiction writer, author of 2001: A Space Odyssey) – 2008
Paul Scofield (actor) – 2008
Events
$245,000 stolen from City Bank of New York– 1831
Daylight Saving Time was first enacted in the United States– 1918
Senate rejected the Treaty of Versailles by a vote of 49-35– 1920
Academy Awards were first televised– 1953
Senate confirmed the nominations of William Brennan and Charles Whittaker to the U.S. Supreme Court– 1957
Elvis Presley paid a $1,000 deposit to buy Graceland in Memphis, Tennessee– 1957
Great St. Bernard Tunnel, 3.6 miles long, between Italy and Switzerland in the Alps, officially opened to automobile traffic– 1964
Nicolae Ceausescu became head of the Romanian Communist Party and government– 1965
President Johnson signed into law a bill eliminating the requirement that U.S. currency be backed by gold– 1968
East German Premier Stoph and West German Chancellor Brandt met in Erfurt, East Germany, at the first meeting of the heads of the postwar German states– 1970
Rev. Jim Bakker resigned as head of his TV ministry, the PTL Club, after admitting to an affair with a church secretary– 1987
1,383-square-foot omelet made, Yokohama, Japan– 1994
Weather
A tornado jumped from Ohio City to Landeck to Columbus Grove, Ohio– 1948
17.6 inches of snow, Boston, Massachusetts– 1956
5.38-inch-wide, 9.8-ounce hail fell in Walter, Alabama– 2018
COURTESY www.almanac.com