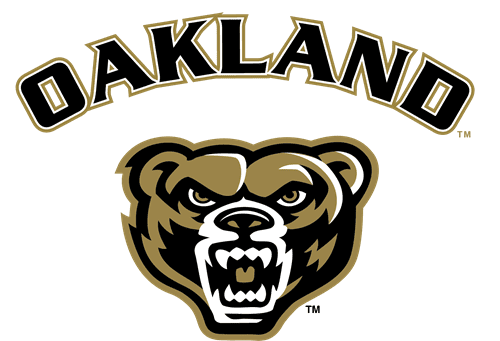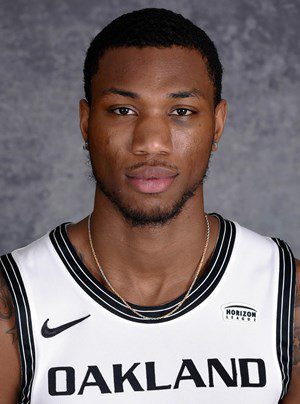 2/28/2022
INDIANAPOLIS, Ind. – Three Oakland University Men's Basketball student-athletes garnered #HLMBB All-League Awards the conference announced on Monday with grad senior Jamal Cain leading the way as Co-Player of the Year.
The four-time Horizon League Player of the Week earned the accolade with a current season average of 20.1 points and 10.1 rebounds per game, respectively, as the only league player to do so putting him on the All-League First Team list as well. Cain will share the honor with rival Detroit Mercy's Antoine Davis where the Pontiac native set a career-high 32 points against the Titans. This is the first time the award had been shared since 1983.
Cain is now the seventh individual to be named conference player of the year in a Golden Grizzlies uniform, the eighth award overall joining Kendrick Nunn, Kay Felder, Keith Benson, Mike Helms, Eric Taylor, and Scott Bittinger. 
Jalen Moore was named All-League Second Team after a regular season that saw the Cloverdale, Indiana native tally 221 assists to average 7.9 per contest all while hitting 15.4 points per game. Moore was named All-League First Team in 2021 making this his second #HLMBB award total.
Micah Parrish played his way onto the All-Defensive Team with 11.6 points and 5.9 rebounds per game to match his 45 steals and seven blocks. In the last five games, Parrish is averaging 17.4 points per game. Parrish was named to the All-Freshman Team in 2021.
All three of these individuals will be in action on Tuesday, March 1 as the squad will host No. 12 seed IUPUI in the first round of the Keeps 2022 Horizon League Men's Basketball Tournament at the Athletics Center O'rena.
2021-22 #HLMBB All-League Awards
Co-Players of the Year: Antoine Davis, Detroit Mercy & Jamal Cain, Oakland
Coach of the Year: Jon Coffman, Purdue Fort Wayne
Freshman of the Year: Sam Vinson, Northern Kentucky
Defensive Player of the Year: D'Moi Hodge, Cleveland State
Sixth Player of the Year: Deonte Billups, Purdue Fort Wayne

All-League First Team (alphabetical by school)
D'Moi Hodge, Cleveland State
Antoine Davis, Detroit Mercy
Jamal Cain, Oakland
Jarred Godfrey, Purdue Fort Wayne
Tanner Holden, Wright State

All-League Second Team (alphabetical by school)
Torrey Patton, Cleveland State
Marques Warrick, Northern Kentucky
Jalen Moore, Oakland
Grant Basile, Wright State
Michael Akuchie, Youngstown State

All-League Third Team (alphabetical by school)
Tre Gomillion, Cleveland State
Jalon Pipkins, Purdue Fort Wayne
Kahliel Spear, RMU
Damaria Franklin, UIC
Dwayne Cohill, Youngstown State

All-Freshman Team (alphabetical by school)
Kamari McGee, Green Bay
Cade Meyer, Green Bay
Sam Vinson, Northern Kentucky
Jace Carter, UIC
AJ Braun, Wright State

All-Defensive Team (alphabetical by school)
Tre Gomillion, Cleveland State
D'Moi Hodge, Cleveland State
Deante Johnson, Cleveland State
Micah Parrish, Oakland
Jalon Pipkins, Purdue Fort Wayne
COURTESY OAKLAND ATHLETIC COMMUNICATIONS